Follow britishcycling.org.uk on
Cycle Speedway Weekly Roundup
Reports and results week ending August 15 2010
Important League Scoring Reminder From Brian Buck:
Yet again it is necessary to remind clubs of method of calculating Penalty Points for Division Two matches.
Any rider over the age of 16 who takes part in both First and Second Division fixtures on the same day concedes penalty points for the Division Two match using the following system of calculation:
1 point for each point scored, plus a further point for each bonus scored and a further point for any race in which he was excluded, failed to finish or was replaced by a reserve, in the First Division match. The total number of penalty points are then deducted from his teams final score in the Division Two match.
In the Sandwell v Sheffield match of August 1st, Sheffield used two of their riders in both matches - Ben Dickenson who scored 12 points (no bonus points) and Richard Hudson who scored 3 points but who was replaced by a reserve in two of his races and therefore conceded 5 penalty points.
Whoever compiled the scorechart managed to make the Sheffield penalty points total 13 (I am unable to fathom out any method which would produce this figure!!!) when the correct figure should have been 17! Both Team managers signed the scorechart to signify their agreement with the figures on it, so neither could have checked it.
As the final outcome was a one point win for Sheffield it can be seen that I was put in a position in which I came very close to having to change a result in a way which would benefit my own club which would have been a serious embarrassment to me, so PLEASE team managers, check the scorecharts before you sign them and make sure that they are accurate.
Latest League Tables:
Midland League Div 1 | Midland League Div 2 | Midland League Result Chart
---
Report: British Premier League - Horspath v Leicester
August 15 | Report By Geoff Gamage

Top v third in the BPL with Leicester the only realistic club likely to stop the hammers from a sixth Prem title, having also lost one match and with matches in hand, this was billed as a big showdown at The Village.
However, minus Mark Newey and Jason Ashford, plus longterm injury victim Leon Yelland, Monarchs were up against it, no extra Polish stars were flown in for the rossanero either as Mark Boaler was back in time from his holiday, England's star in Zeilona Gora left off where he finished in Poland going unbeaten by an opponent.
Hammers started with two 6-4's Lewis and Chris Osborne opening with Mark Carmichael and Steve Harris following up then came a big 7-3 as Lukasz Nowacki tried to do Boaler 4 to 1 found himself high on the first bend with Hammers Polish Euro nations star Matty Szymczak diving in the now large hole, a big 7-3.
A drawn race and then a 5-4 following Dave Carmichael's gate exclusion and a fine win from Chris Osbourne. A great turn from Boaler saw him take Dan Pike for another 6-4 in the next followed by the Osborne boys second 6-4 with Lewis holding of a strong challenge from Lukasz Nowacki.
Another drawn race and another 5-4 to Monarchs as Szymczak took the win Shaun Rudman threw a chain. 49-39 at the half.
A tape exclusion to Adam Stephenson resulted in a 7-2 from Dave Carmichael and Mark Boaler to open the second half. Heat 11 saw Nowacki get his first win in a drawn race, Monarchs then got a 6-3 after a Chris Osborne exclusion for excessive force.
Hammers hit back as a fall from Craig Marchant under pressure from Mark Boaler presented another Szymczak/Boaler 7-3. Nowacki/Adam Peck grabbed a 7-3 for Monarchs in the 15th following a drawn heat 14. Hammers retaliated from Chris Osborne/ Matty Szymczak 7-3, Leicester not to be outdone got a 7-3 via Nowacki/Pike following a fall from Lewis Osborne on the first bend. The final trade of maximum heat wins came from the old reliable Harris/Boaler to give the final outcome 96-80.
HORSPATH 96 ( Lewis Osborne 14+1, Chris Osborne 12, Steve Harris 13+1, Mark Carmichael 15+1, Matuesz Szymczak 17+1, Mark Boaler 16+4, Shaun Rudman 4, Dave Carmichael 5.)

LEICESTER 80 ( Craig Marchant 8, Nicky Whitehead 5, Daniel Pike 16+1, Adam Stephenson 6, Kevin Burns 9, Lukasz Nowacki 16, Adam Peck 14 +1, Carl Jarvis 6.)
BPL Match Race - Mark Boaler (challenger) beat Lukasz Nowacki (holder)
Mark Boaler won the toss for grids took 2 and outpaced Lukasz Nowacki to take the BPL match race trophy from his former team partner at the Village all those years ago.

Hammers doing well this year in the premier combination had too much strength in depth for the Monarch the actual score 66-62 but then they also had a cushion of 7 penalty points. Mike Burgess starred again for hammers what a great job he has done both in Combination and regional league not forgetting skippering the Ves team title win. Wayne Clarke had his best match for a while ably support by the ace team rider Daniel Harper, also doing a fine team riding job Mark Janes. Leicester relied heavily on vets Norman Venson and Mick Skinner plus of course Nicky Whitehead.

After the match there was some extra races put on for young riders of both squads who didn't get to race much if at all, showing the co-operation and respect both clubs have and that it is not all about the first team. Unfortunately none of the clubs Women stars raced a pity as plenty of quality missed out there.
British Premier Combination
HORSPATH 73 ( Daniel Harper 12, Wayne Clarke 13+1, Lee Clarke 5, Mike Burgess 15, Mark Janes 9+3,
Matt Coulter 9+1, Zac Payne 5.)

LEICESTER 62 ( Mick Skinner 14, Liam Davies 6, Nicky Whitehead 14, Charlie Cooper 6+1, Norman Venson 15, Ashley Doughty 6+1, George Barrett 1.)
Photos: Hellingly v East Newport
August 15
Hellingly 88
East Newport 89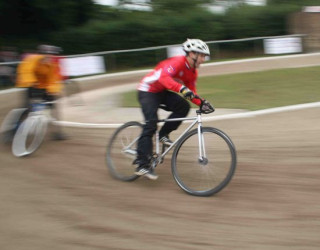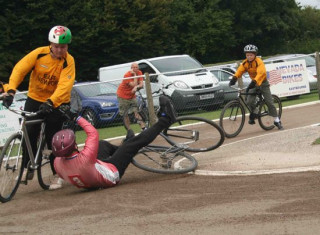 Result: Wosskow Brown British Youth and Junior League National Round 2 at Gt.Blakenham
August 14

IPSWICH 239.5 KESGRAVE 232 POOLE 210 EAST NEWPORT 147 WEDNESFIELD 104 SHEFFIELD 80

Grand Prix A Finals
U8
1 Lewis Brinkhoff GTB 2 Owen Tidball EXE 3 Max Russell-Sharp HOR 4 Harrison Todd HOR
U10
1 George Horsley HOR 2 Will Tidball EXE 3 Pierce Bacon KES 4 James Elston BUR
U12
1 Philip Day KES 2 Adam Phillips AST 3 Lee Kemp BRE 4 Sam Thompson IPS
U14
1 Matt Mildon POO 2 Louis Harvey ENE 3 Charlie Rumbold IPS 4 Jake Read SPT
U16
1 Leyton Glover POO 2 Aaron Morgan POO 3 Matthew Smith SAN 4 Scott Millward SAN
U18
1 Dan Osborne NOR 2 Philip Adams HET 3 Marcus Szyszlyk IPS 4 Sam Hearn POO
Girls 12-17
1 Laura Dale IPS 2 Tiffany Collins HET 3 Charlie Ellitts WED 4 Carly Grimes HET

Referees - Steve Copping Dave Solomon Dave Hunting

161 riders
197 races
Result: Premier League - Sheffield V Norwich
August 15
SHEFFIELD 105 (Andy Angell 16 + 1 assist, Jamie Langton 9, Lee Smith 19 + 1, Jamie Brown 15 + 1, Ryan Hoyland 15 + 2, Jono Birks 18 + 2, Matt SMith 8, Aiden Owen 5).
NORWICH 74 (George Solomon 11 + 1, Dave Solomon 12, Lee Grange 15, Richard Hunt 7, Ian Grange 9 + 1, Jason Barker 2, Josh Colby 8 + 1, Phil Adams 10)
Premier League Combination
SHEFFIELD 63 (+2) (Jamie Langton 11, Kyle Brough 9 + 2, WIlliam Gamble 2, Luke Jamson 15, Martin Gamble 8 + 1, Aiden Owen 15 + 2, Vicki Brown 3)
NORWICH 67 (+14) (Jake Bacon 17 + 1, Emma Betts 6 + 2, Jason Barket 16 + 2, Barry Copping 11, Gary Colby 12, Danielle Riley 5 + 1)
Result: Norfolk Grand Prix Series Round 6 at Eaton Park
August 11
A Final Results
U13 & Novice
1 Oliver Riley NOR 2 Oliver Buxton HET 3 Mason Parkins NOR 4 Rohan Ewbank NOR
U16 & Women
1 Robert Warminger NOR 2 Scott Grimes HET 3 Tiffany Collins HET 4 Danielle Riley NOR
U19 & Senior & Vets
1 Jake Bacon NOR 2 David Martin HET 3 Ben Collins HET 4 Philip Adams HET

Referee Lee Grange
29 Riders
Report: Manchester League Individual Championship
August 11
Stockport hosted the second of the Manchester League Individual Championship nights on Wednesday.

There was a good turn out of 14 riders for the U-13 category, racing on a grippy track with the threatening rain fortunately not materialising. Matt Turner took a crucial win in heat 1, with Joel Partington taking 3 laps to get past Callum Smith, which left him with too much to do to catch the leader.
Adam Phillips, Reece Pollitt and Matt Turner all won their opening two races. Phillips took an assured win over Turner in heat 9, whilst Pollitt took another win in heat 10, with Partington winning his second and third races to keep up the pressure. Turner took the win in heat 13 to move onto 15 points, with James Elston keeping out Pollitt for his first dropped points. Phillips, Partington and Turner all won their next races, before Phillips clinched the title with a fine 20 points maximum after heading home Partington in heat 19. Adam Phillips was also presented with the trophy for winning the U-13 Grand Prix series held earlier in the season.
Manchester League U-13 Individual Final result
Adam Phillips (A & T) 20, Matt Turner (Stockport) 19, Joel Partington (A & T) 18, Reece Pollitt (A & T) 16, James Elston (Bury) 15, Callum Smith (Stockport) 14, Georgina Healey (Stockport) 13, Tom Spencer (Bury) 12, Alex Green (A & T) 11, Ross Green (A & T) 11, Max Evans (A & T) 11, Jack Hart (Bury) 9, Jamie Chester (Bury) 9, Jack Speak (Bury) 8.
Referee - Mike Hack.
Just seven riders lined up for the U-19 event, but this turned out to be a hard fought event. A couple of showers of rain left the gates slippery and this caused a few upsets with riders spinning on the gate in several races. Heat 1 saw an exclusion to Jack Lush as he dived hard under Luke Jamson with both riders falling on the outside of the pits bend. In the re-run Jamson fell as he tried to go round Jake Read, who took the win, with Jamson re-mounting for 2nd.
Ben Higham and Dylan Radcliffe won their opening races, then Higham and Jamson won the next two. Radcliffe moved on gate 1 in heat 6 and was excluded, gifting Lush the win. Radcliffe beat Read in the next race, followed by wins to Jamson, Higham and Read, to keep up their challenges. Heat 11 turned out to be the deciding race. Radcliffe took the win, with Higham concentrating on keeping Jamson behind him for the 3 points necessary to retain the U-19 title he won last year.
Manchester League U-19 Individual Final result
Ben Higham (Stockport) 15, Jake Read (Stockport) 14, Luke Jamson (A & T) 13, Dylan Radcliffe (Stockport) 12, Jack Lush (Stockport) 11, Joe Pickford (Stockport) 11, Matt Turner (Stockport) 10.
Referee - Mike Hack.