Follow britishcycling.org.uk on
Report: 2010 British Club Championships
Posted: 10th August 2010 | Report and Images: Andy Whitehouse
British Cycling's Cycle Speedway correspondent Andy Whitehouse reports on the Men's and Women's British Club Championships, which took place on Saturday 7th August on Poole's well-groomed shale.

Women's Club Championships

Leicester triumph in East Midlands head to head
With women's racing ever improving during recent years, Saturday's Women's Open championship held at Poole's Harbourside Park was going to give the crowd some tough racing. Leicester have proved so dominant in the competition winning four previous titles and looking to add another to the trophy cabinet.
Closest rivals Horspath have strengthened their squad for the 2010 season and with the inclusion of Letitia Collins who flew in from Adelaide a few days previously the Oxford side were out to cause an upset.Arguably the best women's rider in the World today Collins got off to a flying start in heat two giving the Horspath rider her first of five heat wins of the match outgunning Leicester's Amy Crouch into second place.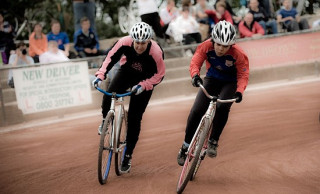 With wins from the returning Jenna Whitehead of Leicester and current Ladies Champion Lucy Whitehead in heats three and four respectively the challenge was thrown down to Horspath to match them and which they did in heat five with Rachael Edge taking her first win of the afternoon holding off Ipswich's Lauren Jacobs and former Poole rider Jess Lamb taking an important win in the next heat holding off Leicester's Michelle Whitehead into second spot.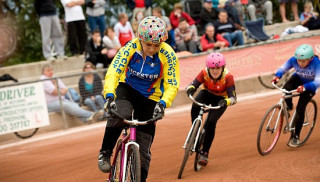 Horspath's next five outings added five wins to the score card with each rider enjoying the chequered flag and with Leicester only securing one win in heat eleven from Michelle Whitehead beating Poole's Christina Hinds into second, the East Midland side was beginning to look a little shaky. A fine win in heat fifteen by Ipswich's Laura Dale holding off a determined looking Jess Lamb for four laps saw the Suffolk side go into the interval lying in third spot two points ahead of Wednesfield but all eyes were on the two giants of the sport, Horspath who were holding a two point advantage over Leicester who had to raise their game if they were going to take the title back to the Midlands.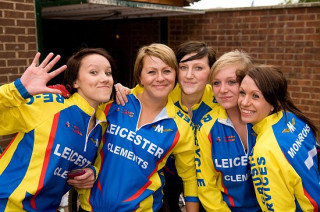 The only exclusion of the match went to Horspath's Jemma Bough in heat sixteen but a fine win nonetheless by Lauren Jacobs holding off Wednesfield's Reanna Brindley. Heat seventeen saw yet another win from Letitia Collins but a cool head in heat eighteen saw Leicester's Amy Crouch roll home first for an important win bringing the title-chasing teams level on forty points apiece. It was Collins who stormed home in heat nineteen to claim another win but it was wins from Lucy Whitehead and substitute Lauren Davies which gave Leicester women a two point advantage by heat twenty four.
With three further wins from Horspath it wasn't quite good enough and with Amy Crouch taking the four points in heat twenty eight the title was heading back to East Midlands for the fifth time.

Women's cycle speedway has gone from strength to strength in recent years and with the Women's League on the calendar and an indoor competition later this year things are only going to get more competitive. Saturday was a great advertisement for the sport, with hosts Poole showing the many passers by how great the sport can be.

Result
Leicester 68: Lucy Whitehead 19, Amy Crouch 17, Michelle Whitehead 16, Jenna Whitehead 9, Lauren Davies 7
Horspath 65: Letitia Collins 20, Rachael Edge 19, Jessica Lamb 19, JemmaCosh 7
Wednesfield 47: Rianna Brindley 13, Courtney Aris 12, Charlie Ellits 12, Sharna Cox 10
Ipswich 46: Lauren Jacobs 18, Laura Dale 13, Libby Knights 9, Gemma Hill 6
Poole 38: Kristina Mines 12, Holly Morgan 8, Katie Metalli 7, Cerys Glover 6, Jess Lundon 5
Sheffield 35: Laura Watson 17, Vicky Brown 6, Jessica Slack 6, Niamh Morton 6
Men's Club Championships
Wednesfield Aces trump opposition

Poole's Harbourside Park saw a feast of cycle speedway on Saturday 7th with the Women's Club Championships and the Open Club Championship. With Horspath, Ipswich and Sheffield losing out in the semis it was down to four of the giants of the sport,2009 winners Birmingham,runners up Wednesfield,hosts Poole and Leicester to battle it out for the title.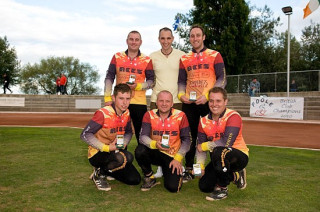 Leicester flew off the grid in heats one and two securing four points from each with wins from Dan Pike and Craig Marchant and it looked like the Leicester men were going to compliment the Leicester women's team who had taken the womens title earlier in the day. But after losing-out by one point in the 2009 competition Wednesfield's Lee Aris took a storming win in heat three, showing he had ideas the title was heading back to Ashmore Park. With team mate Mark Griffiths taking the win in heat four and Birmingham having Nathan Groves excluded for crossing the inside line to gain a place, Wednesfield and Leicester were drawing equal after four rides each.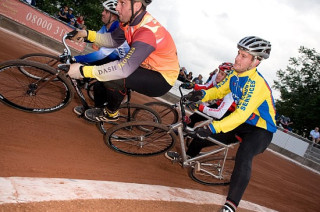 Hosts Poole were having a torrid start to proceedings, only picking up five points. Gavin Wheeler got Poole back to winning ways in heat five with a strong ride but the battle for second place was where the action was; with Paul Heard slipping on the first lap it took a superb pass from Scott Doherty over Leicester's Jason Ashford to take three points. It was pedal to pedal action between the two right to the line, giving the pair the biggest cheer of the day.Young Tom Reed gave Poole their second heat win of the day in heat six holding off Chris Jewkes with a ride well beyond his years.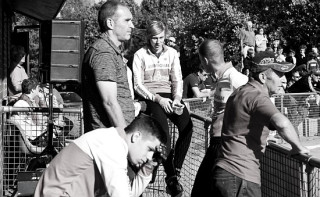 Birmingham's Ben Mould took the win in heat eight just holding Dan Pike into second spot, with consistent riding from both Wednesfield and Poole the interval saw two points separate the top two teams with Birmingham holding onto third place four points adrift and Poole bringing up the rear with fourteen points.
A tactical substitution in heat nine gave Birmingham their third heat win in a row with Marcus Wadhams storming away from the grid and again another great scrap for second place this time between Scott Doherty and Craig Marchant but with Doherty slipping on lap three, Leicester's Marchant took the three points. A nasty looking fall in heat eleven saw Poole's Tom Colling left lying on the first bend with an injured knee but after receiving medical attention the rider remounted for the re run to take a fine win on the line just holding off Leicester's Jason Ashford into second.
A crucial win in heat thirteen by Scott Doherty from Leicester's Adam Peck put the Wednesfield side one point ahead of Leicester and with an exclusion for Birmingham's Nathan Groves for putting Tom Colling on the floor it left the chase for the title between Wednesfield and Leicester. Lee Aris wrapped the day up in heat fifteen taking the win from Tom Reed and ensuring the title was heading up to Ashmore park for the first time.
Wednesfield 44: Scott Doherty 12, Lee Aris 12, Chris Jewkes 11, Mark Griffiths 8, Roger Cox 1
Leicester 40: Craig Marchant 13, Adam Peck 10, Jason Ashford 9, Dan Pike 8, Kevin Burns dnr
Birmingham 38: Ben Mould 11, Chris Timms 7, Paul Heard 7, Marcus Wadhams 7, Nathan Groves 6
Poole 34: Gavin Wheeler 12, Tom Reed 10, Tom Collins 8, Pete Young 2, Aaron Morgan 2