Follow britishcycling.org.uk on
Report: Cycle Speedway U19 Championships
Event: 10th July 2010 | Report and Images: Andy Whitehouse
With current champion Paul Heard unable to defend his title it was all to play for at the Under 19 championships last weekend at East Newport's Larch Grove track. Close, fast racing throughout the match by all 16 riders gave the crowd a great afternoon's entertainment in the Welsh sunshine. Pre-match favorites Mark Carmichael and Ben Mould used their knowledge of the tight track to great effect ensuring a Welsh one-two at the end of the day. Third placed Tom Reed never seemed to get to grips with the track but rode well to take the bronze in a cracking run off with Adam Stephenson.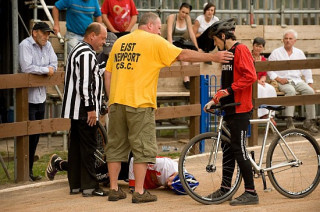 Ben Mould made his intentions known in the first heat with a storming ride to take four points leaving Phil Adams to roll in second spot. An exclusion in heat two by Dan Block for moving at the tapes left East Newport's Lewis Harvey to take the win with George Solomon taking the three points and Nathan Groves finding the track hard going bringing home the remaining points. Heat three saw Mark Carmichael and Tom Reed go head to head both knowing how important a win could be even this early in the match,Carmichael didn't disappoint his supporters, taking a storming win from Reed.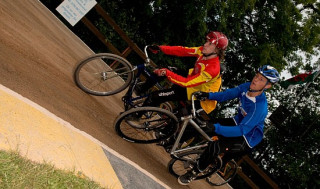 Another determined win from Ben Mould in heat five holding off Scotty Millward gave the Birmingham rider full points from both his rides. A great ride from Lewis Harvey didn't reflect his single point after holding off Tom Reed for three laps. With a second heat win for Carmichael coming in heat six it was looking like a Welsh battle was in store for the 2010 title. Adam Stephenson threw his gloves into the mix with two back to back wins in heats eight and nine holding off Ben Mould into second spot in the latter. Jamie Chittock took his only win of the match in heat ten with a strong ride holding off Lewis Harvey.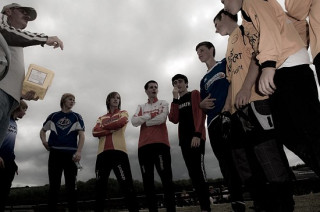 Tom Reed rode a great heat eleven to take an important win for the Poole rider keeping him in with a shout for the title,but Carmichael took his third win in the following heat with a comfortable ride. By the end of heat twelve with all riders having three rides it was Carmichael leading by one point from Ben Mould and Adam Stephenson eleven, with Tom Reed hanging in two points adrift on nine.Mould was in winning ways with his third win in heat thirteen putting him into first place, Nathan Groves started to sort his lines out in heat fourteen with a fine win over Marcus Sryslyk but it was to prove too late for the young Scottish International. Reed kept his championship alive with a solid performance in heat sixteen taking an important win.with four heats remaining two points separated the top four riders, Mould , Carmichael, Reed and Stephenson.
Image gallery by Andy Whitehouse
With Mould and Carmichael having their final ride in heat seventeen both riders knew they had to win to take the title but a fast gate by Carmichael gave the young Welsh rider the upper hand over Mould and he held out to take the win and leave both riders on eighteen points.
A crash in heat eighteen between Reed and Stephenson left Stephenson lying in pain on the first bend but the rider recovered for the re-run knowing he had to beat Reed for third place overall but Reed rode well to take second place in the heat and with Stephenson taking only two points would mean a run off to decide third spot which was won by Tom Reed after a slip on lap two by Adam Stephenson.
The first place run off saw close racing from both riders until lap three when Carmichael passed Mould coming out of the top bend,Mould fell heavily hitting the loose shale on the outside line and effectively loosing the title.
A well deserved victory by Mark Carmichael and with a young rider showing such class on the track many more titles will surely be coming his way.
Result:
Mark Carmichael 18 points, Ben Mould 18, Tom Reed 16, Adam Stephenson 16, George Solomon 14, Lewis Harvey 14, Scott Millward 13, Aaron Hughes 12, Nathan groves 11, James Chittock 11, Marcus Sryslyk 19, Phil Adams 10, Lee Smith 10, Joe Lewis 9, Jordan Stant 9, Dan Bock 7

Mark Carmichael beat Ben Mould in run off for first place

Tom Reed beat Adam Stephenson in run off for third place