Follow britishcycling.org.uk on
Report: British Premier League
Wednesfield Aces V Horspath Hammers
Words And Photography By Andy Whitehouse

Posted July 13 2010
Mid season in the British Premier League saw the top two teams clash at Ashmore Park.Home team Wednesfield Aces took on 2009 champions Horspath Hammers in a match that could decide the 2010 title.Both teams needed to win today,Wednesfield to draw level on points and Horspath to pull out a four point advantage of their closest rivals.The hammers were determined to take the points,even flying in two Polish riders,Rafa Dulinski and Prem Binkowski to help take the win.With Roger Cox and Sam Smith missing from the Wednesfield line up the Midland side were going to be on the back foot from the start against a strong Horspath side.


Heat one side the teams draw five all but an exclusion in heat two saw Lee Aris sent back to the pits for moving at the tapes which left team mate Scott Doherty to hold off Chris Osbourne to take a well ridden three points.A strong ride from Horspath's Steve Harris saw the Oxford rider take a fine win in heat three holding off Wednesfield's Dylan Radcliffe and Terry Norman,new British Under 19 Champion Mark Carmichael brought a single point from fourth place.Heat four saw Horspath's Polish pairing of Dulinski and Binkowski take an easy one-two from Mark Griffiths and Mick Aris giving the visitors their first seven-three of the afternoon.Heat six saw Rafa Dulinski hit the back straight fence after a tangle with Dylan Radcliffe which left the Polish rider on his back for a while but referee Bob Prince saw it as a racing accident and called all four riders back for the re-run which saw the injured rider Dulinski take a fine win from team mate Lewis Osbourne leaving the Wednesfield pairing of Radcliffe and Mark Griffiths to roll over the line for three points.Matt Beharell took a convincing win in heat seven holding off Mark Carmichael to take the four points.Scott Doherty and Mark Boaler gave the back straight fence another clattering in heat eight after the two riders got tangled up on lap two,referee stopped the race and called all four riders back to the grid for a re-run which saw Boaler excluded for moving at the tapes.A drawn ninth heat saw the scores at the interval Horspath forty eight points to Wednesfield's forty.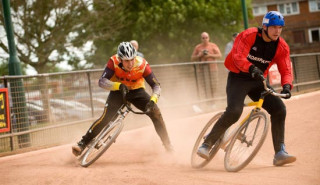 Heat eleven saw old rivels Lee Aris and Steve Harris racing head to head and a great pass on lap two saw the Wednesfield rider undertake Harris only for both riders to skid to a halt on a dusty first bend and team mate Doherty to slide into both of them allowing Mark Carmichael to ride past and take a comfortable win.Ace's Chris Jewkes took his first win of the afternoon in heat twelve with a typically solid ride holding off Lewis Osbourne into second.Horpath's fourth seven three in heat thirteen saw Binkowski and Mark Boaler ride a solid one-two to take the points from an out of sorts Wednesfield pair of Terry Norman and Dylan Radcliffe.Heat fifteen saw Carmichael excluded for legging Berharrel on lap three leaving Dulinski to sort the points for Horspath and a great ride saw the rider take second spot behind Lee Aris.With Mark Boaler's third win of the day in the final heat the Oxford side rode out victors by twelve points,94-82 in a match that Horspath deserved to win proving why they are favourites to take the Premier League title again.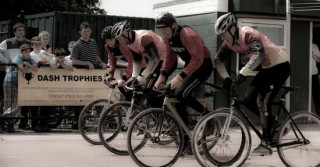 Wednesfield 82
Scott Doherty 13, Lee Aris 13, Mark Griffiths 13, Chris Jewkes 12, Matt Beharrell 12, Terry Norman 11, Dylan Radcliffe 7, Mick Aris 1

Horspath 94
Lewis Osborne 18, Rafa Dulinski 16, Mark Bolaer 15, Steve Harris 14, Prem Binkowski 13, Chris Osborne 8, Mark Carmichael 7, Shaun Rudman 3