Follow britishcycling.org.uk on
Report: Wednesfield Aces v Sheffield Stars
27th June 2010, Ashmore Park, Wednesfield | Report: Andy Whitehouse
On the hottest day of the year and with most of the country planning to watch a certain football match, Wednesfield and Sheffield had to re-arrange their Premier League match so both riders and spectators could get to a TV for the 3pm kick-off.
Sheffield started with a slightly weakened side, Jamie Brown and Lee Smith were both missing from Pete Dally's team, which Wednesfield capitalized on, putting in a dominating performance on the Ashmore Park track even though things didn't quite go their own way in the early heats, with a fine one-two from Sheffield's Matt Smith and Daruis Pilas in heat one.
Wednesfield reversed the score in heat two with an easy seven-three, with Scott Doherty and Lee Aris proving far too strong for Sheffield's Tom Haddock and Ben Dickenson. A tied 5-all heat three saw Sheffield's on-form Andy Angel take his first win of the afternoon, riding away from Wednesfield's Terry Norman and Dylan Radcliffe and leaving team mate Luke Jameson to pick up the one point.
It was Sheffield's Matt Smith and Darius Pilas who again repeated their first heat with a show of strength in heat five, leaving Wednesfield's Mark Griffiths and Luke Draisey to trail in third and fourth. A seven-three to Wednesfield in heat five saw the home side bring scores level at 25-all from which the Midlands side didn't look back. With Sheffield's Tom Haddock excluded in heat six for moving at the tapes, the Aces pounced to claim back-to-back 7-3 heat wins. Andy Angel took an easy win in heat seven and even had time to pop a wheelie on the back straight of the last lap but with team-mate Luke Jameson struggling to stay in touch with Wednesfield's Chris Jewkes and Luke Draisey, the Yorkshire side could only manage a tied heat.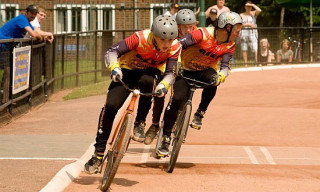 With a slow gate in heat eight from Matt Smith, Wednesfield's Scott Doherty and Lee Aris left their opposition making up the numbers, allowing Doherty to take his second heat win of the day. At the interval the it was 49-40 in favour of the Midlands' side.
Wednesfield came out after the interval all-guns-blazing taking heat ten 7-3 - Roger Cox and Terry Norman far too strong for Sheffield's Ben Dickenson and Martin Gamble. The following heat saw some excellent tactical racing from Lee Aris, allowing team mate Scott Doherty to pass and take his third win of the day and then holding-off Andy Angel to secure second. Matt Smith took his third win of the day in heat 13, holding-off Wednesfield's Terry Norman while Dylan Radcliffe rode to a fine third spot holding-off an improving Jamie Flamstop. With Sheffield's captain Darius Pilas earning an exclusion in heat 15 for moving at the tapes the match was all but over for the Yorkshire team who were 26 points adrift of the opposition. Scott Doherty's win in the final heat of the day gave the Wednesfield number three a twenty point maximum for the match and with Terry Norman riding to second place the Midland side finished the day twenty six points to the good.
Result
WEDNESFIELD ACES 102 POINTS: Scott Doherty 20, Chris Jewkes 16+1, Lee Aris 15+4, Terry Norman 15+4, Dylan Radcliffe 11+3, Roger Cox 10, Mark Griffiths 9, Luke Draisey 6+1

SHEFFIELD STARS 76 POINTS: Andy Angel 17, Matt Smith 17, Ben Dickenson 10+2, Darius Pilas 10+2, Tom Haddock 7+1, Luke Jameson 6, Jamie Flamstop 5, Martin Gamble 4
COMBINATION
With the senior team performing well in the Premier League Wednesfield's combination side was under pressure to carry on the afternoon's winning ways against Sheffield. With a much stronger team than the opponents they certainly showed they were not going to be outdone by the first team.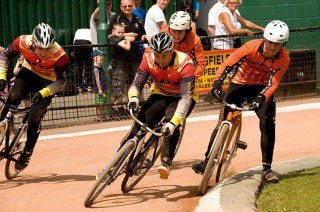 Both sides started the match well with Sheffield's Jamie Langton taking the race win in heat one, the young legs a bit too much for the experienced campaigner Mick Aris who rode in second. A tape exclusion in heat two by Wednesfield's Charlie Ellis left team mate Tony Deleon to do all the work to take the four points from Sheffield's Sandra Tomborski and Karalina Ozzak. Good team riding by Wednesfield's captain Matt Turley and Ben Harper ensured their first one-two of the afternoon in heat four taking an easy victory over Richard Hudson and Zak Smurthwate. Heat four saw the second tape exclusion of the afternoon from Wednesfield's Mick Aris leaving Tony Deleon to do all the work again to take the win in his second ride of the match, with Jamie Langton taking second spot and a valuable three points for Sheffield. Further one-two results for Wednesfield in heats five and six took the home side ten points up on Sheffield's 24 going into the interval.
Dominating riding by Wednesfield saw the home side secure five 7-3 heats in the second half of the match to ensure an unbeatable lead with race wins from Tony Deleon, Jordon Allcroft, Ben Harper and Charlie Ellits. With Ben Harper on for a race maximum the young Wednesfield rider was sent out in heat thirteen but Sheffield's Jamie Langton found the legs to take his and Sheffield's second win of the match denying Harper his maximum. However it was too-little-too late for the Yorkshire side, 30 points adrift of Wednesfield's 79.

Result
WEDNESFIELD ACES 79 POINTS: Ben Harper 19, Jordon Allcroft 16+2, Tony Deleon 15+1, Matt Turley 12+4, Mick Aris 9+2, Charlie Ellits 8+1

SHEFFIELD STARS 49 POINTS: Jamie langton 14, Sandra Tomborski 7, Richard Hudson 6, Karolina Ozzak 5+1, Adam Watson 4, Laua watson 3, Zak Smurthwate 3