Follow britishcycling.org.uk on
Cycle Speedway Reports
Week Ending 28th March 2010 | Latest Premier League Table

Reports and results from the cycle speedway leagues.
SHEFFIELD 92 BIRMINGHAM 85
28th March 2010 | Report and Images: Andy Whitehouse
The 2010 Premier League got off to an explosive start at The Graves today (Sunday), home of Sheffield Stars. A close run match full of excellent racing, crashes and some brilliant passing befitting the sport's best riders. With Sheffield taking the 2009 seasons runners up spot and Birmingham taking third place the meeting was always going to be a close call and the final points tally did not reflect how close the racing was, but with Birmingham going into the final heat seven points in arrears, the match just slipped away from the Midland side and Sheffield took a well deserved victory.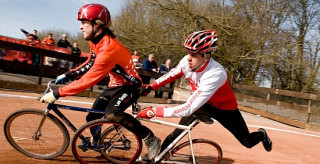 The first win of the day went to Birmingham's Chris Timms taking the four points in heat one with Sheffield's Dariusz Pilas hanging in for second place. Heat three saw Gary Pierce sent back to the pits for a racing incident and in the first re run both Sheffield riders Lee Smith and Pawel Kozlowski crashed on the first bend which left Birmingham's Paul Heard on a clear track and looking to take his first win of the afternoon but referee Al Bentley blew the whistle and brought the three riders back to the grid for the third time. Heard made no mistake and rode the two Sheffield riders off his back wheel to take the heat win and give the Monarchs a one point advantage by heat four.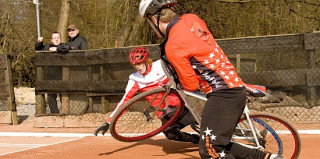 Heat five saw a monumental tussle between Simon Gamble(Sheffield) and Russ Evans(Birmingham) which went down to the final lap and saw both riders crash feet from the finish line, Gamble was first to his feet to drag his bike over the line to take third place and leave Evans to dust himself down to take a point.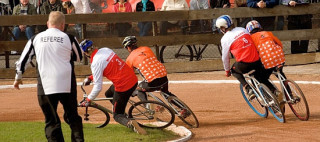 Today wasn't going to be Gary Pierce's day and a shoulder to shoulder rub in heat seven with Dariusz Pilas saw the Monarch's rider bite the dust on the third lap,Pilas took second place behind a strong looking Paul Heard and with Sheffield's Ryan Hoyland taking third spot the heat gave the score sheet its fourth tied heat of the meeting.
More spills and controversy in heat nine resulted in three re runs.An exclusion for Birmingham's Dominic Rycharski for legging left all the work to Birmingham new singing Ben Mould but with Kozlowski and Leon Wilde riding a good team race, six points were in the bag for the Stars which gave them a four point lead going into the interval.
Image Gallery
The racing after the interval was a more measured affair with both sides taking wins, seeing the scores pretty much shared out with only a few points separating the teams the result could have gone either way, but there was a sting in the tail and heat seventeen saw a four re run heat. Paul Heard got tangled up with the tapes at the first asking and in the second re run the Birmingham rider was shoved into the fence coming out of the second bend.
Crash Sequence Images
With the match still up for grabs nerves were becoming frayed both on and off the track and in the third run Ben Mould and Jamie Brown tangled to crash which again resulted in all four riders been invited back to the grid. The fourth re run saw Sheffield's Pilas eventually take the win just outgunning Paul Heard and with Brown taking third spot Sheffield were pretty much home and dry to take their first win of 2010 Premier league.
SHEFFIELD 92: Andy Angell 19, Dariusz Pilas 16, Pawel Kozlowski 15, Ryan Hoyland 11, Lee Smith 11, Jamie Brown 10, Leon Wild 5, Simon Gamble 5
BIRMINGHAM 85: Chris Timms 18, Paul Heard 18, Marcus Wadhams 13, Nathan Groves 11, Ben Mould 11, Garry Pearce 7, Russ Evans 4, Dominik Rycharski 3
Referee: Albert Bentley (West Midlands)
COMBINATION
SHEFFIELD 56: Ben Dickenson 18+1, Aiden Owen 14, Kyle Brough 7
BIRMINGHAM 74: Pete Bousiour 13, Mark Winwood 11+1, Carl Winwood 11
NORWICH 85 - POOLE 90
28th March 2010 | Report: Gary Colby
Norwich 'Norfolk Premier Coach Works' Stars opened their 2010 premier league campaign with what was on paper, a fairly easy looking match against Poole 'Sea View Coaches' Comets at Eaton Park on Sunday, but after holding the lead at half time they quickly slipped back into bad old ways in the second half as Poole grabbed hold of the mistakes made and took the premier league points.
Norwich opened with a 7-2 heat win and maintained their lead right up to the interval with Norwich Lee Grange and Leigh Cossey riding tactically at reserve. Norwich lead at the break 46-41 with the prospect looking good to record that first win of the season. Poole though had other ideas and came back to put Norwich under pressure. Silly mistakes through race exclusions didn't help Norwich, and after heat 14 Poole hit the front (67-68) for the first time. All Poole now had to do was keep their calm and the match was theirs, and with Pavel Ciegelski and Gavin Wheeler taking the chequered flag in crucial heats the visitors were able to go on and win the match.
NORWICH 85: Dave Solomon 14+1, Leon Mower 8+2, Phil Howells 17, Dan Osborne 2+1, Ian Grange 11+1, Dan Chambers 10+1, Lee Grange 17, Leigh Cossey 6+1.
POOLE 90: Pavel Ciegelski 15, Ben Donohue 12+1, Pete Young 18, Sam Hearn 10, Gavin Wheeler 17+1, Jake Williams 9+3, Aaron Morgan 5, Leyton Glover 4.
In the Premier Combination League, Norwich looked very sluggish as they tried to keep up with their faster, sharper opponents. Poole supplied the winner in all 13 heats of the match with only Josh Colby, Barry Copping and to a lesser extent Kieran Parr of Norwich offering any form of resistance. After such a good season last year Norwich will have to turn the form book upside down in 2010 if they are to see any improvement.
NORWICH 73: Barry Copping 10, Rob Warminger 4, Kieran Parr 10, Liam Parker 2, Joshua Colby 13, James Wakefield 6+1
POOLE 83: Aaron Moragan 19+1, Dean Hook 9+1, Sam Hearn 10+2, Leyton Glover 19+1, Jake Williams 14+2, Matt Elston 12.
HORSPATH HAMMERS 94 WEDNESFIELD ACES 80
28th March 2010, Horspath | Report: Geoff Gamage
The defending Champions Hammers started this match drastically - a fall whilst leading for Mike Morgans hindering Lewis Osborne in the process saw Aces pair Dylan Ratcliff / Chris Jewkes race away to a 7-3, then a gate exclusion to Chris Osborne saw a 6-3 with Lee Aris winning from Steve Harris.
Two gate exclusions in heat three, one for Aces' Scott Doherty, another for Hammers' Mark Boaler. Matty Szymczak then beat Roger Cox to reduce the arrears to six. Mark Carmichael / Lewis Osborne combined for a 6-4 in the fourth heat to claw some more back but following two drawn heats and wins for Aris and Jewkes, Aces took another 6-4 from Cox / Doherty.
Heat eight and the Hammers hit back with a 7-3 via Harris / Chris Osborne. A drawn heat nine with Mark Griffiths winning a tactical race saw the visitors leading 44-42 at the halfway point.
The second half saw the home side take the lead with an impressive 7-3 from Rudman / Boaler over Aris / Norman. Two more drawn races were followed by wins for Doherty and Lewis Osborne, then a 6-3 in the 13th following a Ratcliff exclusion for obstruction. Carmichael won a drawn heat 14, Harris / Rudman combined for a 6-4 in the 15th then Carmichael / Morgans took 7-3 over Aris to put the match out of reach.
Carmichael won the penultimate drawn heat with Harris / Boaler taking a 6-4 to round off proceedings, Aces were without Matt Beharrell and look a good compact side and will improve as the season progresses whilst Hammers took some time to get things together. Reserves Mark Carmichael and Shaun Rudman looked lively and bearing in mind both Danny Harper and Dave Carmicheal (back injury) were watching, their strong squad should have a good season in the BPL once they get used to riding together again!!!

COMBINATION
A very good match - Hammers strength in depth this season and the improvement of their Junior riders showed throught after being heavily beated in the same fixture last year. A fine 20 point maximum for Terry Norman led the Aces challenge well supported by Matt Turley and Mick Aris, however the full signing of Mike Burgess gives Hammers a genuine threat and his 16+2 and that of fellow vet Mark Janes was the foundation of the win with solid back-up from the Juniors. Horspath had another eight riders watching so should auger well for a good combination campaign for once.
PREMIER LEAGUE
HORSPATH 94: Lewis Osborne 12, Mike Morgans 8+1, Steve Harris 17+1, Chris Osborne 7+1, Matty Szymczak 15+1, Mark Boaler 11+2, Mark Carmichael 15, Shaun Rudman 9.

WEDNESFIELD 80: Dylan Ratcliff 9, Chris Jewkes 15+1, Ben Higham 6, Lee Aris 14+1, Roger Cox 11+1, Scott Doherty 8+1, Mark Griffiths 11, Terry Norman 6
Referee: Bob Prince

COMBINATION
HORSPATH 71: Mike Burgess 16+2, Wayne Clarke 9+2, Mark Janes 12+1, Lee Clarke 6+1, Matt Coulter 6+1, Jack Smith 10, Martin Glover 5+1.

WEDNESFIELD 61: Tony Deleon 5, Mick Aris 11, Luke Draisey 8+1, Matt Turley 12, Terry Norman 20, Charlie Evitts 6.