Interview: Wednesfield's Ace, Lee Aris
Part 2 - Lee on the Sport today and its future
Wednesfield Aces always seem to have raced with riders from the local area - have you ever thought of going out into the 'transfer market' to sign the 'best' riders out there?
We've never really needed to go looking. We haven't got a list that we pick people off . In the past we've had riders want to ride for us like Adam Peck, James Stud, Craig Newsome from Edinburgh to name just a few. They are all still good friends and each one of them was fully committed to helping us win. There was never any financial reward for any rider who came to ride for us.
What are your thoughts about foreign riders in the sport?
They have definitely had a positive impact on cycle speedway in this country.They've definitely shaken things up. We've realised we need to train a lot more to compete on level terms. I think the top riders have responded pretty well. Having said that, I think they scared us a bit: the Polish guys train hard, we tend to look at the sport as a hobby which has to fit round work and home-life but the Polish guys look at it the other way round.
What's your view on foreign riders being flown into the U.K. to compete in races?
If someone wants to fly a couple of Polish riders in for a match ,good luck to them...but I think the novelty will wear off when the results don't happen and the club chairmen aren't going to keep funding it.
Staying with the foreign rider subject, should there be a limit on the number of foreign riders allowed to ride in a team at anyone time?
Well we used to have a limit of two foreign riders per team and it worked really well. By limiting the numbers it allows you to build a team for the future by encouraging the younger riders. I haven't got anything against the foreign guys just the money men who can afford to bring them over and buy a cycle speedway team: they're not looking to the future, just a quick success today. I do believe if they capped the number of riders it would have a positive affect on the sport.
You mentioned bringing on the younger riders in the sport. How do you see the role of combination racing?
It's a must. It gives the youngsters a chance to race and a chance to race against the top guys in the sport. If we stopped running these races it would have a detrimental effect. I think if you are going to travel to a race you should take a second team to ride the combination - maybe have a rule that states if you don't have two separate teams, the first team lose a point. I think most teams would field two teams if that was the case.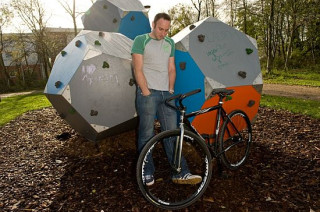 What do you think about the new women's league for 2010?
A good thing definitely and deserved to. For years the girls have had to compete against the lads but now having their own league and the opportunity to race against themselves has to be a good thing. I take a junior training night at Wednesfield and a least a third are girls so we could certainly contribute to that. Some of the girls can compete with the lads but at the end of the day it really comes down to a guy's physique and strength.
Looking to the future for a moment, do ever see yourself taking on a refereeing role or a team management role?
Well, my brother Wayne is an International standard ref and he's done really well. I think he's pretty well respected because he's a cycle speedway rider and he's reached the British final, so he understands the sport and the riders and he knows when someone is trying it on. My sister Michelle has started reffing recently. She's got a way to go but she'll get there I think. And me?.........too busy riding!
On the management front, I did it a few years ago. Roger Ellis (Wednesfield manager) wanted a break so I stepped in for a couple of years. It is difficult to manage and ride and I think they are two separate roles. It is nice just to turn up and ride my bike. I had a lot of critics say I didn't ride well in Austrailia this year because I was managing the junior team over there but I had too many tape exclusions that's why I didn't ride well. I enjoyed managing the juniors but we didn't win and I hate losing. If I have the chance to manage again when America comes around, the sensible thing to do would be to say no thanks and just go and ride my bike but If I'm given the chance to manage the team I'd probably take it and try and turn things around.
Is there a place on the commission for you?
Maybe in the very distant future. I think it's too time consuming to be honest. It would be a good thing to have younger people on there but would they want to do it? The guys on there now are always knocked but who else wants to do it? I think we should be supporting the people on the commission and give them any assistance we can.
How about British Cycling's role in Cycle Speedway?
It's a must. I think the majority of people would say Cycle Speedway needs British Cycling. It's just the same few names that are against it and who are voicing negative comments about British Cycling. The people who have positive comments tend to keep them to themselves - maybe they should say more positive things, because it becomes contagious. All these negative comments aren't a good shop window for cycle speedway.
There were a few rumbles about us leaving British Cycling but I don't think that will ever happen.
I think a lot of people's moans in the past have been directed at British Cycling because for one reason they never seemed to promote Cycle Speedway, but just because we are under their umberella we can't just sit back and expect things just to happen and people who think that are very short sighted.
I do think with Sky on board there's no reason why they can't support cycle speedway. It can be easily done. Coventry proved that a few years ago. Its probably because there are no financial rewards to be had from our sport
And finally where do you see Cycle speedway in the next few years?
I think we've turned a corner. It's here to stay and the numbers in the junior league are impressive, Combination racing is coming on stronger and the women's league is starting. Maybe a spark could just set things alight. Clubs are putting a lot of effort in promoting the prestigious events which is great. It's good to see some of the smaller clubs getting the big events as well,so things are looking great for next season
Thanks Lee and good luck for 2010!
Cycle Speedway's next major event is the National indoor finals at FIT City, Broughton, Salford 28th/29th November
---
Interview: Wednesfield's Ace, Lee Aris
Part 1 - Lee Aris, the rider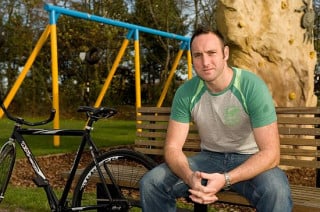 The season over, a relaxed Lee Aris poses for Andy Whitehouse

Interview & Images: Andy Whitehouse
The name Lee Aris is synonymous with the sport of Cycle Speedway. The 2009 national individual champion, Aris is a rider who is regarded by many of his contempories as the best rider in the business. He's a multiple national champion both individually and as part of the dynamic Wednesfield Aces team. A hard man on the shale who always has a desire to win any event he enters, off the track Lee is someone who is respectful of his racing roots and his fellow riders.
I caught up with him at his Wolverhampton home to find out a little more about the man behind the racing persona and his thoughts on the future of the sport.
So where did it all start?
I've been riding/racing a bike for as long as I can remember and luckily my dad (Mick Aris) has always been heavily involved with Cycle Speedway. We had Phoenix Park locally so I suppose I was racing there from when I was about 8 years old.
And who are your main influences?
My dad, who can always get the best out of people and fellow Wednesfield team manager Roger Ellis, who is always there for me. There's also Gavin Wheeler who is a livelong friend but on the track he is a fearsome rider. Even though his results have dipped this year he is probably one of the best riders I've raced against.
Have you always ridden for Wednesfield?
No, I had a short spell at Dudley. The family moved over that way and I joined Dudley because dad did and it seemed a natural thing to do. I won my first National title wearing a Dudley top in '93 which didn't feel 100% right because I thought if I win a National title I wanted it to be in Wednesfield colours.
So you've got no thoughts about leaving Wednesfield?
Unless I was forced to or there was a grading system that pushed me out I would never leave Wednesfield.
What was your first major success?
The 1998 Individual championships at Southampton was the first time I knew I was ready to win and beat any rider in the land. It came down to a run off with Dave Hemsley (Leicester) and if I had got the inside grid I still say I would have been the Individual champion that day but Dave beat me and I was runner up. I had to wait until 2004 at Horspath to win my first National Individual title.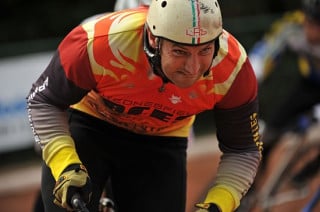 The Aris race face is a familiar sight around the Cycle Speedway tracks of the world
What would you rate as your most memorable match and your proudest moment?
It has to be in Australia in 2005.Poland and Australia were the favourites and we (England) had a few tape exclusions. I remember Dave Hemsley had one which means you have four points just wiped off your score and can be devastating in the team events. We went into the final heat and we had to beat Poland and I had the outside grid and we managed to get the points level which meant a run off. England manager Pete Barnes asked me if I wanted to ride it and my dad was in the pits and was convinced I should go and ride it. So I got myself together and luckily I drew grid two and Lukasz Nowacki was on four and I held the gate and rode the race from the front and England won the World Cup. So that's it, giving England the World Cup would have to be my proudest moment in the sport.
You lost the team finals recently at East Newport to Horspath in a nail biting meeting which went down to the wire. What are your memories of the day.
We lost the match and I played my part in that with a tape exclusion which was devastating to the team. It's a team event and the guys fought to turn things round but that's Cycle Speedway. It was a great day for the spectators, there was some controversy but on a positive note it was a great advert for Cycle Speedway. Credit to Horspath, they hung in there. They're mean, competitive and they deserved the win. It was a quiet coach on the way home but by the time we got back to Gilbert's (the Ace's watering hole) we had pretty much forgotten about the loss. I think the loss has had a positive effect on the team because we lost it together and its probably brought us as a team closer together.
You seem to me to have that air of 'I'm going to win this' attitude at races. Is that a true reflection of your approach?
That's one thing I've learnt, you can't go to these championships and treat them like any other match. I understand why people train and peak for these things but the bottom line is there isn't that much difference between those sixteen riders in the pits. Sometimes the draw can play into someone's hands but if you're strong enough to win, you can win it off any grid and you can guarantee someone will get some bad luck on the day so you have to hope that lucks on your side that day. I never dwell on the negatives of my performances: some people seem to, but I just get on with things.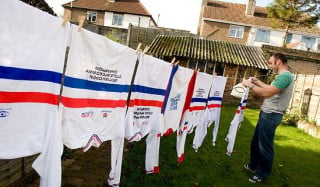 Hanging out the washing for Lee Aris includes an impressive array of national champion's jerseys
Moving on from racing what are your thoughts about training and fitness in cycle speedway? (Lee trains on the road and track with Wolverhampton Wheelers)
There's usually one or two training sessions a week on the track down Ashmore Park. I think it's about a rider's attitude, how they turn up to train. Some guys turn up ten minutes before a session and leave ten minutes before the end ......
And diet - do you have a scientific approach?
I'm not a slave to a diet. I enjoy fast food - my day job involves a lot of driving and when I stop to eat I sometimes find myself looking at labels then slapping myself and picking the sandwich I want, although leading up to a major event I do think more about my diet and I think a lot more about hydration. I won a few Championships after drinking energy drinks so I think that worked so I always take my drinks with me.
Part 2 of Andy's interview with Lee will be with online shortly