Grand Prix of Great Britain Finals
With a prize pot of £1000, the inuagural British Cycle Speedway Grand Prix was always going to be the clash of the titans, and the racing at East Park did not disappoint the large crowd that saw Polish rider Lukasz Nowacki take the honours from the British individual champion Lee Aris in a meeting that saw some hard fought contests throughout the afternoon.
Smoke wreathed, the winners celebrate at the end of a tough day's competition
The Polish contigent set the afternoon's tempo with wins from Pawel Koslowski(14 pts) in race one and not to be outdone fellow countryman Darius Pilas(11pts) took the four points in race two from Hull's Adam Stephenson(12pts). Nowacki's first win of the afternoon came in race three and even after dropping a point in heat nine, it looked like the title was his.
Lee Aris' first outing of the day in heat four resulted in a second place behind Welsh open champion Thomas Reed (14pts) who could have won a podium place if he had not been excluded in his next outing in heat six - nevertheless it was an afternoon's racing which the young Exeter rider could be proud of and a win in the fourth place run off against Koslowski ensured the petrol money was covered for the trip upto the Midlands.
Stoke Whiterock stalwart Lewis Bates(16pts) never fails to impress with his agressive riding and even though he wasn't looking as sharp as usual, he secured two wins and two second places to ensure the third step on the podium. Ever smiling Andy Angel's (6pts) day didn't prove as fruitful as he would have wished with low placings and an exclusion in his last outing, which saw the Hull rider not realising his real potential on the day.
But with such a classy field - and we've not even mentioned under 19 champion Paul Heard(9pts) and Ipswich's Dan Pike(12pts) - it was always going to be closely faught, but in the end the title was to be decided by two of the best riders in the World today. On another day the title holder could have easily have been reversed but it was Nowacki's day and a thorughly deserved victory by the Polish rider.
As the season draws to a close, it was another day of great racing and congratulations must go to a young club, East Park, who put on an event to be proud of and with the help of the Wolves motor speedway track team, they served up a track with a top surface to race on. With new events and new clubs coming through, 2010 is going to be an exciting year for Cycle Speedway.
1st Lukasz Nowacki 19, 2nd Lee Aris 19, 3rd Lewis Bates 16, 4th Thomas Reed 14, 5th Pawel Koslowski 14,
Dariusz Pilas 11, Lewis Osborne 9, Gavin Wheeler 9, Paul Heard 9, Andy Angel 6
Ben Mould 12, Adam Stephenson 12, Matt Beharrell 12, Marcus Wadhams 12, Daniel Pike 12, Terry Norman 11,
Images (Many more in galleries linked at top of page)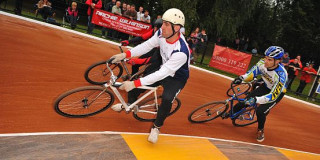 Classic close-formation cornering shot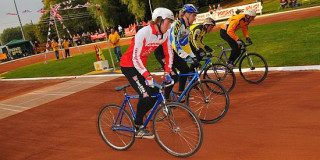 The start is crucial in Cycle Speedway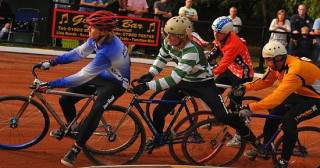 Above and below - the rare sight of national champion Lee Aris biting the dust