Interview: Jess Lamb
With Cycle Speedway's national women's championships just around the corner, Andy Whitehouse spent a day with Jess Lamb, a rider who has tasted success in the event and is keen to regain the title she won in 2007.
So who is Jessica Lamb? Well, she's an English, Australian and Scottish international bike rider? There's obviously a story there in the nationality alone - she's got a Scottish Father, English mother and has been a resident of Australia, though she's currently living in sunny Poole in Dorset, which is where we had arranged to meet for a photo shoot and a chat over a coffee or two.
Jess begins with an anecdote about an incident which amused her and which sums up the Cycle Speedway approach to life: "I was asked by a policeman to get off my bike when I was riding home from a training session recently because I'd got no lights on it. He never mentioned anything about the lack of brakes", she laughs!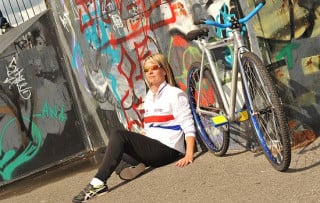 So, with coffee and chocolate cake ordered, we sit outside a quayside café staring at the multi million pound yachts being built over the far side of the harbour, wondering what recession?
I ask Jess a little bit about her interests before we get talking about her love of cycle speedway.
"I'm having flying lessons at the moment. That's taking up a load of time.......and money" she says with a wry smile,"it's something I've always wanted to do" and Jess admits her outlook on life has always been "I'm going to do that." And she usually does!
"I'm a rock chick I suppose. I love rock music, especially the Foo Fighters and of course AC/DC. I got 'Black Ice' recently - great album!"
"Then there's bikes of course" - Jess used to race Motor Speedway for Somerset/Reading before she started racing the Cycle form again in 2006 after a year's break.
"I came back because the standard of women's racing was improving dramatically and is still rising."
She started riding Cycle Speedway at her local club Poole and being the only girl racing in those days found the going a bit tough - not only physically but also mentally with the jibes and the knock backs from the male riders and the female spectators, but in typical Jess style she stuck to her guns and over her career she has achieved some impressive results.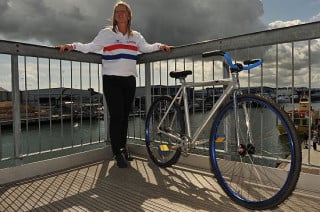 Back in 1995 she was third in the Women's European championships and in 1997 she was the only women to ride for the English Junior team. She's also the only current British woman rider who has raced at International level.
After her return to the sport, she won the National Women's Championship in 2007 at a very wet Horspath, beating Lucy Whitehead into second place. "I was pleased with that one because Lucy was riding so strong that day"
Defending her title in 2008 Jess was beaten into runner up spot by Amy Crouch of Leicester, who is a rider she rates highly. Indeed, she names her as a rider who is strong enough to win this year's championship.
I asked Jess who else she thinks is in the running for this year's championship, which is been held at Bretford over the August bank holiday weekend?
"Well me of course. I always believe I have the best chance of winning anything I enter." It's a typical, confident response, the kind which we've come to expect from Jess. "Lauren Jacobs and Laura Dale are riding well and of course, as I said, Amy too."
On thing Jess is passionate about is her hopes for women's Cycle Speedway and she'd love to see the numbers involved increase over the next few years. "I think the sport needs to become trendy again but that's going to take a while. I think, maybe, it needs a fresh approach to things if were going to get more girls involved, although the BY and J league is doing some great things with the kids. We had 46 down at the track(Poole)last week. That was fantastic." She's not afraid to make suggestions as to how the sport might develop - "In Australia they have bars and wine bars next to the track which is great - well at least for the spectators." Now there's a thought.
When we spoke, there were 5 weeks still to go before the Women's Championships and there was training to do, and Jess was getting ready to start another hard session on the shale. It's been a long day but Poole's a great place to spend some time. Poole Cycle Speedway Club must have the most picturesque setting for a Cycle Speedway track, so I order another coffee and soak up a bit more sun as Jess pedals away.
Women's Cycle Speedway Championships: 29 August 2009, Bretford Bulldogs CSC, Bretford Playing Field, Brandon Road, Bretford, Rugby.
---
More from Andy's photoshoot with Jess