Leicester Retain Women's Club Title
Busy pit scene at A & T's Gin Pit track
Astley & Tyldesley hosted the 4th annual Women's British Club Championship at Gin Pit on Saturday. The racing proved to be extremely competitive, on a fast track, as the standard of women's racing in the UK continues to improve. The riders had to endure strong windy conditions, but fortunately the threatened heavy rain showers held off until the last race, although the riders did get rather wet during the presentations!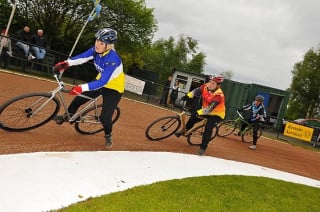 Under lowering skies, three riders hold a tight line into a corner
Defending champions Leicester held a 3 points lead over Ipswich after the first round of races. The Suffolk side hit back strongly to draw level after the second round of races and the scores remained level when the interval was taken after heat 15. The two sides were still level after heat 18, before Leicester edged into a 2 points lead after the fourth round of races. Leicester's lead remained at 2 points going into the final heat 30. Hethersett's Tiffany Collins gated first to pull clear and win the race, with Leicester's Lucy Whitehead coming though to take 2nd place and clinch the overall win, ahead of A & T's Beren Airstone, with Ipswich's Paige Knight running a last place.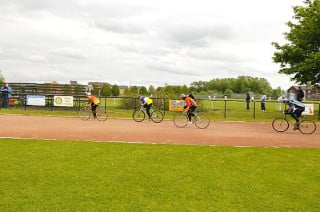 Nice panorama of the back straight
Leicester deservedly made it four wins out of four in this competition, but unlike their previous wins, they were pushed hard all the way by an enthusiastic and determined Ipswich team. For Leicester, British Women's Individual Champion Amy Crouch raced to a 20 points maximum score and recorded the fastest time of the day, with captain Lucy Whitehead unbeaten up to the last race, when she secured the points necessary to win the match. Ipswich's Lauren Jacobs also raced unbeaten with a 20 points maximum score, with a strong display from Laura Dale, who only lost to Leicester's top pair. Wednesfield were also in strong contention throughout the match, with their top three place never in much doubt, but they fell away with exclusions in their final two races. Charlie Ellitts lost only to Laura Dale, before giving up her last race in favour of the reserve rider.
Astley & Tyldesley, Hethersett and Sheffield had their own strong tussle throughout the match to determine the lower positions and it was the home A & T club who made a late run to take fourth place overall, with Michelle Hughes leading the way. This was a good achievement, considering that only Laura Watson competes regularly at cycle speedway. Hethersett were hit by injuries and could only field three riders, but credit to them for putting in a gutsy display, with Tiffany Collins winning two races. Finally, a very young Sheffield team, led by Amber Webster, never gave up trying and can feel well pleased with their efforts.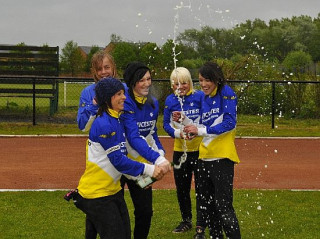 The Leicester team celebrate their win is style
The match was well refereed by Pete Ward. Medallions were presented to all competing riders by Zenno Vattev, Funding Officer for Wigan Leisure & Culture Trust.

Result
Leicester 69: Amy Crouch 20, Lucy Whitehead 19, Michelle Whitehead 17, Jenna Whitehead 12, Rebecca Hemsley 1.
Ipswich 65: Lauren Jacobs 20, Laura Dale 18, Rosie Woollard 16, Paige Knight 11.
Wednesfield 55: Charlie Ellitts 15, Reanna Brindley 15, Tara Warren 14, Natalie Timms 11, Sharna Cox 0.
A & T 39: Michelle Hughes 12, Laura Watson 10, Beren Airstone 9, Helen Brown 8.
Hethersett 36: Tiffany Collins 15, Carly Grimes 12, Katie Adams 9.
Sheffield 29: Amber Webster 8, Demi Jama 6, Amy Smith 6, Niamh Morton 5, Billie Owen 4.
Referee - Pete Ward (Bury)