Cycle Speedway Weekly Roundup
Week Ending 13th Sept 2009
Reports and results from another week of cycle speedway action
---
Photo Report: 2009 Team Finals: Horspath hammer home a tight victory: Horspath Hammers were crowned British Team champions on Sunday 13th Sept in an adrenaline-fueled clash against Wednesfield Aces at East Newport's track. We've got a full report, results and images courtesy of Andy Whitehouse. Read more...
---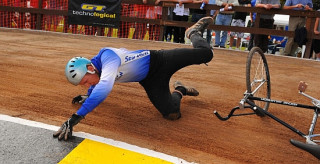 Photo Report: Team Champs Semis - More images from East Newport from the Semi Finals: Wednesfield v Poole and Stoke v Horspath. Read more...
---
Astley Hit Heckmondwike Hard

Astley & Tyldesley v Heckmondwike - Northern League, 13th Sept 2009
Report: Mike Hack
Astley & Tyldesley rode to a big win, 95-45, over Heckmondwike in a Northern League encounter at Gin Pit on Sunday. For the second Sunday running, Heckmondwike could field only four riders and the outcome was never in doubt. Credit goes though to the four riders for putting on a match, with Darren Kent twice putting in fine rides to beat Ben Dickenson from the back and Andy Bradshaw a race winner in heat 14. For A & T, both Dariusz Pilas and Remi Burchardt raced unbeaten by an opponent, with Ben Dickenson beaten just twice. The rest of the side put in a solid showing throughout.

Northern League match result
Astley & Tyldesley 95 Heckmondwike 45
A & T: Remi Burchardt 19 (1), Ben Dickenson 18, Dariusz Pilas 17 (3), Luke Jamson 14 (1), Will Evans 9 (2), Andy Knowles 8 (3), Joel Partington 5 (1), Matthew J. Turnbull 5.
Heckmondwike: Darren Kent 16, Andy Bradshaw 13, Richard Westcott 9, Andy Morris 7.
Referee - Gary Nuttall.
Afterwards, A & T took on Stockport in a Combination Challenge match. Both sides blooded their youngsters to give them much needed match practice. Stockport ran out winners 66-54, leading from the first race and throughout the match. Matt Turner and Joe Pickford both raced unbeaten for the visitors. Best for A & T were Joel Partington, beaten once by Turner, and Matthew J. Turnbull.

Combination Challenge match result
Astley & Tyldesley 'B' 54 Stockport 'B' 66
A & T: Matthew J. Turnbull 12, Joel Partington 11, Adam Watson 10 (1), Laura Watson 8 (2), Max Evans 6 (1), Tyler Koch 4, Sasha Street 3.
Stockport: Matt Turner 15 (1), Joe Pickford 14 (2), James Carter 14, Georgina Healey 9 (1), Jake Wild 9, Sophie Pickford 5.
Referee - Gary Nuttall.
A & T hosted the sixth and final round of the North West Go-Race Grand Prix series. Riders went off a varying range of handicaps, as set by the referee, throughout the match.. On the day, Luke Jamson took the honours, dropping his only point to James Carter in heat 11. Joel Partington finished 2nd with 17 points, whilst Jake Read and Joe Pickford tied for 3rd place with 16 points apiece. However, the overall series was decided lower down the day's scoring. Max Evans scored 14 points on the day and, with closest challenger Adam Watson also scoring 14 points, emerged as overall winner of the series, with Adam taking 2nd place. Luke Jamson finished in 3rd place overall in the series.

North West Go-Race Grand Prix Round 6 result
Luke Jamson 19, Joel Partington 17, Jake Read 16, Joe Pickford 16, Ben Dickenson 15, Max Evans 14, Tyler Koch 14, James Carter 14, Adam Watson 14, Laura Watson 13, Sasha Street 11.
Referee - Gary Nuttall.
North West Go-Race Grand Prix Series final standings
Max Evans 69, Adam Watson 67, Luke Jamson 57, Tyler Koch 51, Joel Partington 44, Ben Dickenson 44, Laura Watson 44, Colin Farn 35, Adam Turnbull 32, Regan Bond 16, Jake Read 16, Joe Pickford 16, James Carter 14, Stefan Whitelegg 12, Adam Phillips 12, Kian Crane 12, Sasha Street 11, Connor Blakeley 10, Josh Peacock 7.
---
Other Results
East Anglian Association events at Hethersett, 12th Sept 2009

East Anglian U10 Individual Final
1 Colby Hack Blakenham 20
2 George Wiggins Kesgrave 18
3 Pierce Bacon Kesgrave 17
after race-off with Kane Grimmer Blakenham 17
Referee Ian Grange
East Anglian U13 Individual Final
1 Richard Fellgett Ipswich 20
2 Adam Overett Ipswich 18
3 Ross Knight Kesgrave 18
Referee Dave Martin
East Anglian U16 Individual Final
1 Dan Chambers Hethersetr 19
2 George Solomon Ipswich 19
3 Andy Turnbull Kesgrave 17
Referee Mel Perkins
NORFOLK U13 ** 90 Rob Warminger 18+2 Danielle Riley 17+1 Ross Knight 16 Oliver Riley 13+2
SUFFOLK U13 88 Pierce Bacon 14+2 Lewis Davies 13+2 Matthew Gifkins 11+3 Rosie Woollard 11+3
** Norfolk used two guest riders from Suffolk and one over-age rider
Referee Stan Allison

NORFOLK U16 91 Kieran Parr 17 Dan Chambers 17 James Wakefield 16 Harley Hamill 12+1
SUFFOLK U16 89 Andy Turnbull 18+1 George Solomon 16+1 Jordan Stant 16 Marcus Szyzylyk 12+1
Referee Dave Hunting
Norfolk & Suffolk League, 13th Sept 2009
GT.BLAKENHAM 104 Dan Osborne 20 Lewis Osborne 20 Chris Osborne 19+1
HETHERSETT 76 Dave Martin 16 Phil Adams 14 Dan Chambers 12+2
Referee Terry Ashford

South-east Youth League
GT BLAKENHAM U16 85 Marcus Szyzylyk 22 Colby Hack 18+2 James Day 17+1
HETHERSETT U16 65 Dan Chambers 23 Carly Grimes 15+3 Tiffany Collins 15
Referee Dave Martin
Hethersett U16 Club Championship, 15th Sept 2009
1 Harley Hamill 15
2 Dan Chambers 15
3 Scott Grimes 12