Photo Report: Birmingham v Wednesfield
2nd August 2009, Birmingham
Report and Images: Andy Whitehouse
Midlands League action caught on camera by speedway snapper Andy Whitehouse.
Birmingham 110: Paul Heard 20, Mark Winwood 18, Chris Timms 16+4, Bob Prince 12+3, Nathan Groves 12+2, Marcus Wadhams 12+1, Paul Timms 12, Tom Sensicall 8+2

Wednesfield 66: Chris Jewkes 15+1, Dayle Peace 12+1, Sam Smith 12, Roger Cox 10, Charley Ellitts & Reanna Brindley 6, Wayne Aris 3, John Russell 2.
Birmingham Monarchs continued their dominance of the Midland League with an impressive win over local rivals Wednesfield Aces held at Perry Park Sunday 2nd.
Above: Every cycling discipline has its race face. Here a Birmingham rider pulls a classic 'speedway face'...
'Top rides from Paul Heard (20pts), Mark Winwood (18pts) and Chris Timms (16+4) ensured The Monarchs were unbeatable on the day and even though the Aces rode better then their 66 points,they were no match for the stronger Perry Park team who won 9 of the 18 races..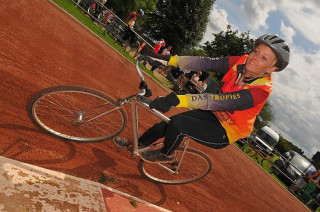 Above: It's all smiles for this Wednesfield rider
One nasty looking crash saw Nathan Groves and Chris Jewkes collide on the first bend both collecting a few bruises and grazes and Dale Peace unable to avoid the fallen riders joined in the scrape.All the riders recovered to contest the re run.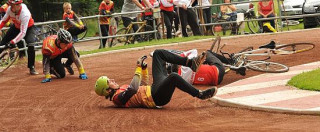 Above: Carnage! Thankfully all riders were able to contest the re-run
The match was very well refereed by Wednesfield's Albert Bentley and both teams gave the spectators a highly entertaining meeting.

COMBINATION RESULTS

Birmingham 66: Phil Widdas 20, Adam Lamb 16, Mark Fletcher 15+1, Jordan Russell 6, Reece Winwood 5, Ryan Winwood 4
Wednesfield 64: Ryan Harpin 15+1, John Russell 14+1, James Harriman 10+1, James Gallea 9+4, Alex Aris 8+2, Sharna Cox 5+2, Reanna Brindley 3.
More Images
Above: In close formation into the first bend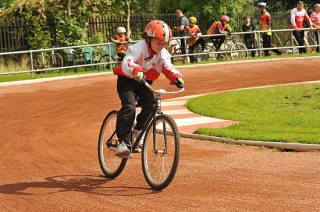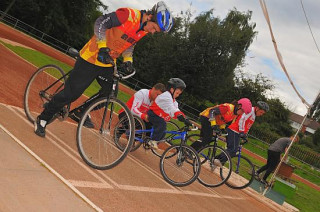 Above: A mixed field contested this combination heat...
For more images from the event check out the gallery links at the top of the page.