Photo Report: Midlands Regional Individual Champs
26th July 2009
Andy Whitehouse was at Bretford to capture some gritty action in the Midlands Regional Individual Championships. Great shots from the Junior and Open competitions and a great crash recovery sequence!
Junior
Above: A great sweeping shot showing the great technique these young riders possess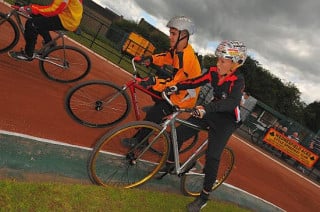 Above: Something tells me the guy on the inside is a tad unhappy with his line choice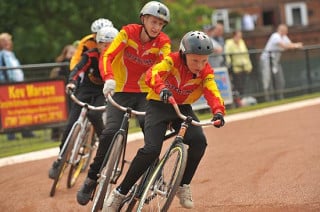 Above: Tight formation - almost like a team pursuit heading into the turn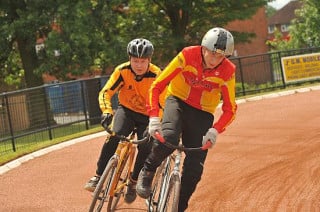 Above: The weather was changeable throughout the day, with dark clouds earlier and here, bright sunshine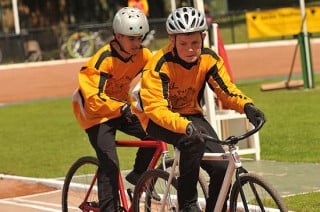 Above: Tight racing, even between these East Park teammates - it is an Individual champs after all
Junior Result
U12s: Liam Johnson 11, Matt Haddock 10, Reanna Brindley 7, Ryan Harpin 6.
U15s: Matt Smith 17, Scott Millward 15, Jim Palmer 14, Joe Kemp 12, Ricky Johnson 9, Jordan Rich 8.
U18s: Paul Heard 20, Nathan Groves 19, Lee Smith 18, Dayle Peace 16, Matt Turley 13.
---
Open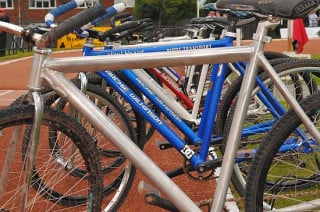 Above: The bikes lined up and ready for action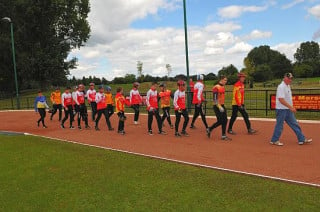 Above: The protagonists walk the course - no excuses for getting lost!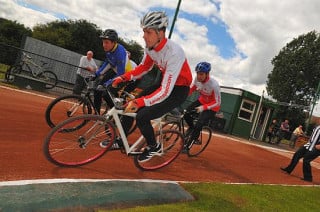 Above: The pedestrian pace doesn't last for long, as battle commences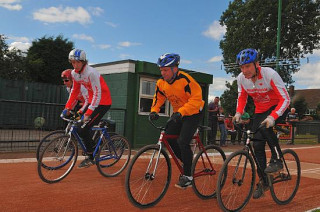 Above: A big effort from the gate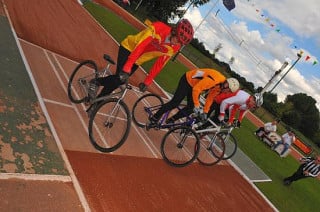 Above: And another, this time from the outside of the track, catching the referee in full flow...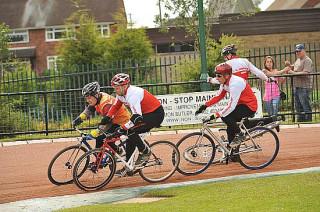 Above: Now, pay attention to the Birmingham rider back right. His bike succumbs to gravity but he has different plans...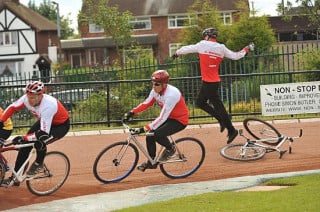 Above: It's amazing what you can do when the adrenaline kicks in!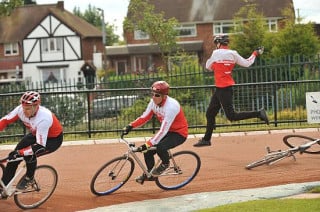 Above: All together now, "I believe I can fly, I believe I can touch the sky..."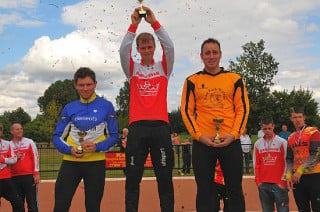 Above: In the end, there can be only one. Birmingham's Marcus Wadhams celebrates amid a hailstorm of confetti, which East Park's Lee Aris holds back the tears (!)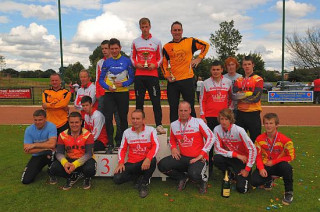 Above: Another podium shot, this time with the whole contingent of Championship contenders.

Open Result
OPEN: Marcus Wadhams 19, Lee Aris 18, Lukasz Nowacki 16, Mark Griffiths 15, Mark Winwood 15, Chris Timms 15, Chris Jewkes 14, Paul Heard 14, Nathan Groves 12, Sam Smith 12, Russ Evans 9, Matt Smith 9, Carl Winwood 8, Mark Fletcher 7.