Location: Coventry CSC
Event: 22 August 2013
|
---
The 2013 British Cycle Speedway final races into Coventry this Bank Holiday Monday – and will be the biggest ever event in the history of the sport in the city.
The banked Hearsall Common, Earlsdon, track will be transformed for the day. A huge mobile grandstand, toilets, a large LED video screen and other infrastructure will all be in place for a showpiece 62nd staging of the championships.
Over a thousand spectators will be present, with hundreds of Coventry families expected to join the crowds for an exciting and free Bank Holiday Monday afternoon out. The Lord Mayor of Coventry, Councillor Gary Crookes, and the leader of the City Council, Councillor Ann Lucss, will be in attendance as official guests.
The Coventry Festival Band will perform shortly before the start, classically trained soloist Carrie-Ann Williams from Cheshire will sing the national anthem live and the Crew Promotions cheerleaders will provide interval entertainment.
The final, sponsored by international company Schwalbe Tyres, will be filmed for transmission on Sky Sports and will be shown in 32 countries around the world, reaching a global audience of 210 million homes.
The action on Bank Holiday Monday will commence at 12pm with the staging of the woman's final, with Lauren Davies of Leicester the hot favourite. The Leicester flyer incredibly rides in the Leicester first team and beats many male counterparts in team competition.
Hull superstar, double British champion Andy Angell, will be going for a hat-trick of wins in the blue ribband men's final (starting at 3pm), the most prestigious title in cycle speedway, despite the onset in recent years of international competition.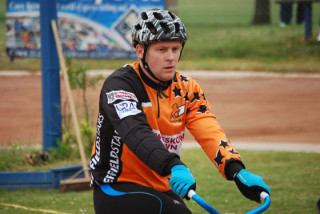 Above: Double British champion Andy Angell, will be going for a hat-trick of wins in the men's final
Former champions, including the dashing Oxford rider Mark Boaler and four time winner Lee Aris of Wolverhampton, will also be amongst the championship challengers. Paul Heard, of the Wednesfield Aces, is also likely to feature strongly.
Home fans will be cheering for Myke Grimes, Coventry's very own handlebar hero. The 28 year old, from Wyken, was a shock 2012 British Final debut finalist and he has cemented his place amongst the top performers of the sport this year with a string of match winning displays for Coventry.
As part of the British Finals weekend, Bretford Bulldogs stage the British Under 10s final at Brandon Road Playing Fields, Bretford, on Saturday 24th August, starting at 1pm.
Further information on the 2013 British Final can be found by going to: coventrycsc.com