This weekend sees the welcome return of international cycle speedway racing in the UK, as the European Cycle Speedway Championships are hosted in the north of England for the first time at Astley and Tyldesley.
The Gin Pit track will be staging the racing from Friday 29 to Sunday 31 July, with qualifying matches also taking place at Cookson Park in Sheffield on Friday.
Ones to watch
Most of the riders in the junior championships will be enjoying their first taste of competing in an international tournament. Gniezno's Mikolaj Menz was one rider who did compete in the 2018 championships, and he will be looking to capitalise on that experience. Noah Woodhouse of Kesgrave is the reigning British under-16 champion, and he will be a leading contender from the home shores.
In the Junior Nations Cup, defending champions Poland have won all seven matches held on home soil, but the scores stand at 3-2 to Poland over England for matches in the UK.
The 2016 women's individual winner Lauren Hookway and the 2018 runner-up Laura Watson are both in contention for the title once again, along with a new breed of British and Polish riders. Zuzanna Klett and Sandra Tamborska are two riders to watch from the current Polish contingent.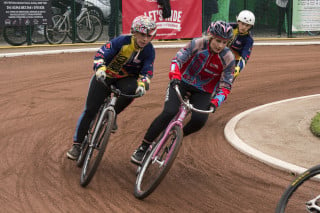 Leicester's Craig Marchant will look to defend the veterans' individual title he won in Poczesna in 2018. The current European Open Champion Marcin Szymanski and his immediate predecessor Lukasz Nowacki have both entered the veterans' competition, as well as the open. The 42-year-old Szymanski has twice won the open title and been placed another three times.
The last nine finals have all resulted in a Polish winner, with England's last champion being Dave Hemsley in 2000. Leading the British charge will be the Horspath trio of world champion Ben Mould, current British champion Mark Boaler and former British champion Zac Payne.
Birmingham duo Chris Timms and Paul Heard will also rank amongst the favourites for a place, along with Ipswich's international trio of Ashley Hill, Ben Clarke and Lewis Brinkhoff. Wearing the home Astley and Tyldesley colours will be British GP series runner-up, Reece Pollitt.
Poland always provide strong contenders, and we can be sure that Dawid Bas, Mateusz Ludwiczak, and Lukasz Nowacki will be very much in the mix.
Poland have won seven of the last eight open Nations Cup matches, with England's last success coming at Great Blakenham in 2012. However, of the four finals held in England, the scores stand at 2-2 between England and Poland, with never more than two points separating the two teams. A strong Wales team will also be in the mix, with Ireland the fourth team in the final.
Full schedule
Friday 29 July:
Veterans' semi-finals and Open quarter-finals: 11am at both tracks
Saturday 30 July
Junior semi-finals and Open semi-finals: 10am, Astley and Tyldesley
Junior Nations Cup: 5pm, Astley and Tyldesley
Open Nations Cup: 7pm, Astley and Tyldesley
Sunday 31 July
Junior final: 10am, Astley and Tyldesley
Veterans' final: 12pm, Astley and Tyldesley
Women's final: 2pm, Astley and Tyldesley
Open final: 4pm, Astley and Tyldesley
Live scoring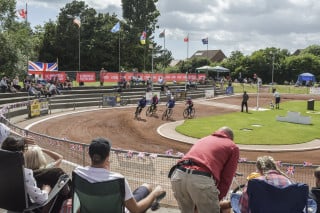 Where to watch
The racing is bound to be fast and furious as Europe's best cycle speedway riders will battle it out on the tight oval tracks.
At Astley and Tyldesley there will be a bar serving hot and cold refreshments throughout, and there will also be a barbeque on Saturday and Sunday.
The two track addresses are:
Astley & Tyldesley Miners' Welfare Club, Meanley Road, Gin Pit, Tyldesley, M29 7DW (Please use the football car park).
Cookson Park, Halliwell Crescent, Sheffield, S5 8LY.
Spectator admission is free at both tracks throughout the weekend.
If you've never witnessed the exciting spectacle of cycle speedway before, then come along and see what you've been missing!