British Cycling has confirmed the dates for the 2020 HSBC UK | Cycle Speedway Elite Grand Prix Series, the structure of which has been reviewed for the new season.
The men's and women's competitions will take place over the same four event weekends over the course of the season, with both taking place as geographically close together as possible.
The full calendar is:
Round 1:
18 April: Women's - Exeter
19 April: Men's – Exeter
Round 2:
9 May: Men's – Great Blakenham
10 May: Women's – Norwich
Round 3:
15 August: Women's – Birmingham
16 August: Men's – Birmingham
Round 4:
17 October: Men's – Astley and Tyldesley
18 October: Women's – Astley and Tyldesley
Mike Hack, chair of British Cycling's cycle speedway commission, explains:
"There are various reasons for these changes in the calendar and competition structure. Previously, riders had the challenge of riding a national event on a Saturday and a club fixture on the Sunday, which presented the possibility of racing at opposite ends of the country on successive days.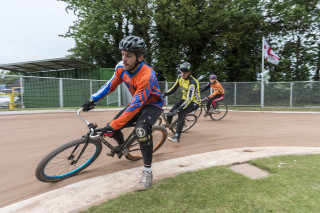 "Understandably, many riders opted out of one of the events, affecting participation levels. In addition, many women's league and Grand Prix rounds were often scheduled on the same day as club regional events, which again diluted the fields in one of the events.
"We have therefore taken the decision that, from 2020, the calendar will comprise national event weekends, where all racing is in the same region, with no fixture clashes and separate to regional event weekends.
"As well as reducing logistical headaches for riders, this will also raise the profile of both series, ensuring they are able to attract more riders and spectators, and having the pick of the best officials."
Hack is anticipating that these changes will lead to a more competitive series, further boosting the already strong health of the discipline in Britain at the moment.
He adds:
"There is a good depth of talent in Britain at the moment. This was illustrated with England teams winning the World Cups in Poland last summer in the women, veteran and junior categories, and Britain currently boasting three individual world champions.
"There is a clear pathway for riders to progress, and by adjusting the competition calendar as we have, we hope to attract stronger fields and ensure more competitive racing at national level."