The Great Britain Cycling Team's women's squad won their third victory against Australia to clinch the series on their rivals' turf.
Wins for both the men's squads saw the junior take their Ashes title with a clean sweep, while the senior men were inally rewarded for their efforts down-under with a long-awaited victory; their first in Australia since 2005.
Women's series
In the women's match, the British team overcame an early challenge from Australia to take series with two rounds to spare.
The first two heats were shared before Australia, through Lucy Millikin and Miriam Thompson, went ahead with a 6-4 over Macie Schmidt and Laura Watson.
Lauren Jacobs and Charlie-Jane Herbert then scored maximum points over Emily Makepeace and Harleigh Rochester in heat four to give Great Britain the lead, before Australia regained the advantage with a 7-2 by Kayleigh Clarke and Letitia Collins over Lauren Hookway, following a gate exclusion for Chloe Pearce.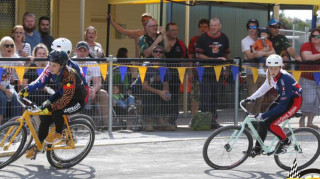 Following a shared heat six, the British team reduced the lead to one point in heat seven, with a 6-4.
The next two heats were shared, but in heat 10, Britain regained the lead with a 6-4 and held on to it to win by 93-85, despite the credible efforts from the Australian side.
The five-round series was won in straight matches by the British women but it will still be all to play for in the final two rounds, as Australia attempt to claim a win on home soil.
Senior men
Both sides made changes to their line ups, with Great Britain's Chris Timms making way for returning Lewis Osborne, Jack Harrold returning in the reserve berth and Lee Kemp making his first international appearance since racing in Poland at the 2016 Club Championships.
The first half was very evenly matched, as the two teams traded 6-4s before sharing heat three. There was a 6-4 apiece in heats four and five before another draw in heat six.
Heat 7 saw Great Britain take the lead with a 6-4 courtesy of Lewis Osborne and Josh Brooke, who then held Australia to a split from outside grids in heat eight.
A unfortunate end to the first half for Great Britain saw Australia take the lead with a 7-2; a contentious exclusion for Jack Harrold gave Australia a three point lead.
Australia extended their lead in the first race of the second half with a 6-3, following an exclusion to GB captain Paul Heard who was deemed to have turned right on an opponent by referee Pawel Cegielski.
A series of heat wins followed for Great Britain; Osborne and Brooke's each took their second 6-4 of the match and a 7-3 from Myke Grimes and Zac Payne to take a two-point lead.
A far better second half performance saw Australia unable to close the deficit, and the British squad were able to close out the match by heat 17 and record their first win in Australia since 2005.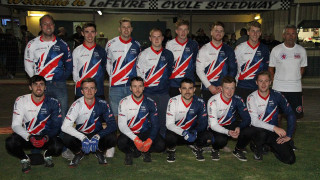 Junior men
With the series already won, Great Britain boss Steve Mullinder made changes, handing debuts to Devon Campbell, Ben Clarke, Max Evans, Alex Harvey and Ciaran Wenn.
Three early heat wins gave the visitors a comfortable lead and this was soon increased due to maximum scores from the Campbell/Will Jeffery and Evans/Fraser
Garnett pairings just prior to the interval stage.
The hosts opened the second half with a well-taken heat advantage by Todd Clarke and Michael Ratcliff but in turn this was negated when the powerful Campbell and Jeffrey duo outpaced Blade Blatchford.
With the hosts only providing two heat winners, the result was inevitable and Great Britain
made a clean sweep of the series by 100-74.