Josh Brooke and Pierce Bacon once again took home the top prizes in the third round of the HSBC UK | Cycle Speedway Elite Grand Prix.
Josh Brooke came from behind to win a key heat, coming from the outside of Lukas Nowacki and Paul Heard in the fourth round of races; the win heralded victory for the Great Blakenham rider, who eventually finished on 19 points.
Coventry's Myke Grimes secured second after dropping two points to Brooke and Lewis Osborne in heat 11 to finish on 18 overall. The Midlands rider almost completed an inside pass on Osborne, but Osbourne managed to recover in time to head the Coventry skipper home.
Series leader, Ben Mould, joined Osborne on 17 points, forcing a run off for third, with Mould taking victory from the inside grids. Ipswich's Ashley Hill capped off a good day by taking the final prize money in 5th place.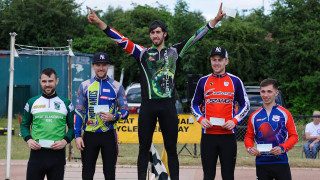 Round two runner up and reigning European champion, Lukas Nowacki, couldn't replicate his performance at Swindon, but is still not back to full fitness after breaking a collarbone.
Pierce Bacon took a 20 point maximum on his way to victory in the elite junior class. Bacon won what turned out to be a crucial heat six, heading home Kesgrave's Lewis Brinkoff and Ed Morton, who dropped their only points in that race and ultimately decided their final placings.
14-year-old Brinkoff impressed against riders many years older than him, underlining his great potential, while Morton had to make do with third after being drawn on the outside of his main rivals.
This result sets up a showdown in the north, where Gin Pit will provide the setting to find out who will take the junior crown between Bacon and Morton.
Harrison Bacon took fourth spot, with Adam Watson getting in the prize money placings again and coming away with fifth.
The fourth and final round of the HSBC UK | Cycle Speedway Elite Grand Prix takes place at Astley and Tyldesley, Manchester on Saturday 5 August.
Brooke or Mould will be the likely winners in the elite men's class - but Myke Grimes still has an outside chance of the title if he wins and his rivals drop points, meanwhile it's all about Bacon and Morton in the elite juniors.