Wednesfield's Ben Mould and Lauren Hookway became British champions for the first time in a dramatic day at Exeter on Bank Holiday Monday in the British Cycling National Cycle Speedway Individual Championships.
The 2016 open final saw two former champions withdraw before a wheel was turned. Four-time champion Lee Aris, who qualified from the Southampton semi-final, withdrew following a recurrence of a back injury.
2010 British champion Mark Boaler also missed out as the result of being caught up in traffic following a serious accident, which closed the M5 motorway.
Reigning world over 40s champion Craig Marchant replaced Aris, whilst three-time champion Andy Angell, who initially missed out on qualifying from the Poole semi-final, won a run-off against Hethersett's Olly Buxton and Stockport's Ben Higham, to take Boaler's place. Buxton and Higham took the reserve spots.
Charlie Rumbold, the 2015 runner-up, Ben Mould, Myke Grimes and Angell won the first four races, before Angell made it two from two in heat five ahead of Paul Heard, Mould and Rumbold.
World number two Chris Timms made full use of his two grid ones in heats eight and nine to move onto 11 points. Angell then suffered his first defeat at the hands of 2015 champion Zac Payne in heat 12, while Grimes secured another race win in heat 10.
In heat 13 Lewis Osborne took his second win of the afternoon, but in heat 14, Leicester veteran, Dave Hemsley, the most decorated rider in the sport and back in the British final after 11 years, rolled back the years to take the win ahead of Mark Carmichael and Andy Angell, on the track where he won his first title in 1992.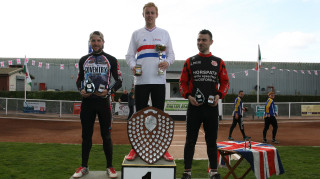 Mould and Payne took their second wins in heats 15 and 16. This meant with four heats to go, Mould, Angell and Timms led the way with 13 points each, with Grimes and Osborne on 12, while Rumbold, Payne and Heard were not out of it on 11 apiece.
Of the top three riders going into the last four races, Timms was first to take his last ride in heat 18, but ran a last in a race which was won by debutant Ashley Hill.
Angell was next to take his last ride but fell and brought down Lee Kemp to earn himself an exclusion as being the cause of the stoppage. Grimes took the win to leave himself on 16 points, in the lead and sweating on the outcome of heat 20, which Mould needed to win to clinch the title.
Heat 20 will be one of the most talked about races in cycle speedway. Payne led the way from Osborne and Carmichael with Mould at the back.
If the race had stayed that way then Grimes would have been crowned champion, but coming out of the pits bend on the final corner of the final lap of the meeting, Payne and Carmichael tangled and brought down Osborne in the process, leaving Mould to slide through as the winner.
Attention immediately turned to referee, Colin Simmons, who deemed it as a "racing incident", meaning that Mould won the race and became the first Welsh rider to win the championship with heartbreak at the death for Grimes.
Osborne picked up his bike and walked over the line for second in the race and third overall.
Mould said: "Going into the last race I knew it had to be second place for a run off.
"It was an uphill task off gate four, and for three and three quarter laps I was out of it. I thought my chance had gone, but I tried to pass Lewis, and coming out of the bend I couldn't believe Zac and Mark had fallen, but wasn't sure if I had won it.
"I feel relieved more than anything that I've finally won it, and it's great to be the first Welsh winner of the British title."
Hookway takes women's title
Exeter's Lauren Hookway followed up her success in the European Ladies Championship at Poole, by becoming the new British champion on her home circuit with an immaculate maximum.
Poole's Macie Schmidt, crowned British under-16 girls champion the day before took the runner-up position, dropping her only point to Hookway.
Of the four races that Schmidt won, her first race, heat 3, saw her defeat the outgoing champion Vicky Brown from Sheffield from the outside grids.
Brown, the reigning world ladies champion, took the final spot on the rostrum with 18 points, her other dropped point also coming at the hands of Hookway.
Leicester's Elizabeth Rigley finished fourth with 16 points with a battling display. European ladies number three, Kristina Mines of Poole, survived a heavy crash in the initial attempt to run heat 17, but picked herself up to finish second and tied for fifth on 15 points with former world ladies champion Laura Watson.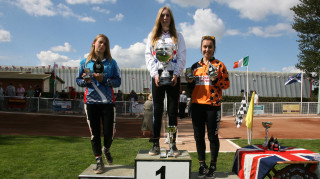 The 2014 British ladies champion Charlie-Jane Herbert, racing on her former home track, finished tied seventh, after surviving a clash with Leicester's Chole Whitehead in the last race, which saw the Leicester rider excluded for "not leaving enough room for an opponent", according to referee Mike Legge.
Another former champion, Leicester's Lucy Whitehead, could not repeat her showing from the European championships, finishing up tied ninth.
Champion Hookway commented: "The final was brilliant. Even though I had two gate ones, it was still difficult.
"I had to work hard in every race, which made it feel even more incredible getting the number one spot. It hasn't sunk in yet that I managed to win, as it's taken so many years to finally happen.
"I couldn't have done it without the support I had on the day though, as I was so nervous due to getting a lot of pressure after winning the Euros, but I managed to get through it.
"All the girls raced well, but this year thankfully was my time to shine."
Earlier in the day, home rider Will Tidball rode a flawless final to claim the British under-16 title, ahead of Sheffield Edan Morton and Ipswich's Pierce Bacon.
Results
Men's championship
Ben Mould 17, Myke Grimes 16, Lewis Osbourne 15, Chris Timms 14, Andy Angell 13, Zac Payne 13, Paul Heard 13, Charlie Rumbold 13, Lee Kemp 12, Mark Carmichael 11, Jack Harrold 10, Aaron Herbert 10, Dave Hemsley 10, Jake Read 9, Ashley Hill 9, Craig Marchant 9.
Women's championship
Lauren Hookway 20, Macie Schmidt 19, Vicky Brown 18, Elizabeth Rigley 16, Laura Watson 15, Krissy Mines 15, Michelle Whitehead 14, Charlie-Jane Herbert 14, Lucy Whitehead 11, Chloe Preston-Albin 11, Niamh Morton 9, Sammi Marsh 9, Sophie Middleton 9, Jenna Whitehead 7, Chloe Whitehead 6.