Interested in the Ignite Your Coaching programme, but still have a few questions?
We've tried to provide an answer for any of the questions you might have, but if there is anything else you need to know please contact us at coachdevelopment@britishcycling.org.uk
How much time will I need to commit to the programme?
Your initial engagement in the programme will be for 12 months. Over this period we estimate you will need to commit a minimum of 14-20 hours, as either coach or mentor.
As a coach you are also asked to engage in a series of coaching activities and we encourage you to join us at a maximum of two leadership development days.
Will I have to meet my mentee/mentor face-to-face? What if there is no-one local to me?
Throughout the programme we are making use of online tools to support your networking, learning and development. Our experience, and that of Women Ahead, tells us that the best mentoring relationships are where the needs of the mentee are well matched with the skills and experience of the mentor. For this reason it may be that you are not located geographically close to your mentee/mentor, but that you instead make use of online or phone opportunities to complete your mentoring sessions.
When will I hear about whether my application is successful?
Applications for coaches and mentors are open until 27 January 2017. We will then review applications and confirm your place within one month of the closing date.
We may need to speak to you as part of the application and matching process, but there are no interviews.
What will happen once I have been accepted?
You will be matched based on your experience and where you have identified development need. For example, you could be matched with a mentor who can help you to build on your technical or business skills. This may mean that your mentor may not be in the region you coach in.
We will also provide you with dates for your first Leadership Development Day in Spring 2017, and any training required for the mentoring programme (likely completed via a webinar).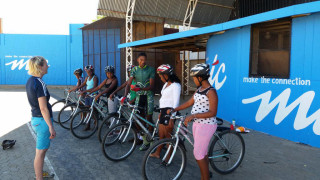 I am not a qualified coach, but want to be; how can I get involved?
Currently Ignite Your Coaching is open only to qualified coaches, but we will be expanding the programme to encourage more women into this rewarding and sustainable role next year.
To get started we can help you find a coaching course, funding and opportunities to assist other coaches. Just get in touch or take a look at our awards overview.
I qualified as a coach ages ago, but haven't delivered recently. I'd now like to do more coaching; can I get involved?
As a qualified coach you are a valuable asset to the cycling community. We know from speaking to women who coach and those who have become inactive that there are many reasons why you may have stopped coaching, but it's easy to start up again.
If you want to ignite your coaching we would love to hear from you. Simply visit the 'Join as a coach' page and complete an application form.
I don't think there are any other women coaching in my area or coaching activities for me to join; can I be part of the programme?
Though there may not be other coaches or mentors nearby, we are able to offer learning and development via online environments. These include mentoring online and by phone, along with webinar training courses.
There may also be further British Cycling opportunities in coach education close to you, with many ways that you can get involved.
Do I have to be coaching on a paid or voluntary basis?
The coaching positions are open to women who are coaching in either a paid or voluntary capacity (or both!). There will be no payments made for coaching activities undertaken as part of the programme, although out of pocket training expenses can be covered.
I'm a Breeze or other Ride Leader – can I be part of the programme?
The current programme is currently only open to qualified coaches, as covered above.
We know many Breeze Champions and Ride Leaders are also qualified coaches and with this invaluable experience we would encourage you to get involved.
I'm not in England; can I be part of the programme?
Yes of course, although there may also be projects that already exist within your region. Get in touch with Welsh Cycling and Scottish Cycling to see what might be going on local to you.