Within cycling, women make up just one fifth of the coaching workforce. While there are brilliant female coaches working at all levels of cycling, the low representation means reduced visibility and therefore makes it harder for women that coach to inspire others.
Things are changing however, with a quarter of female cycling coaches qualifying in the last four years. And as an extension of our #WeRide women's strategy, we aim to drive this momentum through the empowerment of our existing workforce – and the inspiration of a new one.
Local to you, we will be establishing solid support networks of coaches and experienced mentors working collaboratively. Starting off in four pilot regions, the vision is for the network to grow and sustain itself nationally to share knowledge and create opportunity.
Leading lights from the world of coaching will provide tailored support to female cycling coaches who may just be starting out in their career or feel that they would benefit from expert guidance. Mentor skills can extend beyond cycle coaching too, where business and personal development experience would be an invaluable addition to the project and we welcome application from individuals who can provide such guidance.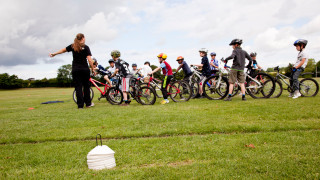 Coaches wanting to join should expect holistic and structured support to develop not only their coaching process, but a portfolio of skills including leadership, reflection and self-promotion. With a flexible and personal approach, the collaboration will provide discussion and reflection to bolster existing coaching experience and provide confidence to take the next step.
One of the drivers behind the project is Helen Hiley, senior coaching and education officer at British Cycling:
"Research from organisations such as Women in Sport, Sports Coach UK, Leeds Beckett University and ORD Consultants identify not only the gender gap within the profession, but also that the pathways women take into and within coaching are unclear. With misconceptions around the profession's suitability for women and time to train being a factor, there are sizeable barriers.
"Having said that, we know of standout examples of female coaches doing wonderful things for the sport from grassroots coaching through to elite level. We want to empower others to follow their own coaching path by providing expert help and a hub full of resources."
Want to get involved?
At this pilot stage, the project is open to coaches and would-be mentors based in the North West, South West, East Midlands and London, where we are looking for project advocates who are committed to taking positive action.
Join as a coach
If you are a female cycle coach qualified to Level 1 or above, ignite your coaching and community through working with a mentor.
Join as a mentor
If you are an experienced coach qualified to Level 1 or above who strongly supports the development of others, become a mentor and push your own capabilities in search of a fair and pioneering coaching environment. We are not only looking for female mentors and hope to hear from individuals working across different disciplines and business models.
If you would like to find out more or are interested in getting involved, please send your completed form to coachdevelopment@britishcycling.org.uk.
While we'd love to hear from anyone who wants to join the network, we will firstly be focussing on the four pilot regions. As the project develops, we will help in growing a national network and encourage more women to explore this rewarding and sustainable role as a career or pastime.
Time to change
There are several high profile initiatives in place to support women in coaching, with Sports Coach UK recently launching their Reach project which aims to encourage more women into coaching. They also supported Project 500 which was launched a couple of years earlier, setting out to address the imbalance of male to female coaches with the motto: More Women, Better Coaching.
We are now looking to build upon this innovative work within a sport we know and love, building an even stronger team of coaches who will help cycling to evolve through inspiring riders and inspiring change.