Reading CC
Central | Reading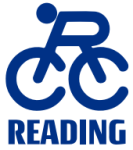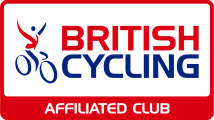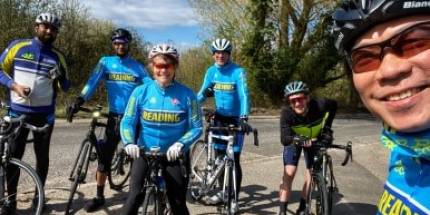 Club Information
Club type: Club
Affiliated: 31/12/2022
Affilation status: Active
Total club members: 281

About our club
Reading CC has been promoting cycling in Berkshire since 1974. With around 250 members, the club is dedicated
to giving cyclists the opportunity to race, ride and enjoy life on two wheels. We have something on offer for all
sporting riders, with a series of evening club and open time trials and track sessions throughout the racing season,
several social rides every week along with road racing, sportives, audax and cyclo-cross. Regular club runs for all
levels of energy and ability, every Thursday, Saturday and Sunday from various locations in and around Reading.
Club TT's every Tuesday evening and track events throughout racing season, check our Facebook group or
website for details. The club welcomes new members to participate in all these activities. Please visit for more
information: www.readingcyclingclub.org https://www.facebook.com/ReadingCyclingClub
www.facebook.com/groups/readingcyclingclub The Club's Constitution can be viewed here
https://readingcyclingclub.org/club-constitution/ The Club has a member's only Strava club which you can request to
join as a paid up member https://www.strava.com/clubs/readingcyclingclub As a club member your information may
be shared on the club website, club's classifications, social media pages or in emails sent by the club. This data will
only be shared in the event that either you are a club volunteer, have participated in any club event such as time
trials, club runs, track events etc., or a race or challenge event or have recorded a major achievement or for being
the recipient of a club award. This data will be limited to your name, race results (if applicable) and details of your
achievement. Limited further information about you may be included; for example, whether you have participated in
a sportive event or a women's race.
I am a member of this club
Buy Club Membership
How to join our club
Please choose from the following options to pay club subscriptions.
If you are not yet a member of this club we recommend that you contact the club using the details in the contact tab before you buy your subscription. Please note the £1.00 application fee is non-refundable.
Price
Age
Membership required?
Membership

Senior Member

£15.00
+£1.00 application fee
18 - 120
No British Cycling membership required
Buy membership

Senior Member

Age : 18 - 120

Price : £15.00 +£1.00 application fee

No British Cycling membership required

Junior Member

£10.00
+£1.00 application fee
14 - 17
No British Cycling membership required
Buy membership

Junior Member

Age : 14 - 17

Price : £10.00 +£1.00 application fee

No British Cycling membership required

Life

£0.01
+£1.00 application fee
0 - 120
No British Cycling membership required
Buy membership

Life

Age : 0 - 120

Price : £0.01 +£1.00 application fee

No British Cycling membership required