National BMX Series - Manchester

Rounds seven and eight of the National BMX Series took place at Platt Fields, Manchester on a hot and dry weekend of action. With a World Champion and Britain's number one rider in attendance it was all action from the gate. We've got the first images from the racing with full galleries and results to follow.
Manchester is famous for many things; its music, its football teams, and its soap operas. I think after this weekend we are going to add BMX to the list!! The city hosted its first ever BMX National and it was a stormer! A great track in a fab location ten minutes from the city centre and five minutes from the infamous 'Curry Mile' Could you ask for anything more?
The action started with the pocket rockets in the 6 and under class, Alex Brookes rides the Manchester track regularly and it showed but Keon Smith McDermott put up a great ride for second and Morgan Chidley third both days. Nice to see Harrison Drelincourt back on his bike after it was stolen. The tea leaf's mum showed up to the track to return it, I guess someone out there has a conscience after all....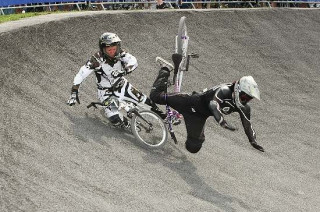 In the 7's it was Ryan Brookes doing the biz on Saturday but Matthew Hutt made up for his disappointment on Sunday with a win from Ryan and Kobi Joyce. This class also had a foreign visitor in the shape of Adam Smolik from the Czech Republic and he was flying in the motos but couldn't make it stick in the finals with a 4th and an 8th
The 8's was all about Finn Hall with club mate Ross Cullen in close pursuit with the two Josh's (Peters and Coppin) waiting to pounce on any mistake made. Jacob Watkinson also had a consistent weekend with a third and a fourth.
Gideon Orena continues to put in big rides in the 9 year old class but its not without pressure from EA Pure's Ethan Vernon and Jamie Norris Still from Mid Lancs. Keep an eye open for the Poulter brothers from Derby and Preston's Shay Casey as they are improving at a rapid rate and looking to upset the apple cart in the future.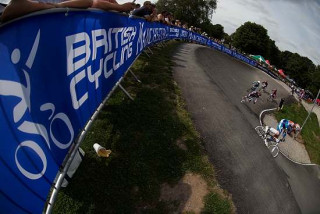 Ben Turner had the 10's in his pocket this weekend with two wins but was pushed by Louis Gray Blest and Eddie Moore all the way. Ben Armitage, Aaron Dalleywater and George Moret made mains both days too.
11/12's is getting faster by the week! Jimmy Orena had it going on with two wins from Jordan Hatcher in second. Paddy Sharrock went from eighth to third on Saturday picking some amazing lines through turns and working his way through some serious traffic and overcoming some pack trouble on Sunday to take a 4th. If he had the power to match his skills it would be game over but that's what keeps it interesting. Reece Brownson took a third on Sunday too.
13/14's is mint! Saturday saw Jacob Roberts school em' with an amazing final lap with Mike Hawker and Dan Pullen being close, but not close enough. All the action came on Sunday when Jake took off again, Michael lined him up and served up a hefty portion of elbow in the last turn which put Jacob on top of the berm losing momentum as did Michael. As the front two tried to get going again Ryan Stack nipped through and took the win. Quillan Isadore wrecked before turn two and left the track battered and bruised, I'm sure he'll be back and firing for the next one.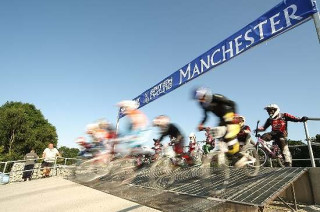 The 15/16's saw the emergence of a new 'Firm' with Freeagent having 4 guys in the final both days. Dom Skidmore rocked it on Saturday from teammates Jack Hall and Grant Hill with Adam Smith 4th but Jack took it on Sunday from Dom with Richard Whiting in third. Robert Hawker threw some moves in which would have been mint had they come off but to no avail. I'm sure Rob has a win coming at some point though.
Girls; Trinity Camm continued her winning ways in the 7 and unders with Kim Baptista taking the 8-9's on Saturday but having to settle for second behind Lasharn Whyte on Sunday, watch for the footage on CKFlash.com very soon!! Jenny Noble took her Supercross Envy to two wins but not without some heat from Valerie Zebrokova who will be Redline mounted from now on, congrats Valerie!! Big Shout to Brooke Shayler for coming back from a big impact on Saturday to make the main on Sunday.
The 13-15 girls is a straight up battle between Ayesha McClelland, Izzy 'Facebook' Ferrada and Amelia Silvestre. Ayesha got the best of it this weekend but it's so close in this class. Junior Female saw Charlotte Green double up with Lauren Smith trying to get close enough to use them elbows but no luck there. Ria 'No more hot corner' Goodman took two thirds with Emily James in fourth.
In the Cruisers Tom Novis took both days in 12 and under with Ben Clarkson doing the same in 13-15. Toby Bearne was going well till he took a massive wreck right in front of the commentary tower and that was his day done.. 16-29 looked to be all going to Mark Maddox till Dan Pople pulled a mint move on Sunday to ruin a perfect weekend for Mark. Wan kept it consistent with a third and a fourth but Carl Dixon had a shocker on Sunday culminating in him using his head as a brake down the second straight... owww!!
The 30-39 class was a straight battle between Reidy and Alan Hill with Hilly getting the better of the exchanges. James Christie took his dodgy shorts and ballet tights to a third and a fifth with dad to be Chris Dayson and Clive Hawkins getting some good finishes too. No TJ this weekend though, that track was crying out for some nose dive action!! 40-44 saw Bof wreck himself on Sunday with a 4-5 week layoff beckoning, Jon Moore took 2 wins with Lee Alexander picking himself up off the deck too for a second on Saturday. 45 Plus went to Ady Warden from Phil Beer who was right on him for second.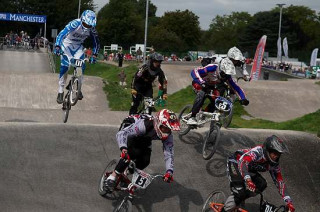 In the Masters, Dave Ives and Paul Cope were in the thick of it both days but Sunday's last turn action was insane! Dave went for a do or die move which put the both of them on the deck with Dave getting some B-Boy moves in and Paul ending up going down hard. In the midst of all this Matt Barnard went 'Thanks very much!' and made it two from two for the weekend. Wayne Foster took a second and a fourth and Baz Darcy took a third much to the delight of the Hawks massive. Rumours of a comeback for Phil Charnley and Dave Godfrey getting 'serious' will make for an interesting 2010. Hell, I might even have a go as well!! (pffffhhhhhh!)
The 19 plus saw the return of Marco Del Isola after his six month round the world jaunt culminating in a world championship win in Adelaide. A few pounds lost and some serious motivation found saw Marco looking to take some points back in good old blighty but it wasn't to be after a tangle with team mate Gaz Bates and Billy Luckhurst. James Chadwick got a pretty good gate from lane eight and had a clear run at the first turn with the extra momentum carrying him through the carnage and to a first win in this age group. Sunday wasn't quite the same as Marco did hold on for a win with James 7th. Lee Baker looked really lacklustre on Saturday but came back strong for second on Sunday.
Junior Men; where do I start? Greg Holloway was looking good early doors but just needs to keep his track speed up for the second half of the lap. Jonathan Hastings really should get extra points for sending birthday cake up to the commentary tower and Kyle Evans took time off from updating us all on his love life via Facebook to take a second and a third. Tre Whyte was fourth on Saturday and the winner on Sunday but Adam Brazil kept it consistent with a first and a second. Does he have the title now? I'm not sure! Nice to see Arran Shrosbree back on track but he ended up injured again by the end of the weekend. When it rains, it pours!!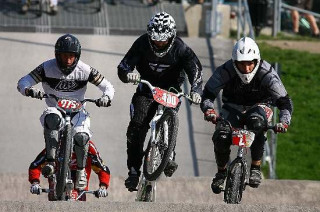 And finally, Elite. Only 11 riders in this class but the level is right up there. Bloomy appears to be on form and benefiting from living the pro life as he turned on the turbo chargers for two wins followed in by Cal Strickland and Kelvin (O) Batey. Luke Tamblyn had a really consistent weekend with two thirds and Luke Gamble (aka 'The Muscle with the Hustle') took a fourth and a fifth. We could just do with another 15 or so riders in the class....any volunteers?
Manchester BMX Club put on a great race at a fantastic venue, I can't wait to go back again for more, next year guys?
More Images (see also galleries linked at top of page)