Report: BMX National Series Round 1 & 2
Photographer Richard Robotham was at Derby to capture the action from two full days of racing as the 2009 National Series kicked off. There's a selection of the great images that Richard captured below and many more in the Galleries linked above. Meanwhile, Richard Eames penned the report, which rounds up all the category-by-category action.
REPORT
Well, the start of the 2009 season is now here and for a nice change it was off to Derby BMX Track which underwent a massive revamp thanks to bmxtrackconstruction.co.uk, and what a facility it is, a perfect venue for the first national of the year. It was also the first of five double header races for the year, so you need some serious stamina with a long track, bloc racing, and two days of exertion!!
First up were the 6 and unders and with only one of the two Brooks brothers in this category it should be easier for me to tell them apart! Unfortunately, I still can't but the results sheet says Alex Brooks first on both days so I'll go with that. Travis Diwell Wilson took two seconds with Owen Camm and Zac Massay sharing thirds.
The 7's went to Ryan O' Loughlin on both days with Ryan Brookes having to settle for two thirds!! They were split by Matthew Hutt whose hatred of losing is palpable! I'd be over the moon with a second place at a national but Matthew doesn't do losing, the lad looked heartbroken as he crossed the line...never mind, I'm sure his time will come very soon!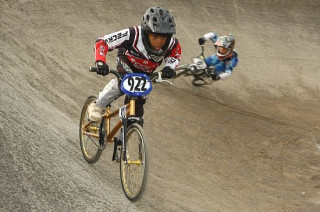 The 8's saw Finn Hall take the spoils on Saturday but Preston's finest had to settle for second on Sunday as Josh Coppin was the winner. Josh could only pull an eighth on Saturday so Finn has the points lead. Third places went to Ross Cullen and Josh Peters. Gotta mention Joe Parr from Mid Lancs who made his very first A final, apparently Mum and Dad promised him a fiver if he made it through, get your wallet out Dad!
The 9's saw a battle royale between Gideon Orena and Euan Hunt with the wins split between them followed by Ethan Godden and Obidiah Hagan in third over the two days. I seem to remember Jack Gray having an off in the semi which meant he could only manage a fifth on the Saturday. I'm sure there's more to come from him.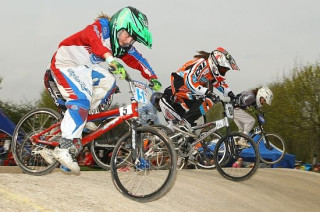 The 10's was all Kye White on Saturday but was nowhere to be seen on Sunday, what's all that about? Ben Turner was Mr Consistent with a second and a first with Harley Taylor having an up and down weekend with Louis Gray Blest and Aaron Dalleywater not too far behind. Don't count out Eddie Moore in his bright yellow kit either, I can see him a mile away!
Ignore my last comment about Kye White, he went up to the 11/12 age group on Sunday and proceeded to win that one too with Jordan Hatcher in hot pursuit. Paddy Sharrock took time off from tricking his way through the main line at Coppull trails (and they are massive!) to take the win on Saturday but had an outside gate to contend with on Sunday and could only work his way to third on Sunday with his arch nemesis from last season Reece Brownson just behind him in fourth. Jack Clarke was third on Saturday and fifth on Sunday. There were 37 riders in this class on Sunday.....37!!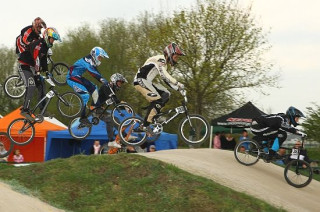 13/14's is just insane, I don't what Michael Hawker has been doing over winter but he is flat out flying (its the socks..) and having some serious battles with Dan Pullen, I'm only sad that Jacob Roberts isn't there to make it a three way battle, now that would be interesting! It didn't matter on Sunday as Quillan Isadore pulled the swoop from the gods in the last turn to take the win, it was such a mint move and I can't wait to see more from these guys at Burnham. Keep an eye open for Cemil Sabri from Gosport as well, word on the street is that he's gonna be a good 'un...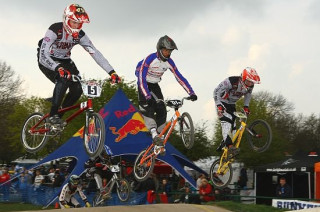 15\16's took the intensity up another notch, I seriously cannot believe how quick these guys are, you've got the North East pairing of Jack Hall and Adam Smith, Kelvin's protege Dominic Skidmore, Robert Hawker who seems to be a foot taller than last year with speed to match and that's before you get to Reiss Harper, Grant Hill, Eliot Pullen and Jordan Perry (sorry if I missed anyone out!) The speed, intensity, and 'get the hell out of my way' is mind blowing. In the end the wins were split between Jack Hall and Adam Smith but its so close between the top eight, one mistake and the whole thing could be so different. Its fantastic to watch, more of the same please gents!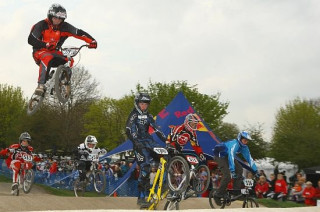 If that wasn't enough to keep you on the edge of your seat then Junior Men will probably pin you to the chair and not let you up at all! Now, about the lad who won...I have difficulty remembering his name, sounds a bit South American...Peru? No. Argentina? No. Ecuador? No. Oh, that's it...Brazil! Adam Brazil! (A little 'in' joke...ask his dad!) Apparently Adam has gotten a little help from Bloomy and it seems to be paying off in spades for him. Two wins, blistering speed and finally a mention in a race report...;) It wasn't easy though with Levi Ashley, Kyle Evans, Pete Lavender, Aaron Shrosbree, Tom Elvin, Tre Whyte, Bradley Watts and Dan McBride in very close proximity! And if Farran Afflick Straker hadn't exited left on Sunday who knows what could have happened! Junior Men will be 'the' class of the year, even better than Elite I reckon!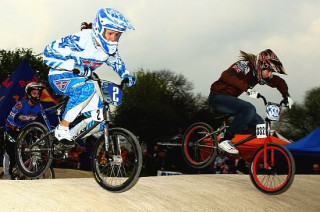 19 and over saw the return of Dale Holmes to UK shores for a guest appearance at his local track (once he'd finished his Del Boy impersonation in the car park..) Dale had to race 19 plus to protect his Vet Pro status but either way it was good to see him out there, although I saw Robbie Goodman keeping him honest down the first straight in the Motos but come the final the old Dale came out and hit the turbochargers for a win both days, even his older mate Flemdog held on for a fourth on Sunday after not being able to stand up straight earlier in the week due to his crash at Crewe. Zoltan Buday was top three both days with Alex Dick making a surprise appearance on Sunday for a sixth!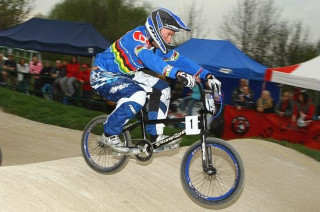 Masters - The old farts don't get any slower do they? Matt Barnard was all business this weekend with two wins, he even looked like he's a) trained, or b) laid off the Stella. It's probably neither but you can't fault two from two on a track like Derby. Brutus Jessop took two seconds and Jason Lewis looked all Knight Rider for two thirds. When guys like CJ Butler, Lee Alexander and Dave Ives can't make the top three, you know it's gonna be tough. Conspicuous by their absence were 'The Warlock' and Miles Kirby, come on guys!!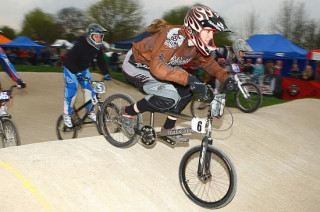 In the girls categories, Darcy Taylor won the 7 and unders both days with Trinity Camm right on her tail. The 8-9's was all Olivia Howard on Saturday but Sunday went to Lasharn Whyte, it was all too much for CK Flash who went into full TV interview mode right at the finish line, I can't wait to see it on YouTube! 10-12 Girls should have been Jenny Noble's after winning her Motos by a mile but in Saturday's semi there was a break dance party on the second straight and Jenny couldn't help but join in! This left the way clear for Chloe Taylor but Jenny put it right on Sunday.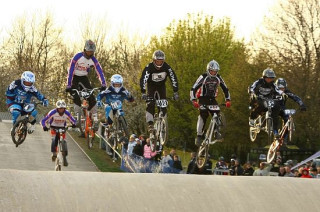 In 13-15 you've got Amelia Silvestre looking super quick with arch rival Izzy Ferrada unclipping on Saturday in the final. Don't rule out Ayesha McCleland either, another one to watch from Gosport! Bethany Campbell's bike is still cool by the way, a fourth and a fifth for her. Junior Female went to Ria Goodman and her new Pure bike on Saturday but she had to get by Lauren Smith to get it done. Come Sunday and Lauren was out front again with Ria and Charlotte Green in hot pursuit, with the crowd willing her on Lauren did take the win to a massive cheer. Lauren is integral not only to Derby BMX but to cycling in general with her job as a development officer and she'd worked so hard to get this event organised with her band of merry men (and women) it seemed like the weekend would not be complete without a special performance from her. A very richly deserved win, if I may say so!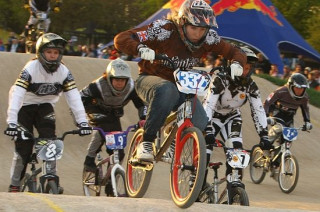 Cruisers - Abi Hill and Niki Spiers had their usual battle both days with Abi taking it, Niki has given up the Silk Cuts now so it might be a different story next time! Owen Baxter took 12 and under both days with Cameron Howard doubling in 13-15's too. 16-29 is getting busier Dan Pople winning Saturday and Ryan Vinyard on Sunday. Even Wan made a guest appearance with a sixth and a fourth. If Pro-J cleans his bike he might do better than eighth, how about it then?
30-39 saw the return of Chris Dayson with two 5ths and the revelation that he now lives in Rotherham! That's like me moving to Windsor or something... TJ Baldwin got his shred on to take Saturday but had to settle for second on Sunday behind Hilly. Daz Reidy got two thirds. 40-44 was all Jon Moore but you had Messrs Schaale, Seaman, Kemp, Stockwell plus others not too far behind. Russ Hanlon won the B final and didn't crash (much) 45 and over cruiser rules, Ady Warden took two wins looking super uber factory as Ken, with Brian Dayson back and angry no more. Ant Parry has dropped the sausage rolls from his extensive training regimen and is looking for a better result next time out. Honestly, this class needs more lunatics...sorry....I meant riders. If you are 45 plus and fancy a go, get a bike and get on the gate!
And finally, it's Elite Men. We went to semis on Sunday for the first time in how long? Liam Phillips was back, Bloomy was looking sharp, Kelvin was more chilled than I've seen him in ages and there were some new faces to the class. What could possibly spoil the party? Well, now you ask there was the small matter of a DQ for Kelvin on Saturday for 'cutting the corner.' What are we talking here? Millimeters? Inches? The best elite lap for 2 years had the shine taken off it by an act of officialdom....duh! This led to some 'discussion' later on but I can't go there either... Sunday wasn't much better for KB55 as he crashed in the first turn but on the plus side Bloomy looked good (despite the road bike and seventies headphones....;) Seriously though, need a lesson in manualling super smooth at warp factor five? Watch Bloomy and get educated. Elite has the potential to get better and better this year, hopefully it will be.
So that's it for Derby, great track, great race, next stop Burnham!