Follow britishcycling.org.uk on
Interview: Liam Phillips

2010 BMX World Championships Home | Preview | Track | Live Coverage | Reports
Posted July 29 2010
After recording a career-best second at round two of the BMX World Cup in Copenhagen, Liam Phillips confirmed himself as a medal hope for the 2010 World Championships. We speak with Britain's top male contender days before he decamps to South Africa.
It was a smile I'd not seen since Copenhagen, but one which instantly put me at ease, because looking into the eyes of Liam Phillips days before his biggest race of the year, it was clear everything was in place.
Striding across the gym floor from the elevated running machine, Phillips offered his hand confidently and shook with a positive energy of expectation.
As I asked about his form there was a slight nervousness on whether it would hold out for another week - a sensation common to all elite athletes approaching their peak - most important however is Phillips already proving himself in 2010. Now only the conundrum of repeatable success exists and the first chance comes on Saturday with BMXs biggest annual prize at stake; the rainbow jersey of World Champion.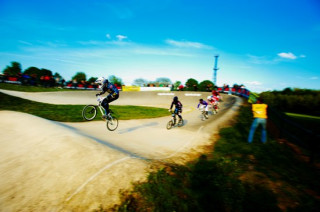 WARNING SIGNS
The first clue to Phillips' dramatic arrival on the international scene came at the opening World Cup of the season. A series of high targets set by Olympic Coach Grant White were the catalyst, but tellingly the 21-year-old revealed he never felt pressured by the situation.
"There wasn't one time I was disheartened or felt pressured by the situation I was put in; to me the targets set were the same as those I set myself before winter training."
Lining up for the opening race of 2010 in Madrid there was no parallel in form which Phillips could draw on - missing his last race of 2009 through injury wasn't planned, but allowed for an earlier start than usual to winter training which seemed to pay off in the time trial; seventh in the World on an empty track was good for the confidence, while winning every moto made for a good finals draw.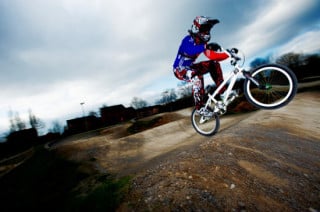 On this occasion track speed didn't translate to the result sheet - a crash in the quarter finals leaving Phillips feeling "short changed" and determined not to leave Copenhagen with the same sentiment.
The space between Madrid and the now historic result at round two of the World Cup was filled with training, but also a series of doubts, which until now remained secret. But before a World Championship, confession is good for the soul.
"It was quite a strange situation - I went from being fortieth in the World to being top ten. I questioned whether it was my performance or if the track wasn't the best and others hadn't liked that. So to go from there to getting the result in Copenhagen reassured me that the gains were my own - that was the best thing to come out of Denmark. I never went into that weekend expecting the result, the final yes, but the podium no. It was unbelievable."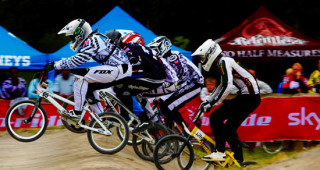 ONE WEEK ON
Seven days later represented a homecoming for Phillips as he raced in the British BMX Series. A special atmosphere was created by all the kids who had watched the race on the internet and wanted to see their new hero up close, but to the perceptive it was obvious Phillips was not interested in racing, and perhaps for the first time was experiencing mental overload; something which was compounded by a crash on day two of racing.
"I felt that the weekend before had drained me so much mentally. It wasn't that I didn't want to be at Derby, but I had only trained one day that week, to go into a race and be asked to perform again at what was realistically an anticlimax I found that hard, but it's a race and it should be treated the same as anything else.
"Then on day two I had a crash. I was sure I had suffered shoulder damage again, which carries with it an unknown recovery time. It was one extreme to the other, from the podium at Copenhagen to not being able to race for the rest of the year."
THE FINAL RUN
After extensive tests, it was shown that there was no severe damage as was first feared and within two weeks Liam was back to full time training, something which culminated in career-best times at the UCI BMX Centre just two weeks before the World Championships - a result Liam puts down to the enforced two week rest post-Derby.
"It was an ideal time to look at the training and see where the gains would come in the future, so that was the first step and then looking at it closer to the Worlds I had six weeks before the logical build- a British Series race, a European Series race, then some time in Aigle.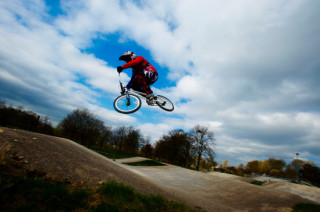 "I couldn't have asked for a better week (in Aigle) really, everything I wanted to achieve I achieved and I couldn't be happier with the preparation that I made. I wanted to get some time on the supercross hill and to be in a different environment keeps you fresh and getting some good solid feedback on the hill was a big positive to me.
"Now, I'm looking forward to getting out to South Africa. I can't tell you anything about the course; I never look at the drawings of the track - it's great the UCI are doing it but that makes no relevance to me when I'm there. I don't want to get into my mind that the track is going to be a certain way only to get there and see something, so I just turn up and go from there.
"I know it will be in good condition, the dirt is good, I raced in the World Cup there last year and as far as this year goes making the final is the first step. I'll aim to have good days every day; it's just a case of going there and riding my bike."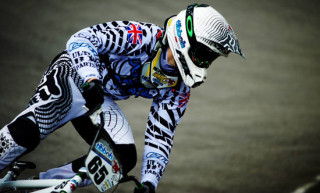 You can watch Liam Phillips and Shanaze Reade race for the rainbow at the BMX World Championships this weekend LIVE on British Cycling. Just go to the livecast pages now for all the information you need.