Report: UCI BMX Supercross Round 2
Strombergs Number One, Phillips Makes British BMX History
2010 BMX Coverage Home | Corinne Walder Video | TheWrap: UCI BMX Supercross R1 - Madrid
Final Result: Men | Women Qualification Result: Men | Women
Freecaster - Action Replay
We have a full video replay of the moment Liam Phillips produced the race of his life to finish second at round two of the UCI BMX Supercross World Cup, along with a full report from Lam's first ever appearance in a World Cup final, and Britain's first male Supercross finalist in 2010.

Liam going nuts at Platt Fields a couple weeks back
Liam Phillips made British BMX history producing a series of textbook rides to finish second in Copenhagen at round two of the UCI BMX Supercross World Cup. Qualifying as thirteenth-fastest in Friday's time trial, the British Cycling Olympic Academy rider translated promising times from the World Cup opener in Madrid last month and a winning weekend at the first round of the British BMX Series two weeks previous, to the World stage.
Immediately after the race a visibly shocked and delighted Phillips thanked British Cycling's Olympic BMX coach, Grant White, for his continued support; something pertinent to Phillips who six months ago was recovering from injuries, including a broken wrist sustained in the 2009 Chula Vista Supercross.
Corinne Walder's VideoWrap
In the final Phillips rode from third to second in the opening straight, defending his position strongly in turn one and resisting pressure in the second series of jumps to gap the six chasing riders, eventually closing the gap to race-winner and Olympic gold-medallist Maris Strombergs.
Phillips' qualification for the final matched the standard set by British Cycling Podium rider Marcus Bloomfield in Chula Vista last year, but in Copenhagen Phillips superseded all expectations continuing to finish on the podium on a day which, significantly heralded the start of the points race for London 2012 Olympic qualification.
THE RACES
Phillips' weekend started with two tough qualification rides on Friday on a windy track and up against a stacked field of 124 riders of which only 64 would go to Saturday's qualification motos. Making it through to the top draw of 32 riders in 13th position with teammate Bloomfield placing second in the lower draw of 32 riders for company, both riders alongside Shanaze Reade (who qualified second in the women's field) passed the first test and would line up on Saturday's main event.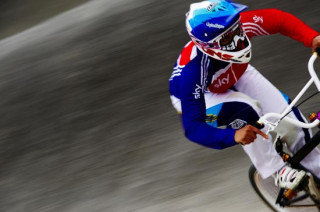 Shanaze Reade on track at Leeds, in preparation for the Supercross
Despite forecasted heavy rain, Saturday's schedule stayed dry and calm, making conditions perfect - if a little cold and overcast. All British riders - Phillips, Bloomfield and Reade made it through the three points-scoring heats - meaning they would progress to the quarter finals.
Reade was most impressive in these Saturday points-qualifiers, winning all three races comfortably and retaining lane choice, but in the semi finals despite taking the holeshot, a mistake in turn one led to Reade running wide, almost being forced off the track by other riders and eventually losing all speed along with any chance of a finals appearance.
Meanwhile in the men's quarters it was Phillips doing all the forcing, holding a solid line in turn one, leaving Barry Nobles with nowhere to go except over the banking and straight into the cameraman, who in turn fell with his camera equipment from an elevated position - much to the excitement of commentators Kelvin Batey and Roger Rinderknecht!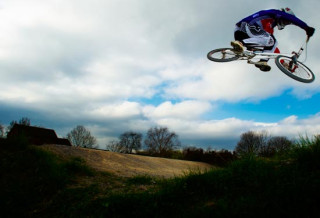 Marcus Bloomfield, somewhere over south-Manchester
While Bloomfield couldn't quite match this moment of excitement, he did qualify through the toughest set of heats. This perhaps took a little too much energy however, and even with a good gate in his quarter, the first berm produced a big squeeze, Bloomfield the juice, and despite a heroic move in the final turn to come from seventh to fifth, there wasn't enough track to pull back the deficit.
Where Bloomfield missed out though, Phillips struck gold, employing the high-low on turn two this time to recover from a disastrous turn one, securing a ride in the finals.
In lane four, Phillips' first ever Supercross final was set to be an impossible task, despite the demise of favourite Sam Willoughby in the previous round. Olympic champion Maris Strombergs was the first to rise and took a convincing holeshot, but it was Phillips who made progress, staying lowest over the first jump and carrying speed, moving from three to two.
Holding that in turn one was always key and such a defensive line did cause Liam to lose a little speed at the end of the second straight, but ultimately track position was enough to gain a bigger drive from the top of berms two and three, seeing Phillips make gains on Strombergs in the second half of the track.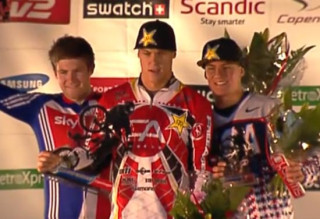 Liam Phillips (left), somewhere around cloud 9 at the Supercross World Cup in Copenhagen
While it wasn't enough to take the win, Phillips could enjoy the podium knowing his first ever Supercross final was a great success and he stood as the first male British Programme rider ever to make a World Cup BMX podium.
Liam will now looks ahead to round two of the British BMX Series next weekend in Derby and ultimately July and the BMX World Championships in South Africa.
---
QUALIFICATION
Qualification Result: Men | Women
Friday saw the individual qualifiers, as 180 riders raced for 64 spots in the finals. Shanaze Reade took second in the women's ranking, leaving her with lane choice secondary only to New Zealander Sarah Walker. The top four of Walker, Reade, Australia's Caroline Buchanan and France's Laëtitia le Corguille all qualified with a near-one-second gap over the remaining 28 riders.
For the men, 64 qualifiers were headed by Maris Strombergs and Sam Willoughby - Britain's Liam Phillips out qualifying Jared Graves to finish 13th, in a top 32 seperated by under two seconds. Marcus Bloomfield qualified second in the bottom half of the draw - a result which would have been good enough for the top twenty in the Stromberg's and Willoughby show.
---
PREVIEW
The Copenhagen track, scheduled to host the 2011 World Championships, will represent a key moment of reconnaissance for all riders chasing Olympic qualification. No name will be missing from this round of the series, with fourcross World Champion Jared Graves breaking from his mountain bike season and travelling to Denmark, alongside a long list of BMX greats.
THE TRACK
Recognised by the UCI as the Europe's leading BMX venue, the UCI's BMX Sports Coordinator Johan Lindström made his opinion on Copenhagen clear.
"There's no doubt that the Copenhagen BMX venue is the best BMX venue in Europe. With the investment of having two permanent start ramps, not only is it the most versatile BMX track (suited both for elite and youngsters) ever built, but it also show cases the future of BMX. This is what many tracks will look like 10 years from now! The UCI are excited to once again bring the BMX Supercross World Cup to the Copenhagen BMX venue, and of course the absolute highlight will be when the BMX World Championships return in 2011."
Check the track profile out in this video and make up your own mind...