The Great Britain Cycling Team opened up their medal account at the 2018 UCI Road World Championships on day one.
Elynor Backstedt, racing for Great Britain, netted herself a fantastic bronze medal, just 18 seconds off the first placed rider.
Pfeiffer Georgi also representing Great Britain took fourth, 22 seconds down.
The Women Junior TT World title goes to Rosemarijn Ammerlaan#InnsbruckTirol2018 pic.twitter.com/aVxxjLZ154

— UCI (@UCI_cycling) September 24, 2018
The winner was Netherlands' Rozemarijn Ammerlaan, who roared through in 13 minutes 30 seconds, just three tenths of a second off Backstedt's fastest time at the first check-point.
But then in the second, hillier half, whilst Backstedt dropped off the pace to bronze, Ammerlaan's consistency propelled the 18-year-old Netherlands rider higher up the ranking, all the way to gold.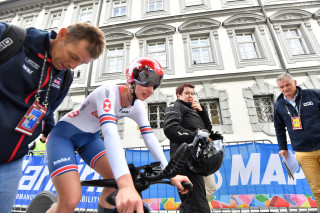 Racing in much sunnier conditions in the afternoon on a slightly longer, and much hillier 27.8-kilometre course than the Junior Women.
European Omnium Champion, Ethan Hayter raced to an impressive fifth. After spending a lot of time in the hot seat, he finished seven seconds out of the medals and 45 seconds off Denmark's Mikkel Bjerg, who was the eventual winner to the contest.
Track & road star @ethan_hayter finishes 5th after losing his podium place late in the day.

There's a lot to come from Ethan who is young even in the U23 category

He rides in the U23 Men's Road Race later this week in a strong Great Britain line-up#InnsbruckTirol2018 pic.twitter.com/jZhEOfsW3m

— British Cycling (@BritishCycling) September 24, 2018
U23 National Time Trial Champion, Charlie Tanfield didn't get off the best of starts, showing up to the start gate as the clock hit zero, having to dramatically jump on his bike and roll away.
The young-Brit was still trying to clip his shoes in around the first bend, and would finish 1 minute 31 seconds down in 27th place after putting in a huge effort and finishing the course.