Monday 8 February marks a major landmark in British Cycling's rider route transformation as the men's endurance academy riders relocate to the-newly established European training base in Italy.
The squad, coached by Brian Stephens, will be based in Montichiari in northern Italy which offers excellent training conditions on the road and is in close proximity to the velodrome. It will also give the senior academy riders easier access to top class under-23 road races. The concept of creating a base in Europe could pave the way for similar developments for other squads in the future.
The concept builds on the successful structure that British Cycling previously had in place, which produced the likes of Mark Cavendish, Geraint Thomas and Peter Kennaugh, and will also serve as a warm weather training base for all the Great Britain Cycling Team riders.
Technical director Shane Sutton said: "The opening of the European training base is an important part of our plan to ensure the future success of the Great Britain Cycling Team. The base will benefit the whole squad as we look beyond Rio and it's a great feeling to be able to offer more development opportunities to Britain's most talented riders."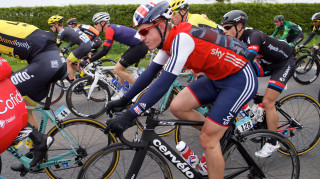 Senior academy rider Ollie Wood said: "I am really looking forward to the move to Italy as I believe it will further my career and help me achieve my goals. As we have seen from previous academy riders, the experience of living and racing in Italy helped with their progression into the pro peloton. Myself and the other academy riders are looking forward to embracing the opportunity and using it to our advantage."
Fellow senior academy rider Nathan Draper said: "I believe the move to Italy will be a massive step in the right direction for both myself as an individual and as part of the endurance programme. Having seen and heard about riders in the past who have gone through the same system it will be a fantastic opportunity for our development to learn and adapt to the whole environment of racing, training and living in Italy. From what I've seen, Montichiari looks an amazing place to train with plenty of climbs close by for us all to get stuck in with. I can't wait to get out there now."
Performance pathway manager Ian Yates said: "There's genuine excitement amongst the riders about their move to Italy as they are effectively following in the footsteps of the riders who they all look up to. We believe the relocation to Italy is a tried-and-tested formula for aiding the development of these young riders with Tokyo 2020 in mind."
Riders relocating to Italy:
Matt Bostock
Nathan Draper
Joe Holt
Joey Walker