Organisers have unveiled an innovative and unpredictable route for the 2018 OVO Energy Tour of Britain, according to race director Mick Bennett.
The race, which takes place from 2 to 9 September, will include a team time trial for the first time, as well as a summit finish on Whinlatter Pass in Cumbria on Stage Six.
The 1,140-kilometre route will take the world's top riders from Pembrey Country Park on the Carmarthenshire coast in South Wales to the streets of Central London, via Devon, Bristol, Warwickshire, Cumbria and Nottinghamshire across eight stages of racing.
"This year we have worked hard to create an innovative and unpredictable route, with several surprises in store throughout the race," said race director Mick Bennett. "Several stages have stings in the tail; climbs positioned towards the finale of stages one, two and three will keep the outcome up in the air until the very end.
"Our partners at Cumbria County Council have helped us to achieve something that we have been keen to do for a number of years on stage five – a team time trial that finishes atop Whinlatter Pass. This will be a test like no other, as teams will have to get their equipment choices and tactics spot on. The race may not be won here, but some riders could certainly lose it.
"In another first for the OVO Energy Tour of Britain, we return to the same climb the following day for a double ascent of our summit finish – although riders will tackle it during a conventional road stage, albeit from its harder eastern side!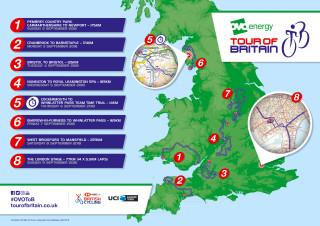 "Add in stages in Warwickshire, Nottinghamshire and London, where we'll build on the successes of last year's OVO Energy Tour of Britain and OVO Energy Women's Tour, I cannot wait for the start of September already!"
The race, Britain's most prestigious international men's stage race on the UCI calendar, is sponsored by the UK's largest independent energy company for the second successive year. The battle for the race leader's OVO Energy Green Jersey is likely to be focussed around a pair of stage finishes on Whinlatter Pass in Cumbria on stages five and six (Thursday 6 and Friday 7 September).
Commenting on the launch, Julie Harrington, chief executive of British Cycling said; "The OVO Energy Tour of Britain goes from strength to strength as a mainstay of the British sporting year which attracts new fans across the country to our fantastic sport. The 2018 route is one which will really capture the imagination of everyone, whether they cheer from the roadside or watch on television."
As well as the challenging route, British fans can also look forward to once again welcoming a star-studded line-up of teams to race on home roads this September.
The Great Britain Cycling Team are confirmed to be taking part in the 2018 OVO Energy Tour of Britain, alongside top teams including Mitchelton Scott, Team Dimension Data, Movistar Team and Team Sky
"This is our second year sponsoring the Tour of Britain and we're thrilled to see that Bristol, home to our headquarters, once again features in what looks like an amazing route," said Chris Houghton, CEO Energy Retail at OVO Energy. "This year, we're dedicated to bringing our customers and spectators even closer to the action. Our online interactive maps will help fans and families plan their day by offering sightseeing information, things to do nearby, and tips on where to eat locally - at each stage of the race. We'll also be giving spectators a chance to try out e-bikes as they await the race to begin."