Marketing can often be a daunting task to begin with. We have put together an overview of the range of methods you could use to promote your rides, groups and club activities, hopefully, this guide should help you to invite more people along with you!
LetsRide.co.uk
Let's Ride is a website designed by British Cycling to help cyclists across the country meet up, network and ride together at all levels. By registering your rides using the www.letsride.co.uk platform your rides will be instantly searchable to members of the public across the country. The website also offers a number of social media optimised images and guidance documents for you to download and use. Best of all the website is 100% free to use! Add your rides so they can be viewed by the thousands of riders already using the site, we do lots of national advertising of letsride.co.uk, this should help in attracting some new riders to your group.
Social Media

Image: British Cycling recreation team
Social media is the digital voice of your group or club, it shows off the personality of the riders, group organisers and the group itself. Personal and fun posts show that you are approachable and do not take things too seriously, more formal and information supplying posts give off an exclusive, serious vibe. there is no right or wrong way, your voice is largely dependant on your group or clubs goals and riding styles.
Social media, not your thing? Why not appoint a social media lead for the club, someone who is happy to film rides take photos and regularly post to the various platforms.
Top Tips from successful groups on social media:
'The more approachable you appear as a group, the more attention you will likely attract.'
'Celebrate personal achievement publicly and don't forget to post regularly and like/follow other similar people and groups.'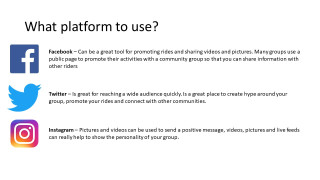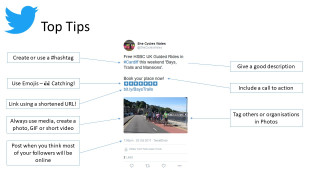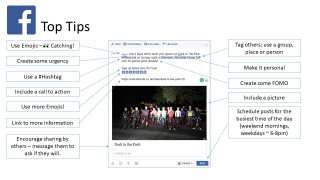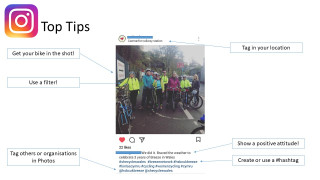 Physical Marketing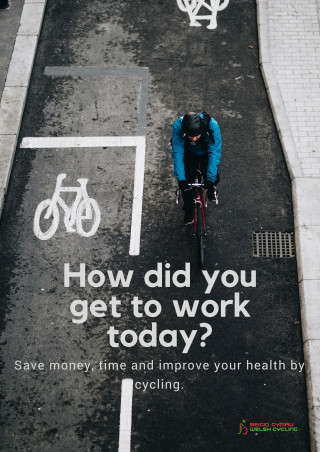 Using professional looking flyers and posters in the right places can be a great way to let people know about your rides. Create some of your own using websites such as Canva or Desygner, not feeling creative? Download empty belly posters from www.letsride.co.uk
If you are using a venue as a start or end point, ask them to put up posters and advertise on your behalf in exchange for bringing them potential customers.
Make sure that there is plenty of time in the run up to rides when using physical marketing, unlike social media it can take a long time for someone to see.
Face to Face marketing
Speaking to people face to face is probably the most effective way of promoting your rides.
1.Consider who in your community has a big network of people that they come into contact with regularly? (Hairdressers, Shop assistants, Police, Café staff, Doctors)
2.Go and speak to them about your rides and ask them to pass on the messages, they may even want to come themselves!
3.Leave some materials such as posters or flyers with them
Keep it Local!
It is often also worth speaking to your local cycling shop, they are not likely to turn away someone looking to get more people on bikes, you may even bag yourself a discount!
Email local workplaces to see if they might put a poster up or promote your rides to their staff.
Speak to your local authority, most sports development officers would love to hear from you.
Many cycling groups and clubs make use of their local communities, working to support local retailers, hospitality outlets and social groups, these can be massively influential in helping grow awareness of your group. You may also be able to gather a range of perks for you riders, from discounted cups of coffee and slices of cake to free bike rental!
Contact local media
Think big and let the local paper, radio station or online blog know about your rides, use the Welsh Cycling press release proforma to adapt and send to media outlets.
Host a cycling festival or mass participation event
Cycling festivals and mass participation events are growing in popularity across the country and are a great way to show off what your club or group does to people outside of the cycling world. Click the button below to access Welsh Cycling's guide to planning a non-competitive, recreational event.
For any other marketing or promotional queries please contact our Communications and Marketing Officer or Participation Team.