British Cycling's HSBC UK Go-Ride initiative has enabled over 200,000 young people to get involved with the programme during 2017, the organisation announced today.
As a development programme for young people, HSBC UK Go-Ride focuses on fun, local cycling coaching sessions delivered in schools, through promotional events and in a community setting.
This year:
506 schools have been visited, with 64,598 young people benefiting
8,982 riders attended school holiday coaching sessions
7,435 riders attended rider development sessions
1,565 riders attended disability sessions
12,039 riders have taken part in Go-Ride Racing
British Cycling chief executive, Julie Harrington, said: "This is a significant milestone for the HSBC UK Go-Ride programme.
"This year has seen us expand our activity in this area – HSBC UK Go-Ride is now UK-wide and we are working closely with some of our biggest cities to provide more young people than ever with the opportunities to get involved in cycling.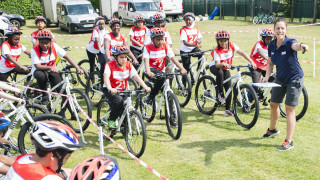 "We're very proud of the amount of Great Britain Cycling Team riders who have come through the HSBC UK Go-Ride programme, and there is no doubt that it sets young riders on a pathway to success. However, we share with HSBC UK an ambition to not just continue winning medals at elite level, but to transform Britain into a genuine cycling nation.
"Getting more young people on bikes will help us turn that goal into a reality, so we are delighted with the progress made by HSBC UK Go-Ride."
Almost 40 Go-Ride coaches are employed throughout the country, with ten of those having been appointed in the last six weeks and more to follow in the new year.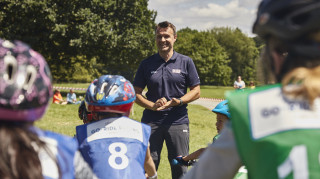 As well as coaching and racing opportunities for young people, the programme caters for juniors, under-23s, and – through British Cycling's nine disability hubs – riders with a disability. Open-age sessions for women and girls and bespoke activity to support disadvantaged groups have also been delivered.
Luke Harper, head of HSBC UK's partnership with British Cycling, added: "Our partnership with British Cycling is all about making our country happier, healthier and more active.
"Ensuring that younger generations are comfortable and confident on bikes is a huge part of that, so the HSBC UK Go-Ride initiative will make a real difference to the cyclists of tomorrow.
"This success wouldn't be possible without the hard work and dedication of our network of volunteer Go-Ride club coaches across the country, and we're looking forward to expanding the programme further in 2018."
The HSBC UK Go-Ride programme is also supported by Evans Cycles, which will provide over 1,500 bikes for Go-Ride Coaches to run coaching and racing sessions across the country.