Alice Barnes finished 10th at round two of the under-23 UCI Mountain Bike World Cup Cross-country in Albstadt, Germany.
In a remarkable turnaround from last weeks 24th place in Nove Mesto, Barnes showed resilience to remain in the top ten throughout the race.
Starting on the third row of the grid, Barnes moved into 12th position on the start loop, before progressing to seventh place by the end of lap two.
After six laps Barnes finished tenth, after a three-lap battle for ninth – a result she was happy with.
"After Nove Mesto I was a bit skeptical going into Albstadt" said Barnes, speaking after the race.
"However, we worked out what was wrong and I went in with a good attitude. I rode within myself and rode a good tempo, trying to stay consistent.
"The course also helped – in Nove Mesto I was struggling with the transitions – whereas here it was a more constant course."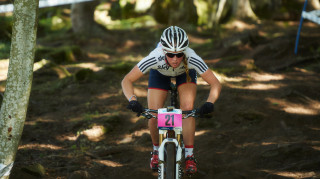 Coach reaction
The performance also pleased British Cycling Olympic Mountain Bike Coach Julian Winn, who last week revealed Barnes' disappointment with a 24th place finish at the opening round.
"Last week she was pretty distraught" said Winn, seven days on from Nove Mesto.
"We had some home truths but she has got a good strong character and turned it around today.
"She did her job today, it was much more positive" Winn expanded.
"She cracked last week and when she felt she was getting passed her head dropped. All I said was 'you must never let your head drop.'
"Today, she has thrown herself back where she belongs. It is a good way to sign off with a positive race before the next phase of world cup races. All credit to her she did it herself."
Barnes will now complete a month of intensive training designed to improve her top-end performance with the aim of being more competitive when the world cup series resumes in Switzerland in July.
The UCI Mountain Bike World Cup Cross-country continues 31 May, with Grant Ferguson, Iain Paton and Mike Thompson racing in the under-23 men's competition, and Annie Last in the elite women's race - see our guide for details of how to watch live.