Rider Diary: Tracy Moseley

Interview with Tracy Moseley - September 2009
Britain's most established female downhiller, Tracy Moseley has been racing at the highest level for 15 years and is one of the only gravity racers to have won a round of both the downhill and fourcross World Cup, alongside multiple national titles and the prestigeous UCI Downhill Mountain Bike World Cup in 2006. With only the rainbow stripes elluding the Malvern-based rider, 2010 and Mont St. Anne would be an apt counterpoint to Steve Peat's astonishing World Championship title in 2009. Read Tracy's feature-length interview here, before catching the latest in her rider diary.
May 13 2010
Mission Sunshine; accomplished!

My long lost search for the sun finally ended as I landed into Phoenix airport at 7pm and it was still about 25 degrees; nice! We were staying just outside Phoenix for the 2010 Trek World Racing Team Launch. It really did feel so good to walk outside in the morning with my sunglasses on and in my shorts and flip flops, the season had finally begun.
The first few days we spent doing individual, team and action photos all in our new kit and bikes. Even after all the years I have been racing, I still get excited about getting new kit, it really is like Christmas with all the boxes and new bikes. We also had a couple of days testing with Fox suspension, an opportunity to get our suspension all set up for the start of the season. We also had time for a few XC rides with the guys from Trek and some good training time. The week was soon up and we headed straight from Phoenix up to Monterey, California, for the Sea Otter Classic.
Sea Otter is a big event and it's as much about putting on a show for the spectators and a great opportunity to see many of the sponsors associated with the team. The dual slalom race was always one of my favourite events and having not raced slalom for about three years I was really looking forward to it. This year I brought my dirt jump bike to race on, but I struggled a little being on a hardtail as the course was much more suited to a full suspension bike, I managed to get through the first round and then got knocked out in the second round after putting up a good fight. I hope we get the chance to do more slalom races as it's so much fun.
The final event of the weekend is the downhill. It's always been the same pedally course at Sea Otter and the decision on whether to ride a short travel bike or a downhill bike is always up for debate. I rode my DH bike and really enjoyed my race run, I felt as though I had ridden well and ended up getting squeezed into third place, 0.5 sec behind the winner Melissa Buhl. I was happy with the result as it showed me that I am in the right place and with still over a month 'til the first World Cup I am happy with my fitness.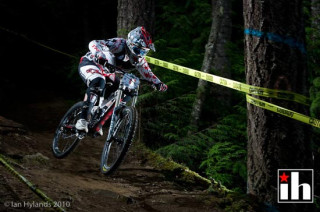 From Sea Otter a lot of teams were trying to get back to Europe for the first XC World Cup, but the volcano in Iceland made travel a bit chaotic. We were fortunately staying for another week in the US, heading up to Port Angeles, near Seattle for the first round of the Pro Gravity Series. After not being able to get home a few more riders decided to come up to this race and it made a great field, almost a mini-World Cup.
I had such a good week in Port Angeles, it's a really small town right on the coast so it was nice to be riding on some proper dirt for the first time in a few weeks! The track was so much fun, really fast a flowy, I just didn't get bored of doing runs, it was so much fun. We had loads of practice time as well, so I just treated it as a great opportunity to spend as much time as possible on my DH bike. I was really happy to end the weekend taking the win ahead of Rachel Atherton with a time that was not too far off the guys, so it was a great confidence boost coming into the start of the world cup season.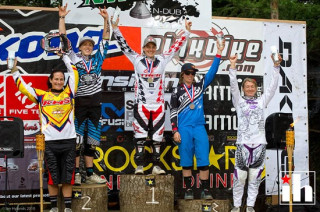 Fortunately by the time I was due to fly home the flights had resumed to normal and I got home hassle free before spending two weeks at home to prepare for the first World Cup in Maribor, Slovenia.
Tracy