We may have entered October but the racing season certainly hasn't let up, with Road Racing both domestic and foreign as well as Hill Climbs and Cyclocross action, there's plenty of action to dig into for this week's round up.
Women's Vet RR Champs
Saturday saw was the rescheduled Vet Women's Road Race Championships and final round of the #ScotiaSeries.
Heather Shanks (North Argyll) claimed victory in an uphill sprint from Lauren Davis (Torvelo) and Teri Bayliss (Reifen RT) in third in the race organised by Torvelo Racing in very blustery and changeable conditions.
Bayliss also claimed the #SCNatChamps honours as the top V40 rider - with Zosia Martin (Torvelo) in second and Liz Wisdish (Glasgow Wheelers) in third. While Jude Paterson (Ayr Burners) claimed the V50 title from Fiona Cockburn (Torvelo)
A massive thank you to Torvelo Racing for reorganising the race on short notice, as well as to all the Marshalls and Volunteers that made the racing today possible.
Scotia Series Finale
Shanks' win was crucial in where the destination of the inaugural Scotia Series would head. The victory mean that the North Argyll rider had overhaul Emma Matthews (Team Boompods) and claim the Series title, with Coralie Arthur (Wahoo Endurance Zone p/b Le Col) holding onto the third step of the podium.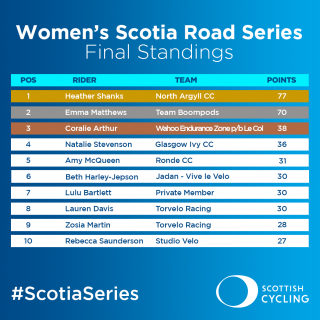 Oscar Onley CRORace
Oscar Onley (Team DSM) finished a fantastic third place at the UCI 2.1 CRORace. The Kelso rider, who has recently impressed at the Tour of Britain, produced some fantastic rides as he went toe-to-toe with the Tour de France winner Jonas Vingegaard (Jumbo-Visma) on the summit finish of Stage 2 and the Queen Stage of Stage 5, finishing second to the Dane by a wheel length on both occasions.
The Scotsman also showed real aggression as he worked very hard in his efforts to drop the race leader Jonathan Milan (Bahrain-Victorious) on that Queen Stage. After a frantic final stage in Zagreb that included some tramlines to contend with, the Scot was rewarded with his efforts by claiming third place on the overall classification, the winner of the young riders' classification and second place in the King of the Mountains competition.
Onley told Team DSM: "I'm happy to finish up third overall and a huge thanks to the staff and the guys for all their work this week. It was a super nice experience"
SCX – Lochore Meadows
Lochore Meadows in Fife played host to the second round of the SCX Series.
Having moved to Scotland recently, Lotta Mansfield (Montezuma RT) made her presence north of the border known by winning the Senior Women's race by just seven second from Jane Barr (Velocity 44) with Joanne Thom (Torq Performance) in third a minute further back. Millie Thomson (Deeside Thistle) was the top junior rider in fourth place.
Rory McGuire (Wheelbase CabTech Castelli) produced an excellent ride to claim victory in the Senior Men's race by over 40 seconds from Lewis Martin (Studio Velo) with Gary MacDonald (North Argyll) in third place.
Reuben Oakley (ROTOR RT) rode away from Ruan Voster (West Lothian Clarion) and Milo McIntosh (Peebles CC) to claim victory in the Junior Men's by half a minute over the two chasers. In the Under 16's Innes McDonald (Edinburgh RC) and Arabella Blackburn (Deeside Thistle CC) claimed the wins.
Massive thanks to Kinross CC for putting on a great event. Entries for Round 3 in Brechin on the 16th October are open, and can be found here.
We'll leave you with this very aesthetically pleasing clip of riders heading through the spiral section at the Meadows.
Student Hill Climb Championships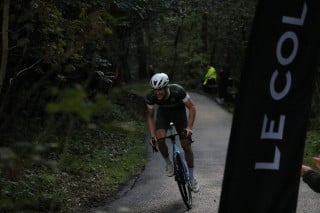 The brutal road up to Wallace Monument was raced up again as the Scottish Student Sports Championships (presented by Le Col) took place.
Elena McGorum (University of Dundee) won by three seconds from Amelia Tyler (Edinburgh University) in the Women's field – with Anna McGorum (Edinburgh University) in third place.
Louis Moore (Edinburgh University) took the win at the Scottish Student Sport Hill Climb Championships in a new course record, pipping his fellow Edinburgh student Charlie Aldridge by two seconds up the 450m wall, to complete the capital domination Angus Toms was the third place male student; although he was bettered by Cameron Ritchie (Edinburgh RC) for the third fastest male.
Congratulations to Daisy Barnes and Aaron Johnson for organising such a successful Hill Climb once again.
La Course de Quines & Loons Road Race
Aberdeen Wheelers' played host to the La Course de Quines and Loons Road Race in Midmar in Aberdeenshire on Sunday.
Full Results to follow here