In March sportscotland shone a light on how sport can help build stronger communities. Saturday 7th March saw the Stirling Court Hotel brought to life as the Scottish Cycling Roll of Honour and Awards Ceremony united the cycling community for an evening of recognition and celebration. Among them was one very special cycling club.
The Falkirk Junior Bike Club were one of three brilliant cycling clubs nominated for the Scottish Cycling Club of the Year Award. The Scottish Cycling Awards recognise the great achievements made by volunteers and riders throughout 2019. Scottish Cycling are extremely proud of those who coordinate clubs, deliver events, coach riders and all the other contributions which make a significant positive impact on the sport. The sought after Club of the Year Award recognises a club that has demonstrated a commitment to development, resulting in increased participation, inclusion and diversity in its membership.
Among many nominated clubs three really stood out to the judges: Falkirk Junior Bike Club, Arran High School and Mukyriderz.
And the Winner is...

As Falkirk Junior Bike Club were announced as the winners there was a ripple of approval from those in the room. It is clear that this club has made a big impact. The club has been in existence for just over four years and in that time they have grown to approximately 160 members aged between four and sixteen years old. Club activity is supported by 14 volunteer coaches (several of which are between 15-17 years old) and a committee of 10 committed volunteers. The committee work tirelessly to keep club vision alive, encouraging new members and events to develop.
In 2019 Falkirk Junior Bike Club really stepped up and started to push the boundaries. They have increased their levels of participation and have encouraged and supported more members to compete actively on their bikes with over 150 members regularly participating in weekly sessions and over 60 members regularly entering competitions.
The club have promoted and encouraged members to see cycling as more than just sport, securing funding from Paths for All for a project aimed at encouraging members to cycle to school.
This is well as running their first two events, as well as numerous club confined events. Together they have clearly outlined their vision and ambition with a professional looking club strategy and they look set to continue to set the bar high and make cycling a sport for all.
A huge congratulations to the team at Falkirk Junior Bike Club and every rider who helps make it such a special club.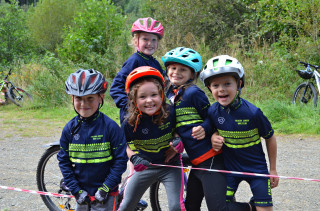 Find Out More
Check out Falkirk Junior Bike Club online.
Read all about the Roll of Honour and Awards Ceremony.
Find out more about the Scottish Cycling Club Development Framework and Progression Programme.