Cycling Crazy Stage 8 - 'Marmotteitis'
The latest instalment of Phil Julian's cycling crazy column sees Phil Julian's clinical Marmotte preparations take a hit with mysterious gastro-intestinal issues and recurring back pain. However, Phil's convalescence hasn't been completely fruitless - he's been immersed in cyclingcrazy culture, in the French town of Plouay, following the progress of a young hopeful who's trying to make it big on the roads of Belgium and France. If you're new to the column, pick up Phil's Cycling Crazy thread here:
Prologue | Stage 1 | Stage 2 | Stage 3 | Stage 4 | Stage 5 | Stage 6 | Stage 7
Posted: 26th April 2010 | Phil Julian
Bonjour tout mes amis qui a la passion de cyclisme. It seemed right and proper to start off in français as I'm writing this on a Brittany Ferry returning back to the UK after ten days in the Morbihan, near the French cyclingcrazy town of Plouay. By coincidence, the Sigma Sport team are also travelling back from the Tour of Finistere. I wonder how they got on. I didn't want to interrupt them over their meal, didn't want to seem like an anorak although of course I am one (make mine a large one in brown!!). By the time you read this of course their result should be on the BC website.
There's been a bit of a gap between Stage 7 and 8, sorry. The editor told me that there's usually a rest day after the first week. This one unfortunately turned into hospitalisation rather than a two hour roll about on the small ring.
What happened was that Chris and I were forced to leave the pictures early with about half an hour of the film left. This galled me (just a little clue) for three reasons. One - I hate not getting full value at £7.50 a ticket (probably my Forest of Dean upbringing where as a kid we worked 8 days a week and ate gravel from the garden to save money!!); Two - the film was called 'Nine' and despite an amazingly glitterati cast of millions, I can give you at least nine reasons why you shouldn't go or rent it on DVD; and Three - I had a raging hot fever and the most excruciating pain in my abdomen that you wouldn't wish on the guy that sits on you for thirty miles before coming round you in the last two hundred metres to beat you by a distance, freewheeling with arms aloft.
Five different doctors and a consultant from the local hospital surgical team later, after much blooding, prodding and testing, their puzzled looks had me wondering whether I had imagined it all. I couldn't resist asking one of the team on day two whether it could be 'Marmotteitis' to which he replied, "I very much doubt it although I'm more of a Bovril man". You had to have been there, perhaps!
As the symptoms lessened I was despatched home to the bosom of my family with a series of outpatient testing to follow. I'm hoping that they will detect some fitness!
Talking of family, I spent some time with Tony Mills and family in Brittany and did a couple of rides with sons Nick and Tony junior and 19 years old Sam Allen. Sam is, for 2010, "Chez Mills" and riding for the Union Cyclist Lochrist Hennebont thanks to his own hard earned savings, more support from the John Ibbotson Fund and a Giant bike from his AW Cycles, Reading, UK team.
One of the UCL Hennebont sponsors is local Breton Biscuit and Cake manufacturers 'La Trinitaine' who, not unsurprisingly, supply riders with a fair amount of product. Of course Sam, as a young athlete in training is not allowed to indulge and is duty bound to hand over the goods which explains Tony's smiling face in the picture below.
Above: 'Sam Allen with "Nice Biscuits - I haven't got to race tomorrow" Millsey'.
Sam has already ridden more than ten races since his February landing in France. With a best placing of fourth in one and being part of the three man winning team in a race at Crach near Auray, he is finding the racing hard and certainly different to back home. As he told me, "In one 160 kilometre race there were eight riders from the Saur-Sojasun pro team. Six of them attacked early to become more than half of the break. I got across to the break with a handful of others but then had nothing left at the end - the rain and hail was lashing down".
I asked Sam how the racing compared to back home. He told me, "I've gone from riding in bunches of 60 where perhaps maybe 10 riders are capable of winning, to bunches of at least 130 riders in even the smaller races, where it seems that almost everyone is capable of getting a result".
Sam's aim is of course to win in France, to keep progressing as a cyclist, so that he can make a living riding his bike. He's never had a coach although Tony Mills has a solution in terms of advice and a training plan from his good friend, a certain Sean Yates (Yatesy had some support from Tony as a young rider too).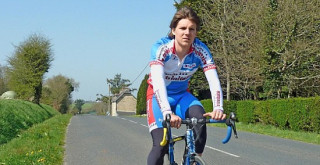 Above: 'Sam riding the virtually traffic free roads near Baud, Southern Brittany'.
I asked Sam how he got started in cycling and again it's a family thing. "We used to come over to France on holiday and we'd all just ride our bikes for fun". Sam thanks his dad and his grandparents for their cyclingcrazy encouragement. He ran, swam and played football at county level before setting out on his bike riding path to what he hopes will be a pro career. You can read more from Sam at http://www.johnibbotsonfund.com/#/sams-blog/
How's your Marmotte training going? You can let me know how you're progressing and what other sportives you've been doing by e mailing me at phil@cyclingcrazy.co.uk
So much for my sticking to the Chris Carmichael plan! I've had to abandon that due to the hospital trip and the continuing back trouble - something to do with my Facet (zygapophysial) Joints in my two lower vertebrae. The latest treatment for my 'mal de dos' has included acupuncture - it seems to be working and a resume to real riding looks to be on the cards from the start of May (fingers crossed and back straight!).
Plan B is to try and take on about 250 miles a week for eight weeks. It's do-able with four rides to work and back, a biggy every week-end and a couple of sportives on the way.
While I'm on, have any of you got any personal experience of riding road tubeless? Just how comfortable and trouble free are they compared to pressures? Has anyone done any sportives on tubs? I did in Bike Blenheim Palace last year and am tempted to ride them again in the Marmotte. Let me know your thoughts at phil@cyclingcrazy.co.uk
Just before I close to go and do some stretching let's just go back to the 'family' thing for a moment. Our British cycling family, just like Sam in his blog, can say thanks to Tony Mills. As well as introducing many of us to the best value and best quality European bikes and kit many years ago at his Dauphin Sport shop, in 1996 he persuaded a certain Peter King MBE to stand for the BC Board and the National Council to vote Peter on. Take a look around, the family's still growing.
FOOTNOTE:
Sam Allen got his first podium with second place in the 130 kilometres 'Ronde du Porhoet' yesterday, Sunday 25 April. In the 100 rider field based on a circuit around the town of La Trinite Porhoet in the Morbihan, Sam was active in the early race moves before getting in a 15 man break. He forced a split in the group with just a handful of kilometres left and found himself contesting for the win with five others in a fast finishing sprint. A civic presentation ceremony at the local Town Hall followed after the race.