Follow britishcycling.org.uk on
Cycling Crazy Stage 7 - Special - So Special
Posted: 8th March 2010 | Words and Pictures: Phil Julian
The latest instalment of Phil Julian's cycling crazy column sees Phil Julian travel to Belgium to re-acquaint himself with old friends and cobbled climbs. If you're new to the column, pick up Phil's Cycling Crazy thread here:
Prologue | Stage 1 | Stage 2 | Stage 3 | Stage 4 | Stage 5 | Stage 6

Special Places - Special Riders and Special Friends
Hello again my cyclingcrazy friends. We can call each other friends now because I'm going to share something that all cycling friends do when they chat - let's talk ailments. I'm suffering with a sore lower back and sciatic pain that has hampered my preparation for the time being. You can believe me, honest, but sometimes cycling pals don't tell each other the exact truth do we? "I've had a cold all week" means: - well I sneezed once last month, probably an allergic reaction caused by buying flowers! And "I've really been suffering with a sore throat", is code for spotting someone in the supermarket queue with a packet of strepsils whilst we're buying Cycling Weekly. Of course, it's of little surprise, that after these tales of woe, you fight to stay on their wheel; but I really have got a problem with my back.
Let's change the subject! What about the Vancouver Winter Olympics? Some spectacular action for sure, but for me there's just one thing missing. It's exciting, colourful, fast and practised across the world and it's called Cyclocross. There are reported rumours that a number of the international federations have suggested to the UCI that they lobby the IOC for the inclusion of Cross at the winter games. Long overdue in my view. Maybe they should have used it as a bargaining chip against the loss of some of the track events from London 2012!
Now then, just how do you keep the flame burning in a long-term relationship? Perhaps by casting cares aside; doing something spontaneous; something exciting; remembering what made you fall in love in the first place!! (This is getting a bit heavy Phil - Ed). That's what I did a few days ago. With an old friend, I headed for West Flanders to remind myself what I find so compelling about this game. I went to my special place.
Above: A cycling crazy house in Ronse.
The collection of cobbled lanes that criss-cross 'De Vlaamse Ardennen' of Belgium and form the meat of the Flanders Classics spring season are for me very special. Omloop Het Niewsblad; Kuurne-Brussels-Kuurne; the GP E3 Harelbeke; Ghent-Wevelgem and the Tour of Flanders are decided on the bone shaking, back aching (oh yes!!), grip defying, cobbled climbs. These tiny cobbled farm track bergs including the Oude Kwaremont (2.5 km 11% ), Koppenberg (682 metres 20% ), Kruisberg (1.9.km 9% ), The Mur of Gerardsbergen (1.1 km 20%) and more are a throwback to a different age, a different life where young Belgian men swapped hunger and hard work on the land for better fed hard work on a bike riding across this windswept landscape.
In a five hour ride (sshh....don't tell the physio - it's our secret) with my friend Ron Georgi, we used our imagination climbing the bergs, daring to dream a little bit of what it must be like, to be a fit young hard man of Flanders in a 200 up bunch lined out and going for it!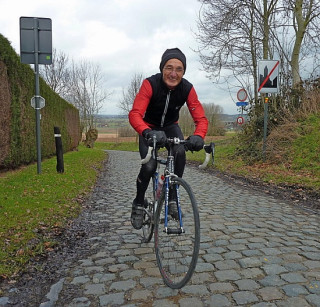 Above: 73 year old Ron Georgi on the Oude Kwaremont. He's never ridden the cobbles before and yes, he's smiling!
After the bergs we checked out the Centrum Ronde van Vlaanderen Museum at Oudenaarde. What a place - brilliant! The history of the Tour of Flanders laid out in memorabilia and images including a superbly shot evocative film. An adjoining café and shop, it's a must do. Check it out at http://www.rvv.be/en/museum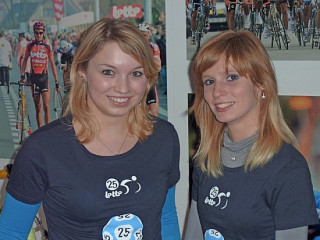 Above: Museum hostesses Julie De Meyer and Karilyn De Vleeschouwer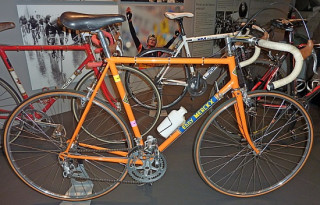 Above: One of the great man's bikes.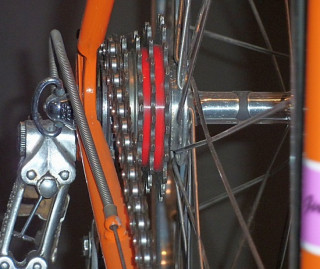 Above: Just 5 sprockets 13-19 streuth!!
After Ron and I had by chance, bumped into Dave Grindley, winner of the 1981 Tour of Ireland and an Oudenaarde resident for the last twenty years or so, we rode from the centre in Oudenaarde along the Schelde river path back to Ghent. We were able to sit on a group of Saur Sojasun and AG2R Mondiale pros for 20 kms, going a little faster than evens. Now you can't just turn up and drive your car with Lewis Hamilton or play footy with Frank Lampard. Perfect day!
Do you have any special places; a favourite road; a favourite climb perhaps? Somewhere that inspires you? Let me know at phil@cyclingcrazy.co.uk - if you've got any pics, then that would be great too.
Next day, Ron and I were there for the finish of Het Niewsblad in the centre of Ghent to see Juan Antonio Flecha bag the first spring classic victory for Team Sky, and to exchange a few words with Cervelo Test Team's Roger Hammond. Whilst Flecha had gone clear in the closing stages, Roger had sacrificed his own chances attempting to get his race team leader Heinrich Haussler across to Flecha. It was a case of almost as Haussler finished second, just 18 seconds behind the winner.
On Sunday the big storm hit West Flanders for Kuurne - Brussels - Kuurne This was an opportunity for Ron to meet an old and special friend. Ron didn't ride a bike until he was 46. Introduced to the bike by an old giant of the road, Colin Lewis, Ron quickly adapted to running the South West's best young road racers (including son Peter) around the country, as driver, helper and very good listener. One of the riders that used to call round for tea, a chat and some encouragement was a young Jeremy Hunt. Jeremy signed on with minutes to spare in the grim and getting grimmer weather, clocked Ron against the barriers, found time for a brief word and a photo (thanks Jeremy), before lining up with Roger and the other 196 riders who were going to face almost 196 kilometres of hell.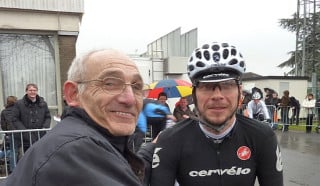 Above: Ron Georgi and Cervelo's Jeremy Hunt
Ron and I jumped in the car and waited for the race at the top of the Kruisberg in Ronse, a 9% 1.9 kilometres cobbled beast, made more difficult by torrential rain and gales. A Belgian Cervelo Superfan told us that Jeremy had attempted to cross to a three man break at the foot of the climb and sure enough he appeared in a group of 18 or so riders that also contained Thor Hushovd, a handful of seconds down on the three leaders.
We heard much later that Jeremy had worked himself to a standstill trying to get up to the break with team mate Hushovd and former team mate Hayden Roulston, before abandoning with just over an hour of racing left. No one got near the three man break which included Sky's Ian Stannard and only 26 riders finished - no ordinary day at the office!
Re-acquainting myself after all this time with the roads of West Flanders, I've been reminded just how special the pro riders are; what a special place this is and how being cycling crazy pays you back, with special friends.
The Pretenders sum it up in the chorus of 'Brass in Pocket' (special, so special). Another great tempo riding tune, check it out here.
Spring's coming - time to train. Bon Chance.