British Cycling has today confirmed the dates for next year's men's and women's HSBC UK | National Road Series.
For the first time, 2019 will see the women's domestic racing calendar divided up into a circuit series (the dates of which were announced yesterday) and a road series, which will begin alongside the men's with the East Cleveland Klondike on April 14.
The 10-date men's series will see team and individual series champions crowned at the Leicester Cycle Classic on August 25, while the women's titles will be claimed at the culmination of their eight-round series at The Ryedale Grasscrete Grand Prix on August 18.
British Cycling's Commercial Director, Jonathan Rigby, said:
"We're delighted to be able to confirm the dates for next year's men's and women's HSBC UK | National Road Series. The calendars for both series will provide challenging, enjoyable racing for riders, and fantastic venues for cycling fans to follow the action.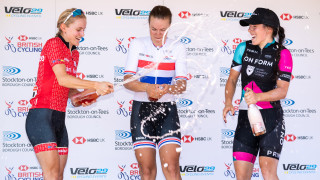 "Progression of the series is an ongoing process and, thanks to effective collaboration with teams, hosts and organisers, there are some positive steps: new race routes – such as those in Leicester, Bristol and the south east; a town centre finish for the Tour of the Reservoir (Consett); and what promises to be a thrilling addition to the men's series – a three-day stage race in the Isle of Man."
Male and female national champions will both be crowned at the HSBC UK | National Road Championships, which will take place in Norfolk between June 27 and 30.
Full dates for the HSBC UK | National Road Series and National Road Championships:
Women's:
Round 1: East Cleveland Klondike Ladies' Grand Prix – Sunday 14 April, 2019
Round 2: Chestnut Homes Lincoln Grand Prix – Sunday 12 May, 2019
Round 3: CiCLE Classic – Sunday 9 June, 2019
Round 4: The Alexandra Tour of the Reservoir – Saturday 22 and Sunday 23 June, 2019
Round 5: Curlew Cup – Sunday 7 July, 2019
Round 6: Stockton Grand Prix – Sunday 14 July, 2019
Round 7: South Coast Classic – Sunday 28 July, 2019
Round 8: The Ryedale Grasscrete Grand Prix – Sunday 18 August, 2019
Men's:
Round 1: East Cleveland Klondike Men's Grand Prix – Sunday 14 April, 2019
Round 2: Chestnut Homes Lincoln Grand Prix – Sunday 12 May, 2019
Round 3: Lancaster Grand Prix - Sunday 9 June, 2019
Round 4: Circuit of the Mendips – Sunday 16 June, 2019
Round 5: Tour of the Reservoir – Saturday 22 and Sunday 23 June, 2019
Round 6: Beaumont Trophy – Sunday 7 July, 2019
Round 7: Stockton Grand Prix – Sunday 14 July, 2019
Round 8: South Coast Classic – Sunday 28 July, 2019
Round 9: Cycle 360 Manx International Stage Race – Friday 2, Saturday 3 and Sunday 4 August, 2019
Round 10: The Ryedale Grasscrete Grand Prix – Sunday 18 August, 2019
HSBC UK | National Road Championships (men's and women's):
Norfolk – Thursday 27 and Sunday 30 June, 2019