Dates and events for the 2016 British Cycling Junior Road Series and British Cycling Youth Circuit Series have been announced.
The British Cycling Junior Road Series once again begins with the long-running Cadence Junior Road Race and sees a return of most of the well-received events from last year.
Following on from its successful debut in 2015, the Spokes Cycles Junior Race becomes a two-day event, making four of the nine rounds a stage-race format.
The series is rounded off by the Junior Tour of Wales, one of the most prestigious races on the calendar with a long history of up-and-coming cycling stars showing their talents. Last year's series winner Etienne Georgi returns as a second-year junior to defend his title.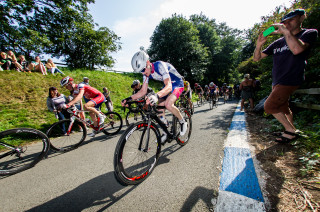 The British Cycling Youth Circuit Series begins in the north east with the circuit at Hetton Lyons hosting round one.
Round two moves across to the Isle of Man for popular Isle of Man Youth Tour. The 2016 British Cycling Youth National Championships falls towards the end of this year's series and will be held at Redbridge Cycling centre while the series concludes with the now traditional season ender in Scarborough.
Dates and events
British Cycling Junior Road Series
Sunday 20 March 2016
Cadence Road Race, Brecon
Saturday 9 - Sunday 10 April 2016
Junior Tour of the Mendips, Bristol
Sunday 24 April 2016
Junior Cicle Classic, Rutland
Friday 29 April - Monday 2 May 2016
Isle of Man Junior Tour, Isle of Man
Saturday 4 - Sunday 5 June 2016
Spokes Cycles Junior 2-day, Glenrothes, Fife
Sunday 10 July 2016
Hatherleigh Junior Road Race, Exeter
Sunday 24 July 2016
Bath RC Junior Road Race, Milton Keynes
Sunday 14 August 2016
Scarborough Junior Road Race, Scarborough
Saturday 27 - Monday 29 August 2016
Junior Tour of Wales, South Wales
British Cycling Youth Circuit Series
Sunday 17 April 2016
Hetton Lyons Youth Crits, Hetton Le Hole
Friday 29 April - Monday 2 May 2016
Isle of Man Youth Tour, Isle of Man
Saturday 21 May 2016
Maindy Flyers Circuit Races, Cardiff
Saturday 28 - Monday 30 May 2016
North West Youth Tour, Lancaster
Saturday 25 June 2016
Team MK Circuit Races, Milton Keynes
Sunday 17 July 2016
Hillingdon Slipstreamers Circuit Races, Hillingdon
Sunday 14 August 2016
Scarborough Festival of Cycling, Scarborough
British Cycling National Youth Circuit Race Championships
Sunday 10 July 2016
Redbridge (Hog Hill)