What is Cycle Touring?
| | | | | |
Touring is perhaps the most relaxing form of road riding and can anything from day tours of a local area, to round the world epics.
Touring is all about the journey, engaging with the landscape and the culture, being self sufficient and enjoying the ride. You might be just out for the day, exploring a new area of the country. Touring can also be a short overnight camping trip, where you can experience all the fun of a full tour in an easy, bite-sized package. Or if you've got longer to spare you can explore a whole region by bike, or take on one of the classic coast to coast routes. If you're really adventurous you could choose to tackle Lands End to John O'Groats or beyond!
Cycle can mean camping, hostelling or staying in 4 star hotels - the choice is yours - the only constant is the bike. Cycle tourists will often use trains and planes to get them out to far flung places, where they can go exploring before jumping on the plane and heading back.
Cycle tourists usually stick to the roads, but there are many who, bike permitting, will take on off-road routes to add extra spice to their journeys.
The Touring Bike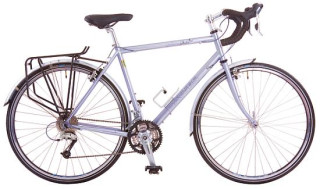 If you're just planning day breaks or an overnight trip, then a decent quality road, hybrid or mountain bike is more than sufficient, provided it's got the ability to carry your luggage. For more extensive tours, especially those involving camping, a proper touring bike, designed to carry heavy loads, is a better bet.
Purpose built touring bikes will make any cycle tour more enjoyable and will have most or all of the following features:
A strong frame with the right geometry for a relaxed and stable ride, especially when heavily laden
The ability to fit wide tyres - usually up to around 38mm wide
The ability to fit mudguards - essential when you're riding all day in all conditions
The ability to fit a rack (or two) - all proper touring bikes will have attachment points for a rear rack, while the best loaded touring bikes will have attachments on the front forks for a front rack too.
Multi-position handlebars - drop bars (provided they're high enough), muliposition 'ergo' bars or a least straight bars with bar ends are essential - you need to be able to vary your hand position over longer journeys in order to eliminate wrist and hand pain.
A comfortable saddle - you'll be on your bike most of the time so you need to make sure that above all else, your saddle is comfortable.
Home | Racing | Sportive | Audax | Reliability Trials | Touring | Just for Fun