Gee Atherton and Tracy Moseley are the 2009 British Downhill Champions after a thrilling race at Innerleithen where changing course conditions dictated the weekends racing.
World Downhill Champion Gee Atherton lived up to his title and has added the British Champion's stripes to his jersey in a smooth and controlled ride down a rapidly changing Innerleithen course. The title was far from certain though as outgoing champion Steve Peat was up on time entering the final gulley, only to crash out metres before the finish line.
Following the official coursewalk on Friday, where conditions were damp and worsening the unpredictable local weather kept riders guessing between wet, cutdown and dry tyres. The greasy nature of the rocks prevented cutdowns being a great choice, but there was little option as the lower reaches became increasingly damaged by the persistent heavy showers through practice.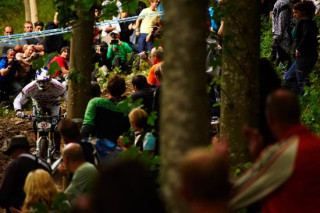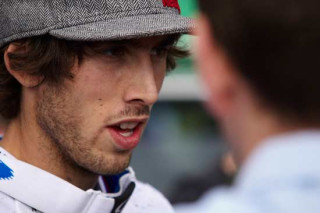 Even on Sunday as seeding began riders were on wet tyres - including Atherton. Fastest down the hill though was Steve Peat and he was looking hot favourite to repeat his National Championship win on the same hill as in 2000.
But as the finals approached a stiff wind and rising temperatures quickly dried the course, meaning last minute tyre changes for speed at the top while sacrificing control in the steeper, lower sections. This meant that as riders hit the finishing corners there were a series of crashes and a few bucking bronco's!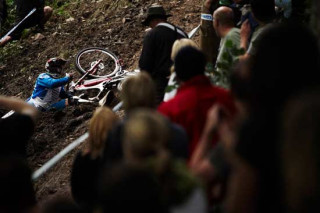 As local favourite Ben Cathro came through the crowd erupted, but their celebrations were short-lived as Gee Atherton fired through the steep drop smoothly, leaving no impression. Last man down the hill was Steve Peat, on an absolute killer run. No mistakes meant he was up, before going down, clipping his pedal on a root and sliding unceremoniously through the throngs of spectators who lined the course.
Atherton was crowned British Champion - ironically by his sister, Rachel who was roped in to present the prizes by commentator Si Paton.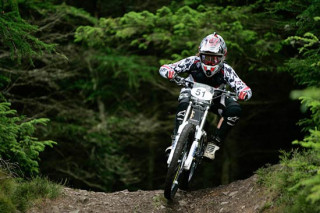 For Tracy Moseley it was a dominant performance despite some poor recent results on the World Cup circuit; proving that she is still a force to be reckoned with. A fifteen second winning margin over Helen Gaskell underlined that Moseley's chances for the World Championships are far from over on a course that should suit her.
Bernard Kerr was the other big winner, upsetting pre-race favourite and current under-18 World Cup leader Danny Hart, in the Junior race. Kerr now holds a great record in championship competition, currently reigning in British Fourcross, Dowhill and European Downhill.