KitBrix is an innovative sports bag manufacturer aimed at athletes who need to carry sports clothing and equipment as easily and effectively as possible.
As a company, it strives to solve kit organisation stress and eliminate time wasting associated with packing and equipment management. Born out of the founder's desire to be organised when competing as a triathlete; the company used military principles to create its first product, a robust modular KitBrix bag that was focused upon making kit organisation quick and easy through brilliantly simple and well thought through design. KitBrix believes efficiency and organisation in preparation makes for a better athlete, and the company's original bag has since been fine-tuned and proven to be a firm favourite across many endurance and adventure sports. The KitBrix Bag. #organiseandprotect
The KitBrix Bag will fit seamlessly into an active lifestyle, working just as hard as you do. The durable base will keep your gear dry and clean wherever you venture, whether that be the road, track, trails or mud. The zip together function allows you join KitBrix bags together, switch the KitBrix from a shoulder bag to a rucksack, create separate wet and dry sections and personalised icons for each bag will ensure ultimate organisation.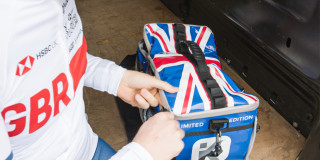 The company now also offers a broad range of bags and products which will enable athletes to be organised across a raft of different situations, whether that be travel between competitions, transfers or just getting to the start line with minimum weight.
KitBrix will now supply British Cycling across all disciplines with bags that will help its squads with their training and competition up to and beyond the 2024 Paris Olympics. World leading athletes have been using KitBrix products since 2014 and the company is extremely proud to be the Official Sports Luggage Supplier to British Cycling, a federation that is world renowned for its belief in organisation and attention to detail. To celebrate the launch of the KitBrix x British Cycling partnership, British Cycling Members get an exclusive 20% saving on all KitBrix products, for a limited time. How to claim: Login to your British cycling membership, collect and copy the exclusive KitBrix discount code and present it at check out when you purchase from www.kitbrix.com
Launch discount code: BCLAUNCH20 (set to change in ~1 month post launch)
Terms and conditions
1. The discount is exclusive to British Cycling Members with a valid British Cycling Membership.
2. The discount is only valid online through the KitBrix main website.The discount cannot be used on any other websites, partner sites and/or in stores.
3. The unique KitBrix code entitles you to 20% off all KitBrix products when presented at checkout.
4. The code cannot be exchanged for cash or vouchers.
5. There is no minimum spend required.
6. This and any other future discounts may not be used in conjunction with other KitBrix promotions and discounts, unless otherwise stated, within the promotional terms and conditions.
7. This discount does not affect any product warranty.
8. This discount is valid from June 10th 2021 until June 16th 2021 at midnight BST only.
Website link: www.kitbrix.com