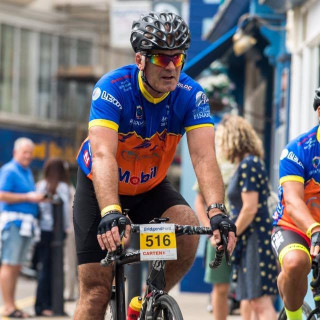 We caught up with our new Welsh Cycling board member Tony Price after he was elected at our AGM last week.
Tony is a keen cyclist and since moving to Pembrokeshire in 2016 with his wife Carolyn he joined the Pembrokeshire Dragons Cycling Club, bringing them in to the Welsh Cycling fold in 2018 and building participating membership up in the meantime.
Prior to moving to Pembrokeshire, Tony lived in Ross-On-Wye, and was a member of the Ross cycling club, participating in the TT seasons with the club.
Now in Pembrokeshire, Tony is enjoying the roads and the cycling events which head to West Wales. Tony said: "The roads of Pembrokeshire are home to events such as Long Course Weekend, Ironman, The Daffodil Ride, The Preseli Angel, and the destination for the annual Carten 100 – and I've ridden most of them!"
After over 25 years in account management in big corporate businesses, Tony and his wife run a now run a holiday accommodation business in Stepaside, allowing time for a more balanced lifestyle.
Now Tony is on our board, he is looking forward to bringing his corporate experience along with his local cycling perspective to our team. He said: "I'm keen that cycling grows and continues to be safe, inclusive, and, where appropriate, a competitive sport that all can enjoy once this coronavirus pandemic has passed – obviously!"