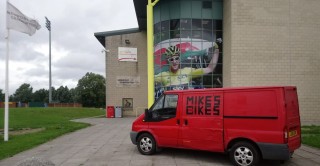 At the end of 2019 we reported on an amazing project that was beginning to take shape in Newport. Local man Mike Jones had begun a bicycle recycling scheme to allow for local children have a bike for free in time for Christmas.
The scheme enabled over 50 family's to access a bike has continued to grow in the new year with schools being involved in order to receive fleets of bikes needed to enable local pupils the opportunity to undertake their national standards training and to use active travel in order to get to school.
Then as was the case with many things, COVID came along and scuppered the plans. Undeterred by the closure of our schools Mike refocussed the project to now cater for the many key workers struggling to travel to work whilst public transport restrictions were in place and helping a number of workers who have had their own bikes stolen.
With donations of bikes and equipment from across Wales and further afield the project has continued to grow week by week with over 250 bikes now rehomed to local people this year.
The scheme has also been able to support other areas of Wales including Swansea where a fleet of children's bikes were sent to help with youth provision during lockdown co-ordinated by Local MP Carolyn Harris.
"It's been amazing to support Mike as best as we can with this project, by working in partnership with key schools we really do hope to see a modal change in the transport choice in the city. A change that should improve air quality, reduce the amount of bikes sent to landfill and of course improve the health of our young people when schools return in the autumn.
"The city and wider cycling community have got behind the project which is having an amazing impact on cycling here in Newport in the relative short time since it launched," said Dan Coast, Welsh Cycling Development Officer.
With the popularity of cycling increasing across the world during lockdown Mike has been incredibly busy providing bikes to the community as more people struggle to find an affordable bike as demand outstrips supply in many shops.
With so many people grateful of the support, it did not take long to attract the attention of the BBC who featured Mike on the One Show as part of the "One Big Thank You" in recognition of the amazing work carried out by people during the pandemic.
"We are incredibly grateful not only to Mike but all the volunteers who have supported the project with donations of essential equipment needed to enable more people access to bikes," said Anne Adams-King, Welsh Cycling's Chief Executive.
"It's humbling to see so much support from our members across Wales in helping to support more people to choose cycling. Mike thoroughly deserves all the recognition he receives and the inspiration he has provided to Inspire Wales to cycle," she continued.
To find out more about the project and how you can get involved please contact Mike via Twitter @PuffaJones