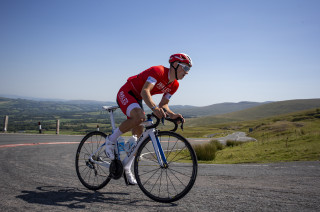 Welsh Cycling are pleased to announce ROTOR as our official Power Cranks partner. The deal will see all of our Wales Racing Academy riders using the ALDHU INSPIDER, the 2INpower track cranks, VEGAST and Kapic INSPIDER cranks.
ROTOR are dedicated to creating specialist, state of the art technology which aims to improve your performance whilst on two wheels. As part of the deal, ROTOR are directly supporting the Wales Racing Academy. This is another tool for the academy as we look to develop Wales' cyclists and provide a pathway to the international stage.
Robin Corder MD of Rotor Distributor Velotech Services Ltd said: "This deal gives the Welsh Academy riders access to market leading power measurement combining a modular crank system that allows many configurations across all academy disciplines.
"The deal is also inclusive of Wales premier stores who can become part of the story and help the local riders be part of welsh cycling success, with a minimum of £70 going direct to the academy for every power system sold," Robin continued.
ROTOR have a strong presence in the World Tour as they supply cranks to NTT Pro Cycling and Ag2r La Mondiale teams. But it's unique technology which make ROTOR the go-to power crank of choice for many cyclists around the world.
The INspider has integrated power measurement technology inside the spider, sampling combined left and right data to precisely record power output and cadence. Not only is it very easy to install and swap between bikes without compromising the accuracy, but it is compatible with the complete range of ROTOR cranks. This power meter has been specifically designed and manufactured for strain gauge and electronics' placement with optimized weight-stiffness ratio.
ROTOR's INpower accurately measures power from the left leg via the axle and multiplies it by two to provide total power data. 2INpower® additionally measures power from the right leg via the right crank to provide precise data about power output and balance.
Rotors power meters are designed with oval Q RINGS® in mind. Q RINGS® are oval chainrings designed to increase performance of cyclists by reducing the dead spots' effect. Q RINGS® become smaller around the weak zones and larger around the strong zones. On top of this, ROTOR also have an app which gives you access to the most sophisticated metrics of ROTOR power meters.
You can find more information about the ROTOR cranks here.
Head Cycling coach, Darren Tudor said: "I'm really pleased to announce rotor as a partner to Welsh Cycling's performance programmes.
"It's important to us that we can get reliable and consistent training data from our riders in order for them to achieve their personal goals and those of Welsh Cycling."
The partnership will also give the opportunity for those looking to invest in a power meter the chance to buy any of the products which are being used by the Wales Racing Academy. There are multiple ways you can buy your ROTOR crank. You can register your interest here and we'll send you an exclusive code where you can get a discount off of your power meter purchase.
Or you can head to one of these six bike shops listed below to buy your ROTOR cranks. Uniquely our Welsh Cycling retail partners can offer 50% off rings throughout the duration of the sponsorship. All you have to do is show your Welsh / British Cycling membership card and you can enjoy a discount off of your purchase.
These retail stores that stock this equipment will be exclusively listed on the Welsh Cycling website and also on the new independent Welsh Cycling website, which is soon to be launched. The customer benefits are free technical support, free fitting and a 50% off ring deal that only the partner stores can offer throughout the sponsorship period.
With every purchase made of the ROTOR's power package, funds will be directly reinvested into the Wales Racing Academy. Therefore, through your procurement of this package, not only will you be benefiting your own riding experience, but you will also be helping these talented riders to reach their full potential.