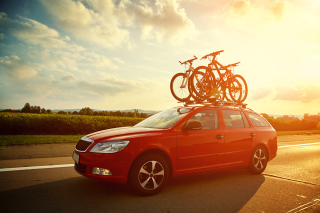 Welsh Cycling are pleased to announce a partnership with carinsurance4cyclists.com (Ci4C) who is the only UK car insurance provider to take your cycling experience into account when you drive your car.
Specialist broker, carinsurance4cyclists.com (Ci4C), is the first in the UK to observe the relationship between road cycling and safer driving Ci4C recognise as a cyclist, you're more spatially aware than the average driver, you're more alert, you have a healthier lifestyle and you're more responsive when you get behind the wheel. This is all rewarded with savings of on average 21% against cyclists' invited renewal premiums.
Despite the current situation we live in, Welsh Cycling is working hard to promote the physical and mental benefits cycling can bring – more people are cycling whether that is key worker to work or families looking to get out for their daily exercise. Every time you purchase or renew a policy, for life, a small commission will be reimbursed to Welsh Cycling as we continue to support inspiring people to cycling and helping the grassroots of our sport here in Wales.
Additionally, Ci4C has an association with a charity in Malawi called Starfish Malawi, which was founded by Chris Knott. The aim of Starfish is to help the most vulnerable children in one of the world's poorest countries. Starfish believes that everyone can make a difference and supports projects to help children gain an education, access food, essential sanitary products and much needed healthcare. A percentage of profits generated from each car insurance policy will also support Starfish Malawi. www.starfishmalawi.com
To find out how much you could save on your car insurance, please call Ci4C FREE on 0800 819 9319 or visit https://www.carinsurance4cyclists.com/quote/?ref=55 to obtain your quotation. Also, if your car insurance is not yet due, you can leave your renewal month and Ci4C will contact you at the appropriate time.
Founder of carinsurance4cyclists.com (Ci4C) Chris Knott said: "Welsh Cycling does such a great job encouraging and developing cycling in Wales. We're delighted to be able to contribute to that work through this partnership. Welsh cyclists are attractive to us and the insurers on our panel, so members should contact us for a winning car insurance quote.""
Welsh Cycling Chief Executive Officer, Anne Adams-King said: "We are pleased to be in partnership with carinsurance4cyclists.com as this will help cyclists find cheaper car insurance. It helps Welsh Cycling to continue to support people cycling and also allows us to support an important and worthwhile charity like Starfish Malawi."