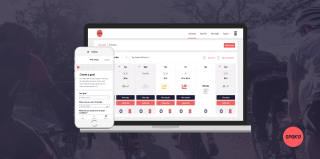 Welsh Cycling are pleased to announce a partnership with SPOK'D which will see them become our smart training partner.
Launched in 2019 by former professional rider Richard Lang and Chris Newton, the SPOK'D coaching app presents riders with a structured but flexible training plan that uses dynamic algorithms to tailor sessions and a rider's weekly workload based on their availability, form, progress and goals.
For those who are trying to stick to a training plan during this time of lockdown we're pleased to be able to offer only to the first 100 riders 28 days of training for free (normally 14 days). You can sign up here – http://bit.ly/welshcycling-smarttraining-offer. The cost of SPOK'D is £9.99 p/m, which saves over £100 compared to an online cycling coach.
Anne Adams-King said: "We're pleased to bring SPOK'D on-board, despite the current circumstances – people are still keeping active on their bike on the turbo or getting out for their one exercise a day – SPOK'D will provide them with an opportunity to structure their riding during this time."
The structure that SPOK'D provides is driven through two key values - smart and simple. These values shape the experience that starts when a rider signs up via the website. Once a rider sign ups, they start to build their personalised plan.
Building your plan is in easy four steps: 1) set your goal; 2) input the time you have available to train; 3) link your accounts; 4) establish your fitness levels. One click later and your personal plan has been built.
As you start to train, you can change your availability anytime during the week. Plus, your plan adapts to you, using a few key principles. Planned versus actual workload completed, how the sessions felt – hard, medium or easy – and your lifestyle metrics from energy levels to sleep. These all have an impact on how your plan dynamically changes on a weekly basis.
About the partnership, Lang, founder of SPOK'D said: "The team and I started SPOK'D three years ago and today, it's a huge milestone to become the smart training partner with Welsh Cycling. They have seen huge success across all levels of cycling. From World, Commonwealth, Olympic and Paralympic champions.
To continue to foster this success, part of this partnership is to explore how we can support the Welsh Cycling youth program. To start, we're currently offering all youth riders free coaching, which they can access if they email - hello@spokd.com
I believe the shared values in helping people develop and grow on the bike will create a foundation for a fantastic partnership," continued Lang.
To become a supporter of Welsh Cycling and receive news and information – sign-up here.