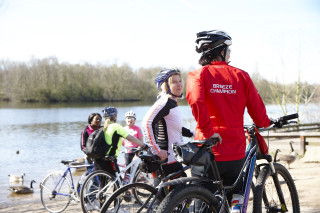 20.12.2020 - National Lockdown – Dec 2020 / January 2021
Following the announcement from the First Minister of Wales yesterday, about Wales entering a national lockdown starting from the 20th December, Welsh Cycling wanted to provide an update. This lockdown will be for an initially unspecified period, with regular reviews of the measures and incidence of Coronavirus here in Wales. Full details will be published over the coming days.
With the new regulations and guidance coming into place, this will mean a change in organised sporting activity. The new regulations mean you must adhere to the following:
All group activities are suspended until advised otherwise by Welsh Government
Ride on your own or with members of your household*.
Your ride has to start/finish at home.
Keep to social distancing measures of two metres apart.
If you live around borders into England please be aware of that regulations differ so please check the latest advice, we urge you to ride responsibly and within your ability to help protect the NHS.
It is also important to be self-sufficient by carrying the tools you need (i.e. inner tubes, chain tool and a working pump).
As we enter another difficult period, we understand the physical and mental benefits exercise and cycling can have. We encourage you to continue to cycle but urge people to do so responsibly during this upcoming period and to follow Welsh Government regulations and guidance.
For the latest regulations and guidance from the Welsh Government, please refer to their FAQ page here.
*people who live on their own are able to form a bubble with another household
---
4.12.2020 - Update around travel
Welsh Government regulations have been updated to allow travel between Wales and Tier 1 & 2 areas of England.
Wales's regulations do not allow for travel into England's Tier 3 areas.
You can see the current FAQ guidance here and the First Minister's announcement here.
You are legally allowed to attend events or activities in Tier 1 & 2 areas. However, think about whether your travel is necessary as new travel guidance strongly advises people in Wales not to travel to other parts of the UK with lower levels of coronavirus.
COVID-19 guidelines and regulations differ to those in Wales – it is important to check before travelling. You can find more information about the current rules in England, via British Cycling FAQ's here.
If you are undertaking organised activity in Wales, please make sure you are following all the current guidance and regulations, our return to activity guidance can be found here.
---
13.11.2020 - Organised activity guidance update
Welsh Government have made changes to the regulations and guidance around organised activity. You can find the updated FAQ's here.
The main changes to note are below:
Anyone can play sport or exercise in a group of 30 people outdoors or 15 people indoors, if this is part of an organised activity.

Coaches and match Officials would generally be regarded as participants so the limit of 30 outdoors and 15 indoors should include them.

There is now NO limit on the number of children under the age of 18 who can participate in or facilitate an organised sport activity

.
If you are leading an organised coaching activity it's important to consideration the environment you are working with, knowing the amount of space you to work with to make sure participants are safe.
We want to remind you that if your club does not already have a Covid-19 officer, then you will need to ensure someone attends the WSA Covid-19 training so that you can resume organised activity. Welsh Cycling clubs and volunteers can access this training at a reduced rate. You can find the training link - https://wsa.wales/covid-19-awareness-training-for-the-sports-and-recreation-sector/
We ask you to continue to ride safely and responsibly during this time.
---
Essential contacts
Welsh Cycling offices are not on complete lockdown at the moment, but the situation is fluid at the moment. So if you need to contact a member of our team, here are a list of useful contacts who will be able to answer questions.
Chief Executive Officer
Anne Adams-King
01633 274 691 | anne.adams-king@welshcycling.co.uk
Communications & PR Officer
Michael Stokoe
07808 609 266 | michael.stokoe@welshcycling.co.uk/>
Finance & Office Manager
Beverley Kibble | finance@welshcycling.co.uk
Commercial & Partnership Manager
Mark Allen
07710 022 666 | mark.allen@welshcycling.co.uk
Events Officer
Rhys James | 07934 854 599 | events.officer@welshcycling.co.uk
Director of Performance
Matt Cosgrove | 07714 499618
matt.cosgrove@welshcycling.co.uk
Head Coach
Darren Tudor | 07515 606619
darren.tudor@welshcycling.co.uk
Useful Information
Welsh Cycling Staff Contact details - Working from home

To protect yourself and other people:
Wash your hands with soap and water often – do this for at least 20 seconds
Always wash your hands when you get home or into work
Use hand sanitiser gel if soap and water are not available
Cover your mouth and nose with a tissue or your sleeve (not your hands) when you cough or sneeze
Put used tissues in the bin straight away and wash your hands afterwards
Try to avoid close contact with people who are unwell
Do not touch your eyes, nose or mouth if your hands are not clean
Please follow all the guidance on how to avoid catching and spreading the virus, your health is first and foremost.
Welsh Cycling will continue to monitor the situation and will be communicating any relevant COVID-19 updates to our membership through our Facebook and Twitter channels.