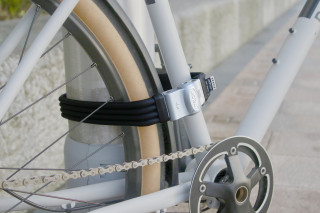 Our security partners Litelok have just launched the world's first insurance rated, flexible D-lock, the Litelok Flexi-U Silver. Made from their patented Boaflexicore material, the Litelok Flexi-U Silver allows you to secure your bike to objects that are too cumbersome for your standard rigid D-lock, such as lampposts and telegraph poles.
As well as being flexible and versatile, it is also super light, starting at just 630g which is half the weight of equivalent security rated D-locks. Litelok Flexi-U Silver has been awarded both ART 2 and Sold Secure Silver, making it the lightest insurance rated lock in the world.
Litelok originally launched through Kickstarter in 2015 with their Litelok Gold, and have since released a number of innovative products including the Litelok Gold Wearable - a Gold insurance rated bike lock that you can wear around your waist. Litelok are based in Swansea with all their locks being manufactured in the South Wales valleys. They are big supporters of Welsh Cycling and if you purchase a Litelok by clicking here, 10% of the sale go towards supporting grassroots cycling clubs here in Wales.
Litelok Flexi-U Silver is also joinable, meaning you can purchase 2 that operate from the same key and either use them separately to secure each wheel or join them together to create a larger lock. This is perfect for locking multiple bikes together, or for family members who want to use the same key. Litelok Flexi-U is also available as a combination of sizes.
Visit their website and check out their latest range of flexible D-Locks.