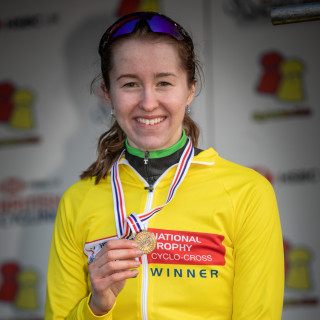 Ahead of the British National Cyclo-Cross Championships in Shrewsbury this weekend, we spoke to Welsh rider Ffion James as she looks to carry on from where she left off in 2019.
At the end of 2019 James took the overall victory in the National Trophy series by taking a third placed finish in the final round in York, which wrapped up the overall win. But now with the National Championships taking place James is looking to make the podium on what will no doubt be an entertaining weekend of racing.
Speaking about her win in York, James said: "I've come really close to winning the series overall for the last two years now, so winning it was a big goal of mine.
"I'm really happy I managed to complete that goal and standing on the podium in the yellow jersey in York was really special," continued James.
After completing her first cyclo-cross race when she was six-years-old, alongside mountain biking – cyclo-cross has become a passion for her ever since. But becoming National Junior Champion at 16 was a real breakthrough moment.
"It's not been until the last two years where I've started to shift my focus mainly to cyclo-cross. I still race on the road and MTB in the summer, but cyclo-cross is definitely my favourite discipline," said James.
"Becoming Junior National Champion as a first year was a massive moment for me, when I got to stand on the podium with Helen Wyman and Nikki Brammeier as a 16 year old," said James.
For those that haven't made the connection, cycling runs through her family – with her sisters Rachel and Becky having competed at the highest level internationally, winning medals and honours along the way. So it was interesting to see how Ffion's journey into the sport came about.
"I think I started cycling as it was just what the rest of the family did, and I didn't have much choice when I was dragged along to the races with my older brother and sisters," explained James. "But as I got a bit older and I started racing more, and Becky and Rachel were performing internationally, they definitely became more of an inspiration to me."
But Ffion is quick to point that although her sisters have competed internationally, she wants to make her own way through the sport.
"I'd really like to make my own path in cycling and not be compared to my older sisters all the time. So even though I'd love to be as successful a cyclist as both of them, it wouldn't be a failure for me if I wasn't," she said.
As well as her budding cycling career, James is also currently studying at University in her final year. So how does she find time to do both cycling and balancing University?
"It can be pretty difficult at times. My terms are short at only 8 weeks, but are pretty intense so training time is limited," said James.
"I usually try and fit in a lot of hours and miles during the holidays when I'm much less busy, and then maintain my fitness by doing a lot of short and intense sessions in term time," she continued.
Now we're in a new year, James has got new targets, starting with the National Championships this weekend. But looking further ahead the plan is to race on the road and in mountain bike races this summer.
But having specific goals or races in mind is not something James pays too much attention to: "I ride more to maintain fitness/strength and because I love racing rather than with any specific results in mind," she said.
"It's also my final year in university so my summer of racing is likely to be quite interrupted at times. I'll most probably be aiming for a good result in the National MTB Champs and be aiming to be going well ready for next cyclo-cross season," she continued.